What is it?
WOKE is an educational toolkit to better educate teenagers at second and third-level education about their healthcare options and empower them to make more informed decisions. Often, people instinctively admit themselves to the Emergency Department (ED) when there may be better alternatives available to them. In this instance, they are prone to long waiting times and overall stressful experience in the A&E. This project was done in conjunction with The Mater Misericordiae University Hospital in Dublin.
The Kit
The toolkit consists of an interactive game that teaches students about their healthcare options. There are two versions, a board and a card game based on scenario events and matching it with the appropriate care. This is designed to be easily accessible to teachers and can be printed out on A4 or A3 card.
Another element of the kit is the reFRESHERS pack which is designed for third level students. This is an information leaflet tailored for the college highlighting healthcare facilities that are in the area. These can be provided during college freshers week and added to existing information packs
With the access to the Mater hospital staff and data, we had just over a week to covers as much ground as possible. We worked with our mentor within the hospital to arrange numerous interviews with staff and patients in the ED. Working in groups we attended various interviews and observations studies to collect as much information as possible, and towards the end of the research phase we then shared our findings with the class. This information was also stuck to research boards in the room for other groups to see, which came in handy when presenting said information.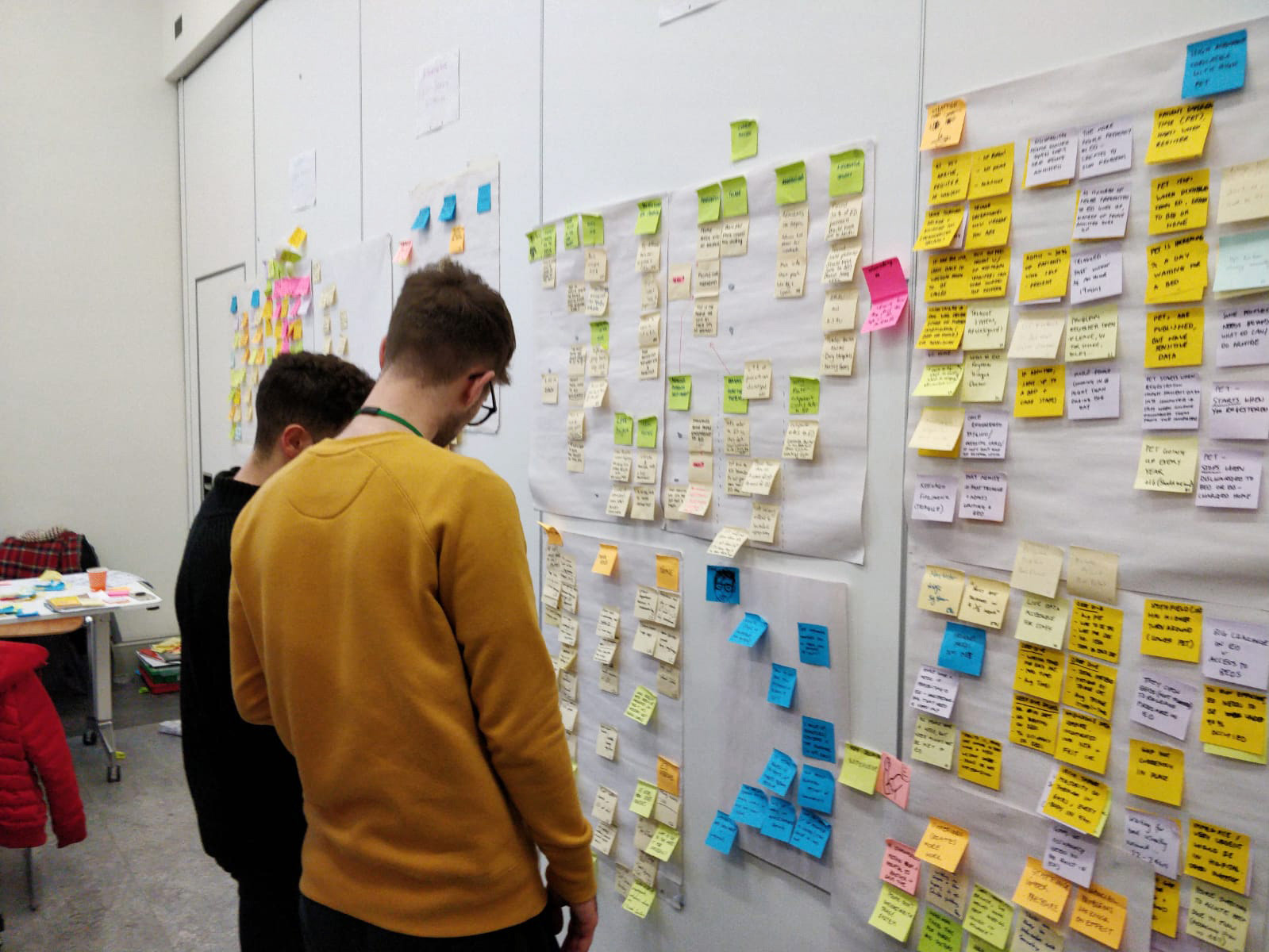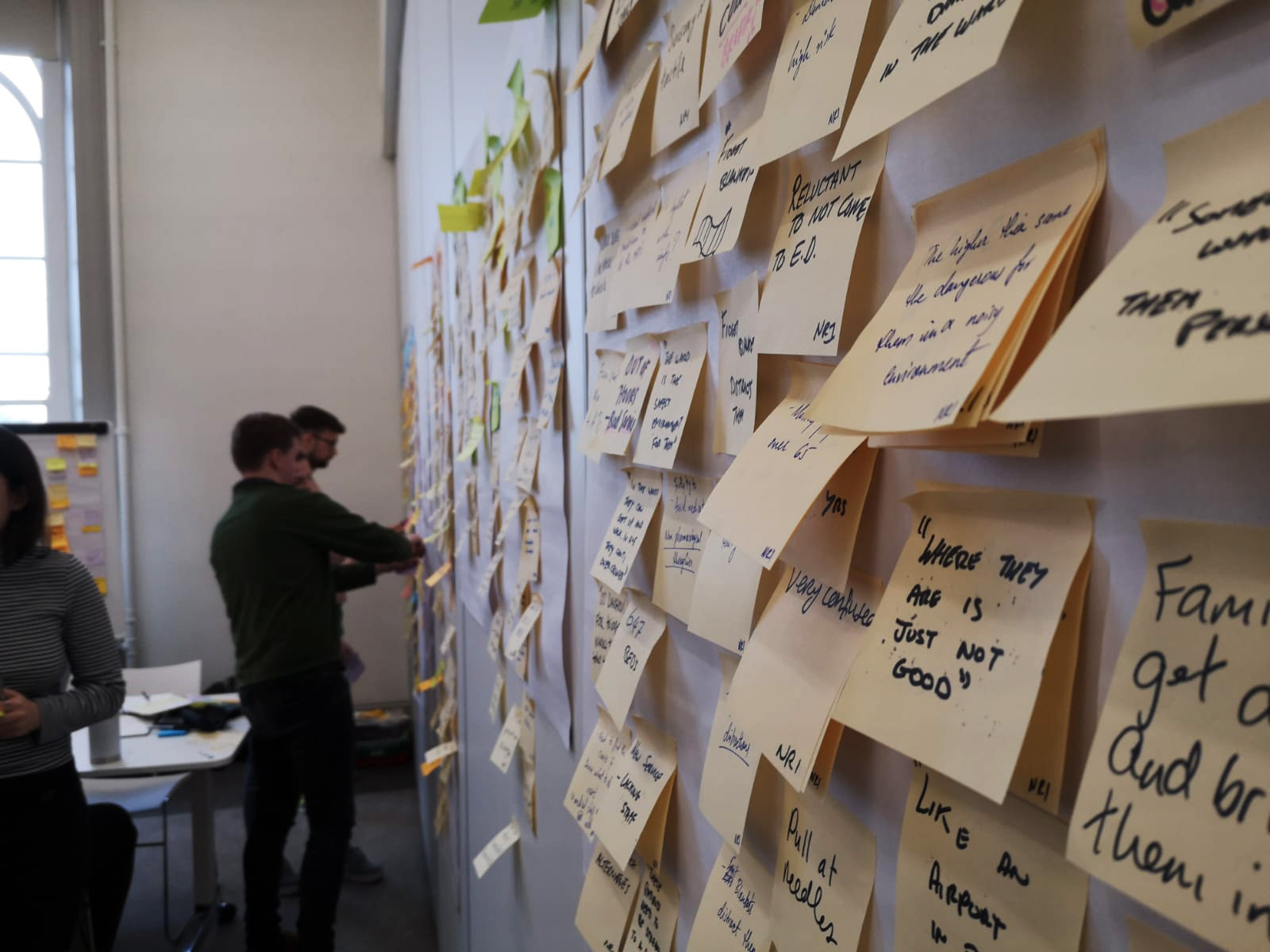 Key Insights
- People wanted a quick and accurate diagnosis. How can we provide this outside of the ED?
- Often patients in the ED have bypassed their GP due to lack of access and waiting times. Some patients are also aware of the limited resources within a GP and they are bypassed for this reason.
- The reputation of the Mater could be leveraged to encourage use of alternative services, such as the Mater Rapid Injury Clinic.
- It is difficult to redirect a patient once they are in the ED. There are multiple points of intervention where patients often look for information online as well as the arrival process and way finding.
- There is an awareness of alternative services for healthcare, but patients often are unsure what these services cover. There is a need to communicate this more effectively.
Presenting the findings
We presented these findings to a number of stakeholders in The Mater. This allowed for discussion, feedback and direction for the project. This was done by voting on some of the more compelling insights and directions to pursue allowing us to focus on what was important and speed up the process.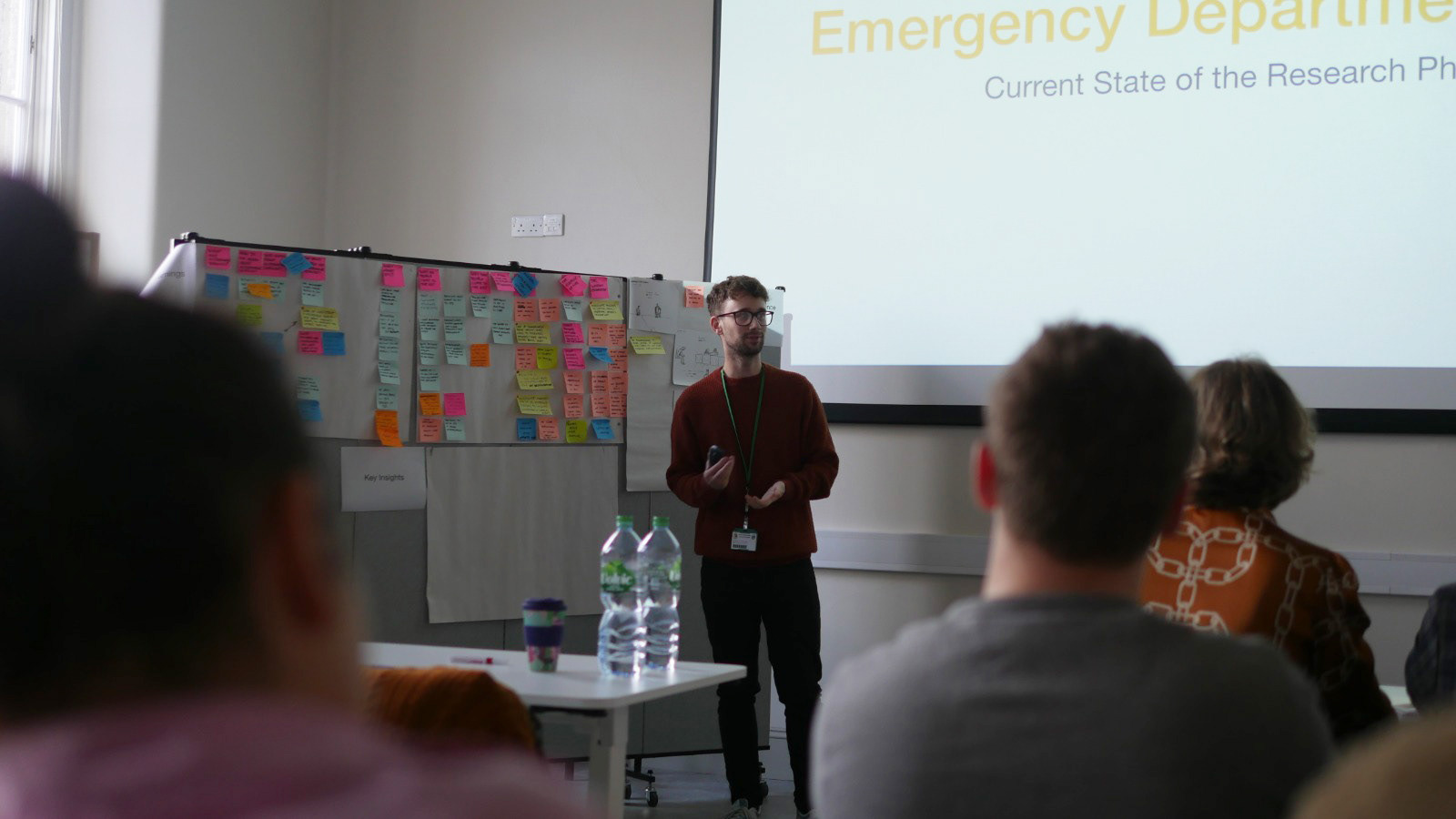 This is where I began to work on the specific topic of 'Attitudes and Behaviours'. The insights here are that patients largely admit themselves to the ED based on instinct, or lack of awareness of the alternative options available to them. Further research would have to be done on this to try and better understand this behavior and how we might tackle the issue.
We conducted an idea generation session where we then narrowed down our top 3, for a quick presentation. We initially were looking at; an awareness campaign, an educational piece for teachers and a community healthcare system.
We also took part in a workshop with FJORD for this stage of the project. We went through these ideas and created a stakeholder and user journey maps.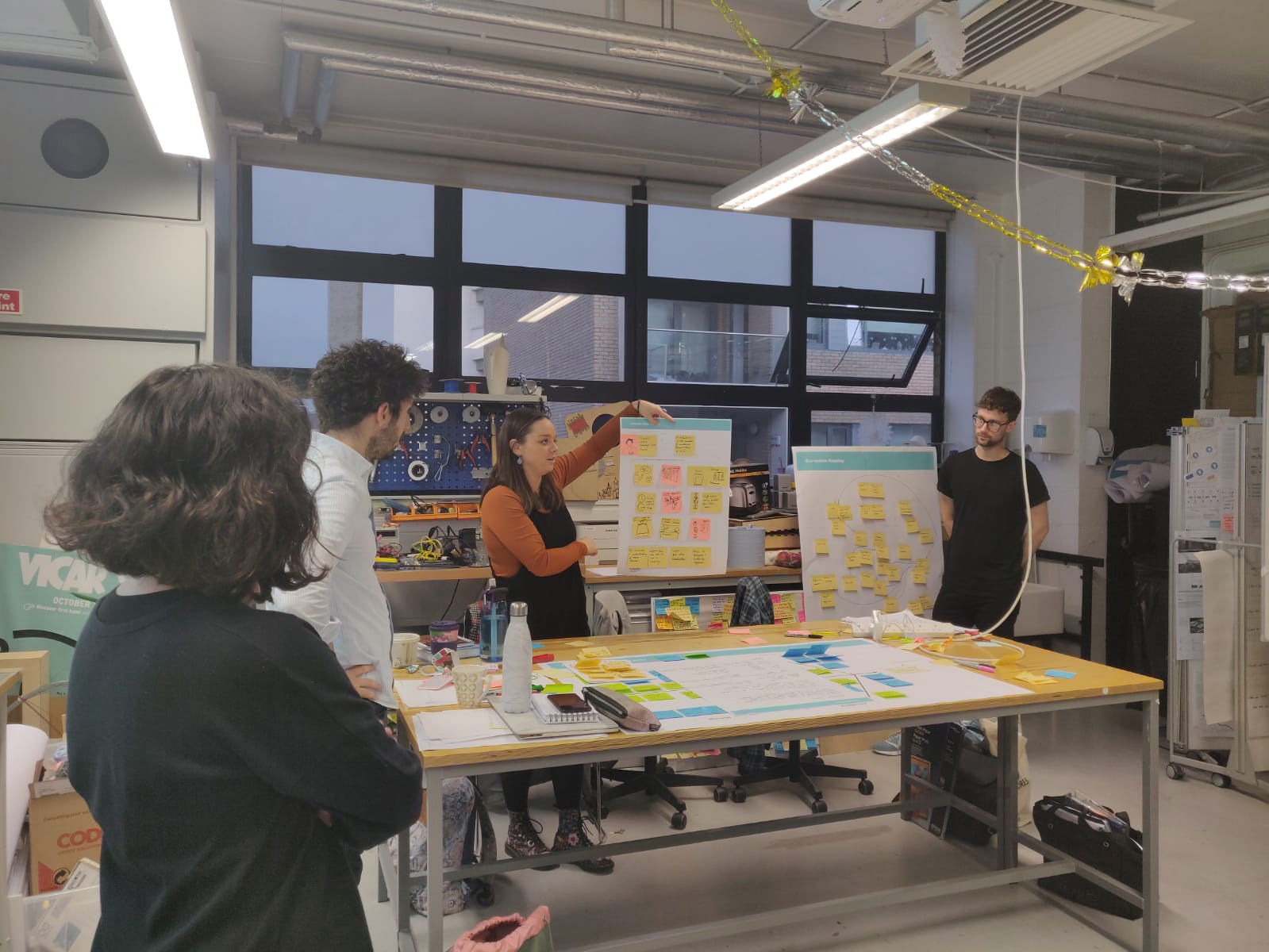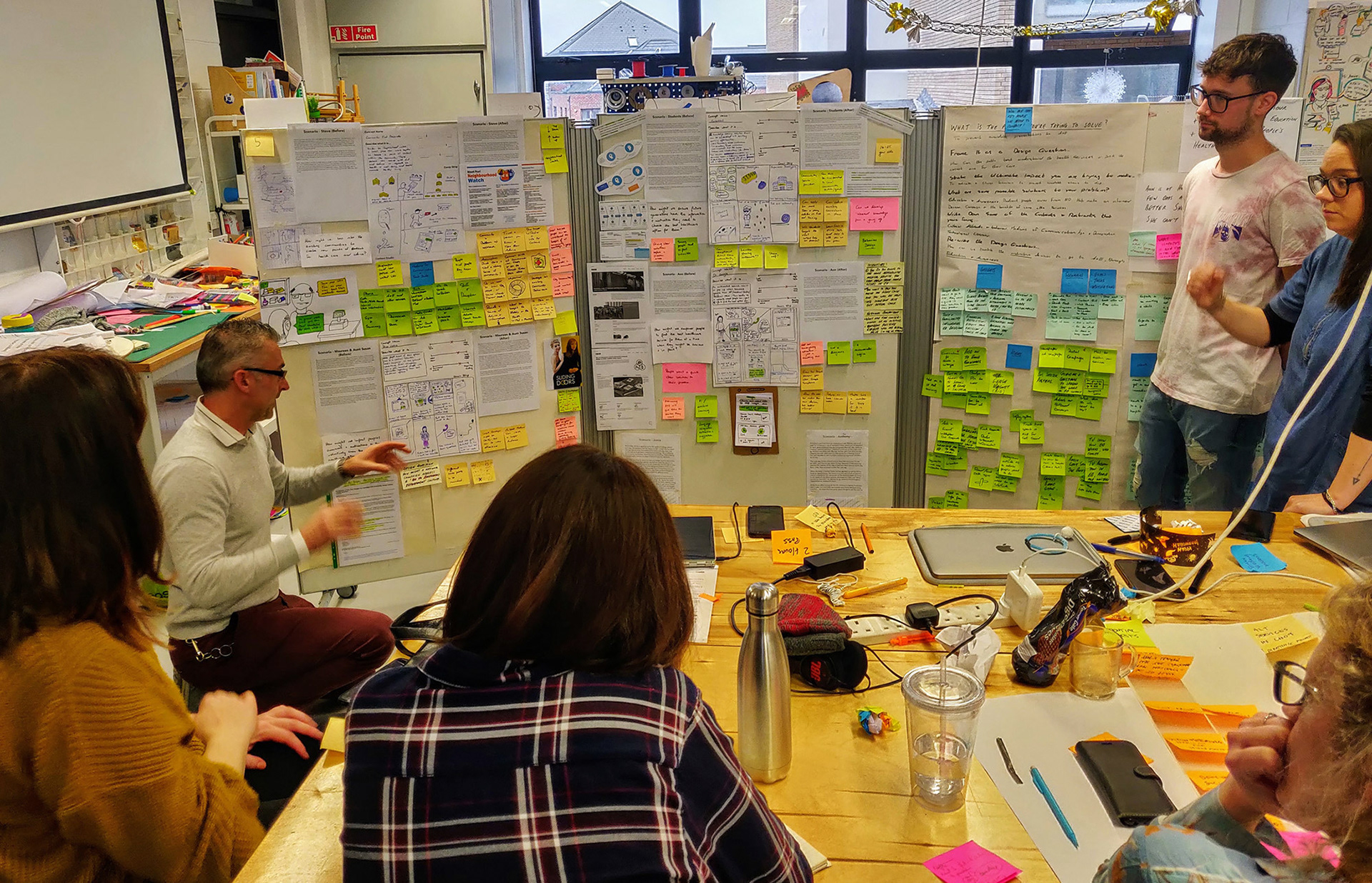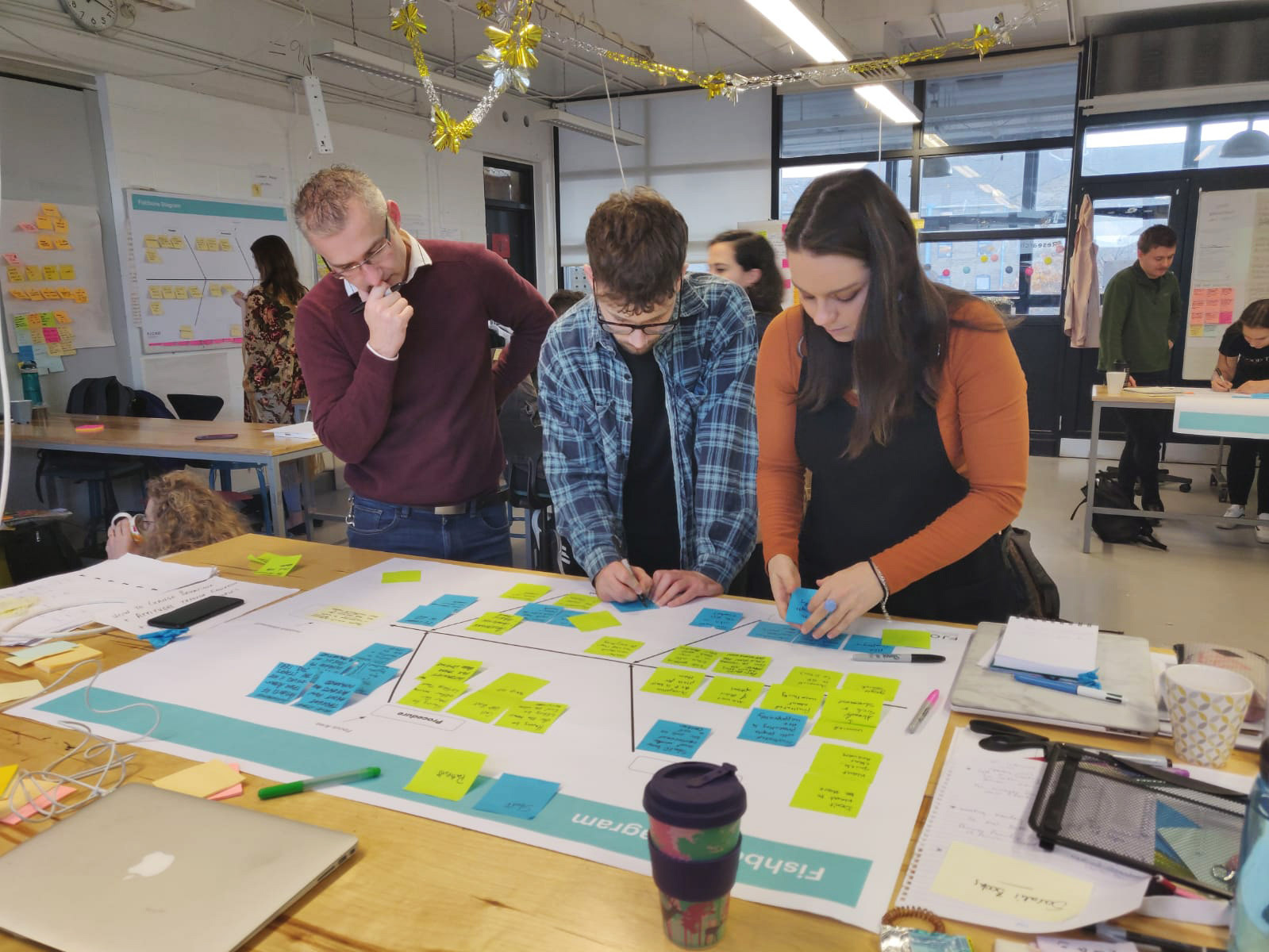 Going forward
After presenting our concepts we found that the awareness campaign and the educational toolkit was the best to focus on. We analysed existing campaigns from Ireland and other countries to see what worked and what didn't. We came up with the idea of presenting a strong message with a powerful image that would provoke the public. Another concept was a way-finder that would show the alternative services based on your location.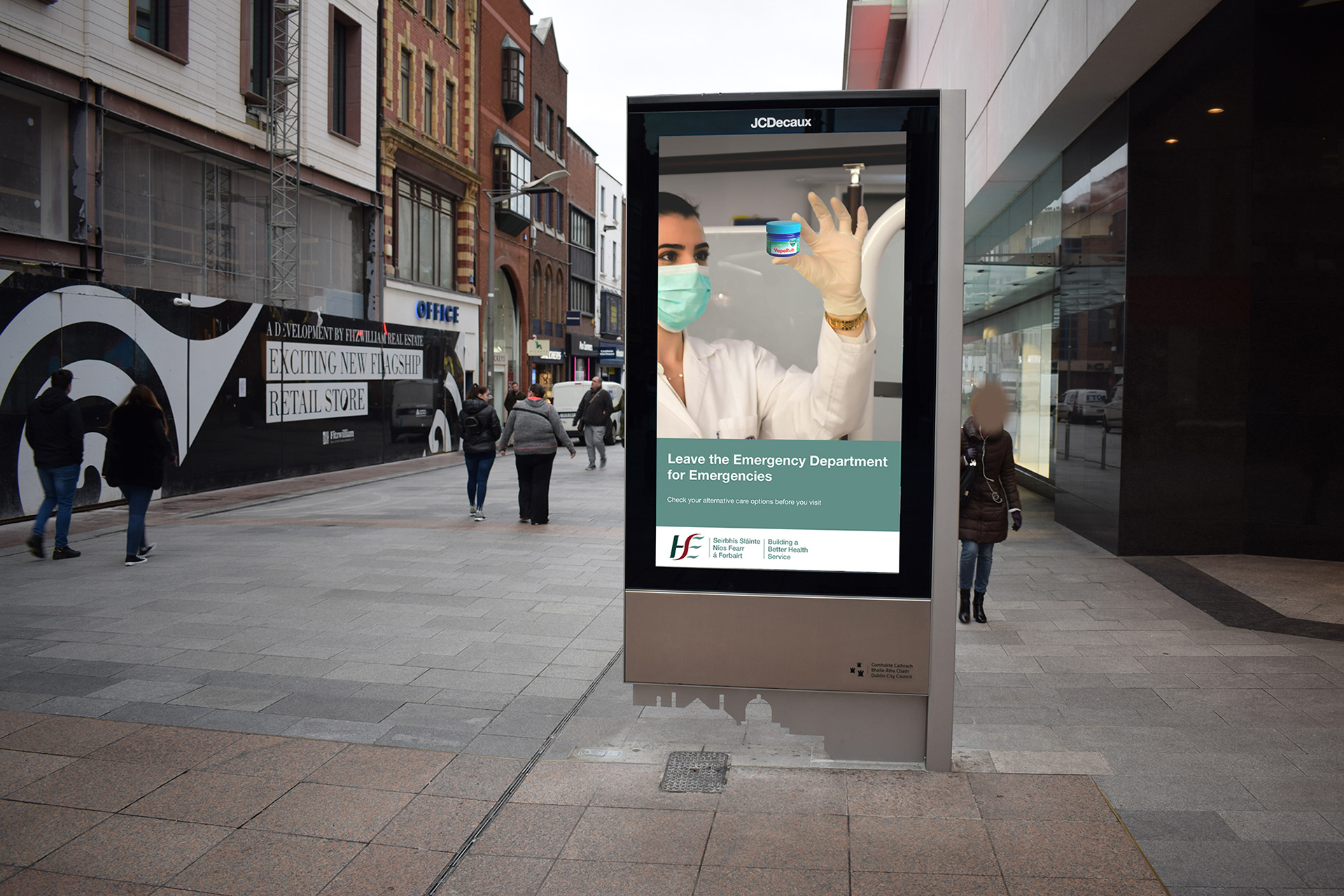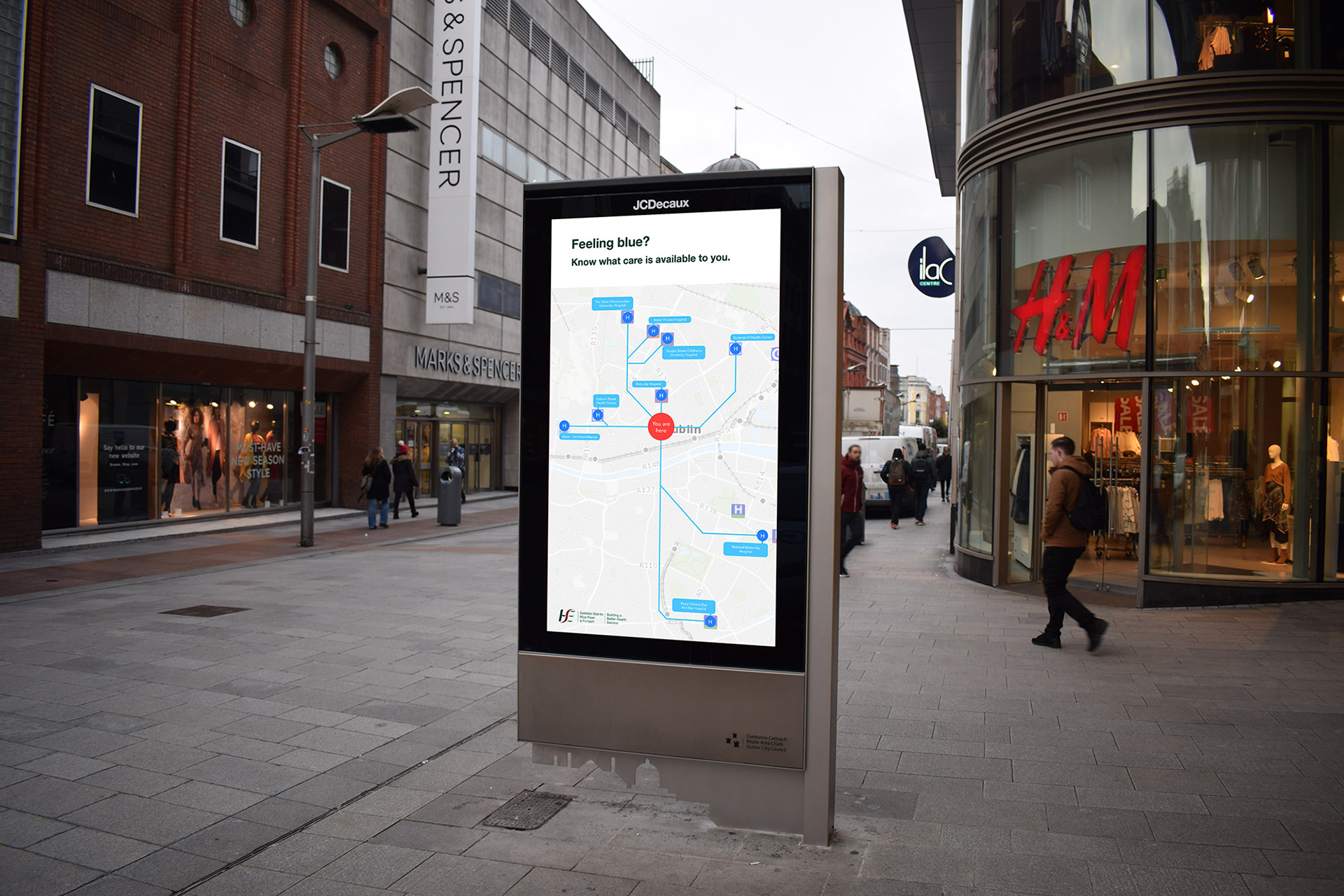 Feedback & Interviews
We found that both the awareness campaign and the educational toolkit were big hits, and we continued to try and work on both concepts but with more focus on the educational toolkit. This decision came after a meeting with the HSE, where we found that for a campaign to be successful, a lot of other elements need to be in place such as 'system readiness'.
We also got in touch with the NCCA on how best to implement an education toolkit into an existing curriculum. Taking this information forward we designed several educational games that could be used for Transition Year students or as part of the SPHE module in 5th year.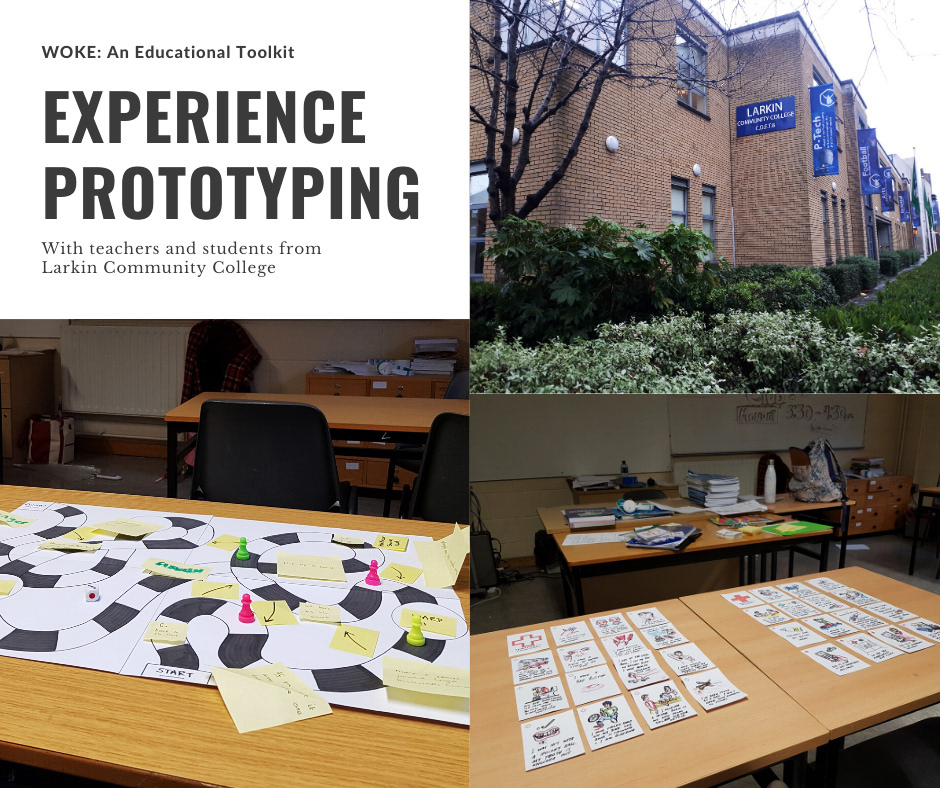 User Testing
We developed a prototype for testing the educational toolkit. The prototype consisted of a card and board game. For the card game the user needed to match an illness card with the correct cure. The board game is a roll dice game where the user will have to answer a question on healthcare correctly before progressing.
We did some initial testing within the class as well as some undergrad students for a quick proof of concept. We were also very fortunate to conduct a workshop with transition year students at Larkin Community College in Dublin for further testing and feedback. We found that the students were quick to pick up the rules and mechanics of the games
The Games
These are not too dissimilar to the prototype as we worked on some extra content, questions and the artwork. There are still two games, one of which is the card game where the players have a series of cards, 'Conditions' and 'Treatments'. These cards can be face up or down, and they have to be matched based on the correct Treatment for the Condition. Playing these face up introduces the users quickly to the cards in play, and playing with them face down can allow for a turn-based game where memory comes into play.
The second game that we designed is a board and dice game. In turns, the players have to roll the dice to move forward but to do so they have to correctly answer a question card picked from several categories. Answering correctly will allow the user to move towards the finish line. The board also incorporates some setbacks or bonuses that can create more exciting game play.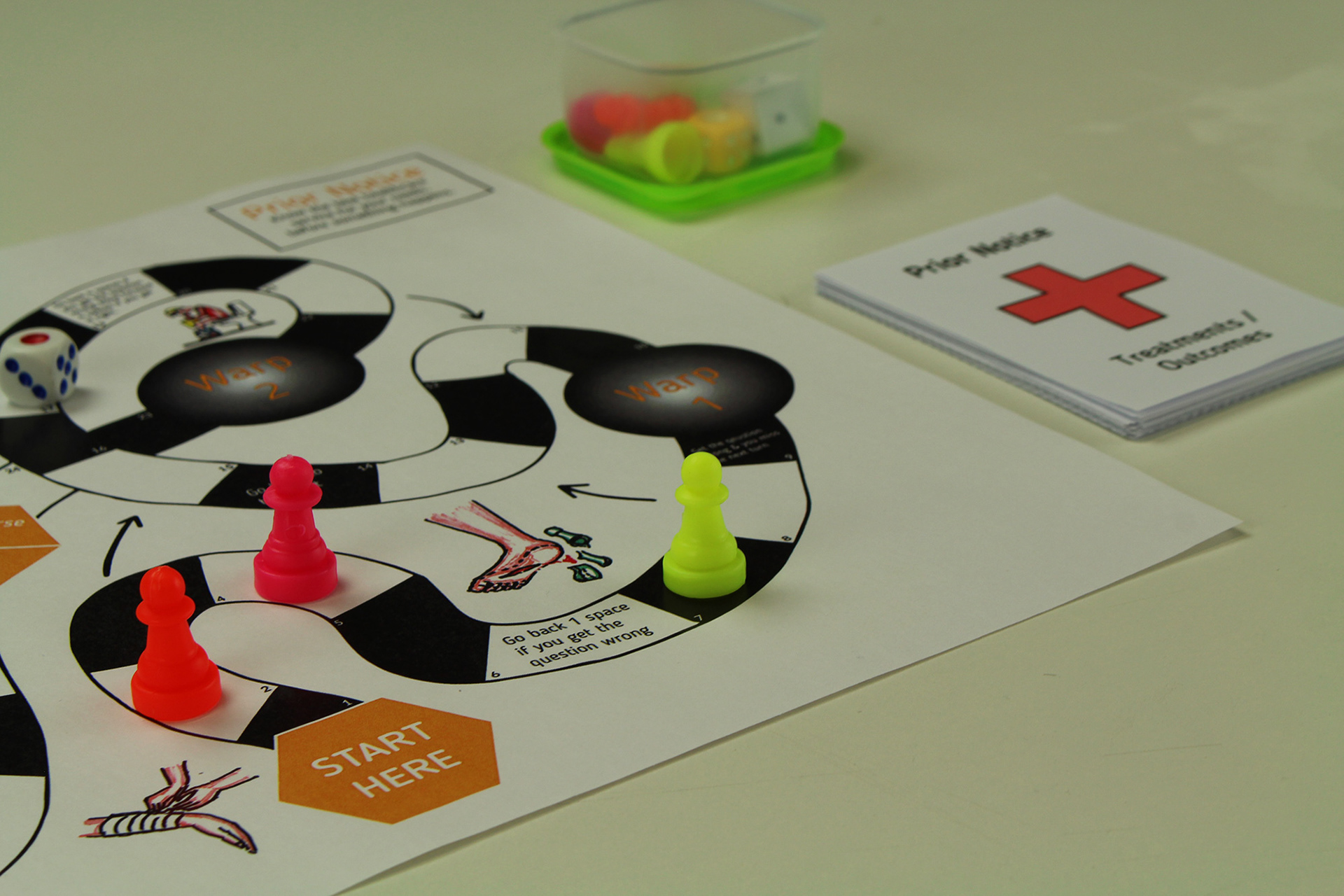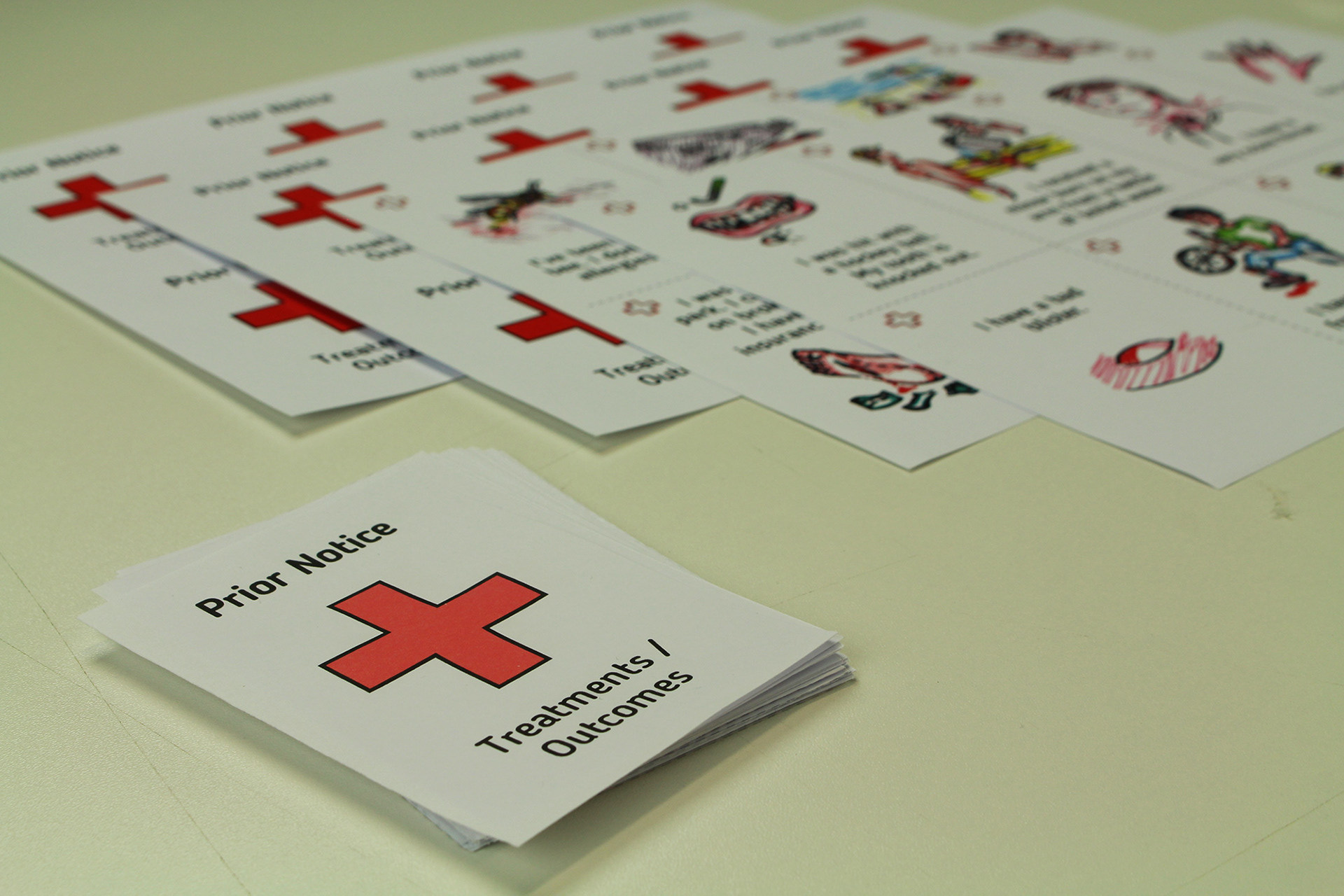 Awareness Campaign - reFreshers Pack
We still wanted to include an element of an awareness campaign to extend the service beyond second-level education. For this, we designed for the multiple touchpoints as a student in third-level education. We found that freshers week would be one of the prime opportunities to provide students with information. We designed information leaflets, flyers and 'sticky' items such as fridge magnets & keychains for students. These flyers and leaflets provide information based on the campus location.
With all of these elements of the service design, we intend to educate students on their healthcare options so they can make their own informed decision that is best for them.