Wishlist
A shared wish list for couples
What is it?
Wish List is an app designed for couples looking to break their routine. Often, relationships fall into a repetitive routine or communication about ones interests is lost. The app helps enable this conversation by creating a shared wish list of activities or events to attend. Each partner in the relationship can see each others wish list on its own, as well as ones that match between the two users. The app also enables the user to plan a date, as well as share date ideas or events, found in the 'Explore' section with their partner. After a date, they also have the option to store photos or memoirs in the 'History' section, which allows the users to reflect on what they have experienced together in the past.
The first task was to get to know the audience through interviews. This was done as a group to cover more ground, and the interview responses were then shared among each other through story telling methods. These responses were picked apart for any key insights through card sorting to find recurring themes.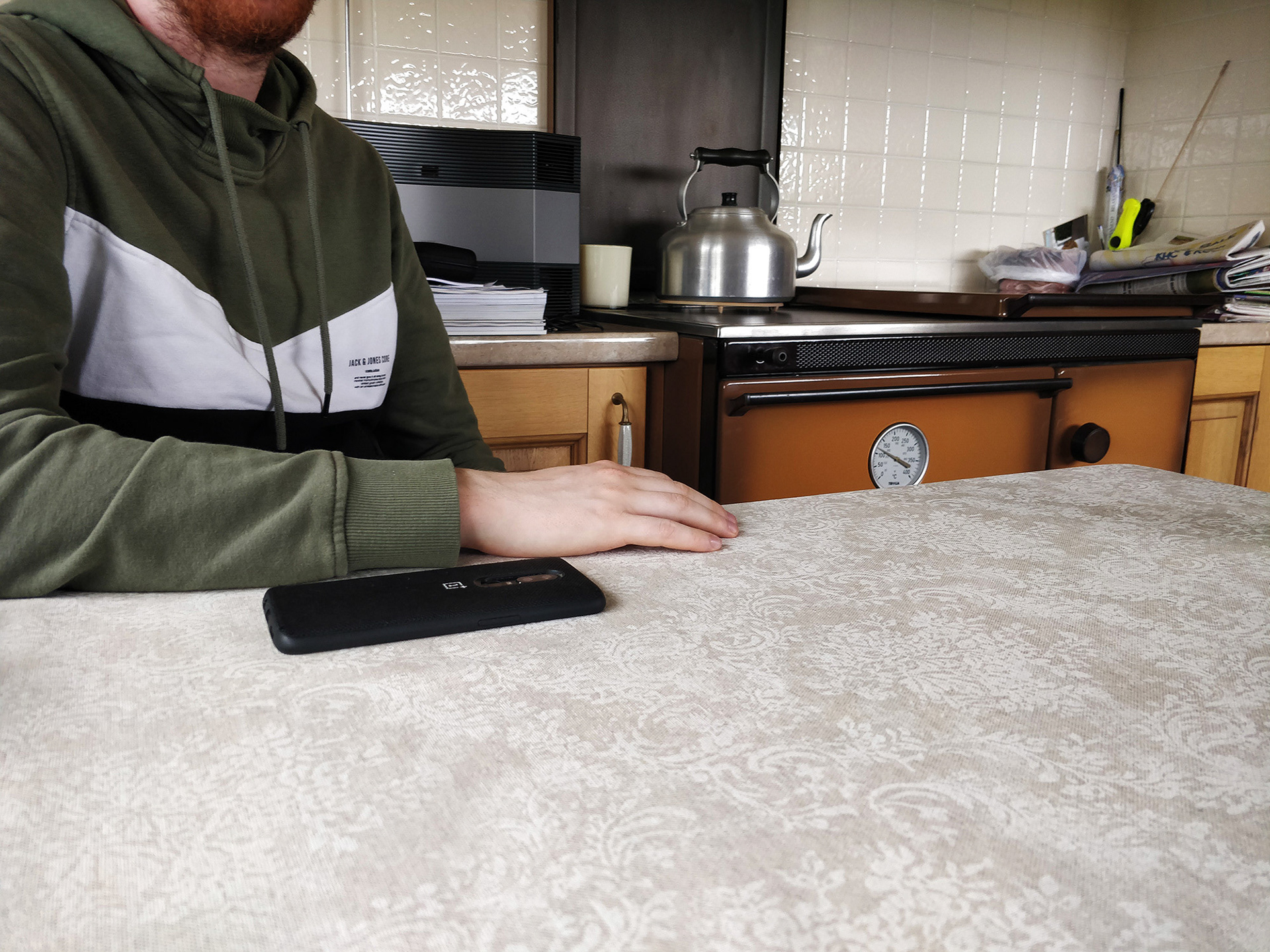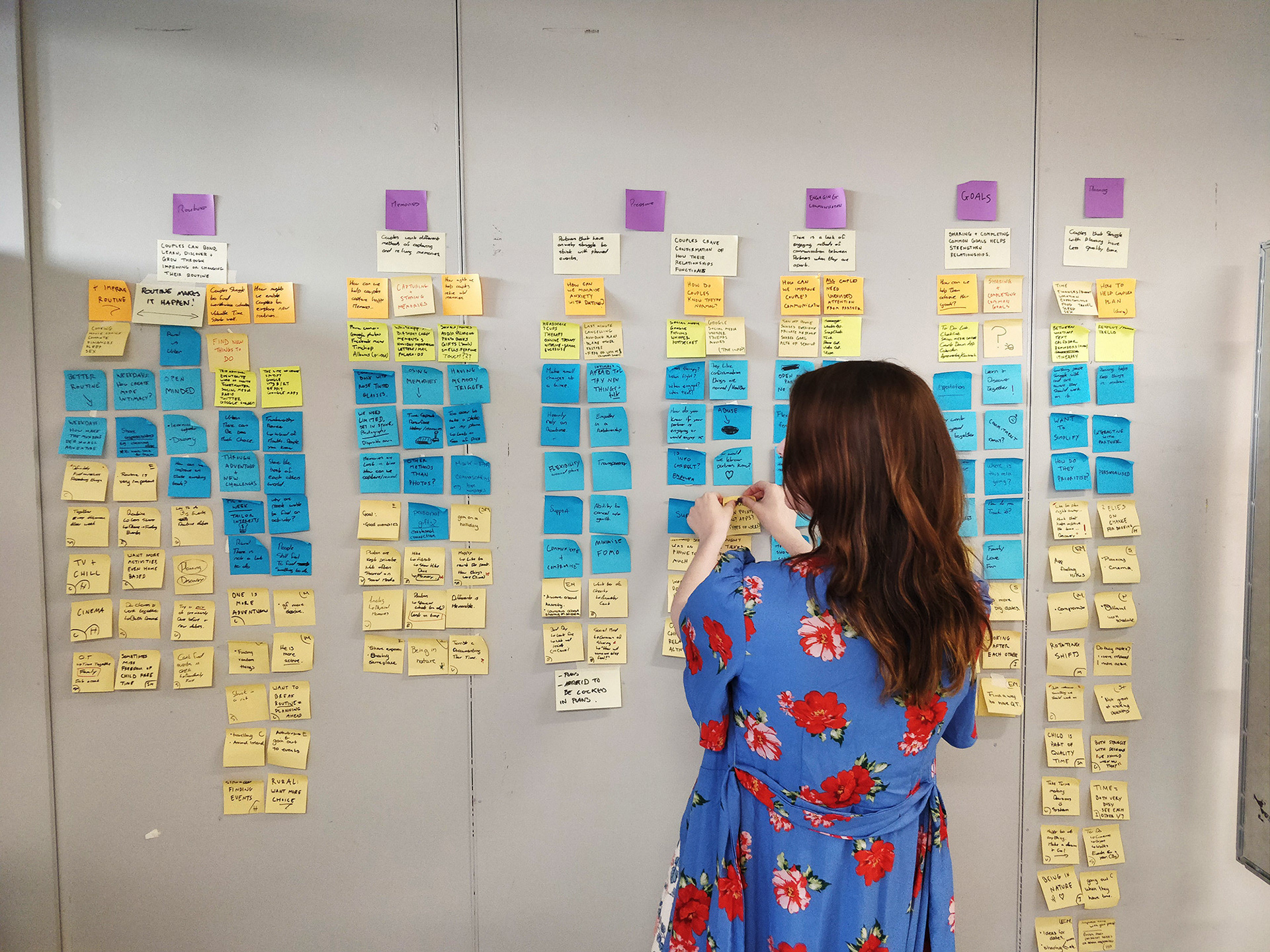 We were then tasked to provide personas based on our interviews to try and capture the various behaviors and personality traits. The project was very focused on this research phase to make sure we captured an accurate target market.
One of the key findings that applied to my final outcome is that couples bond through sharing and learning new experiences together. This drove the design of the app to be based around exploration and shared experiences.
Other key insights was that some couples often feel anxious about dates and that their current routine is boring their partner. In the case of a couple managing a family, they miss out on their engaging 1 on 1 time.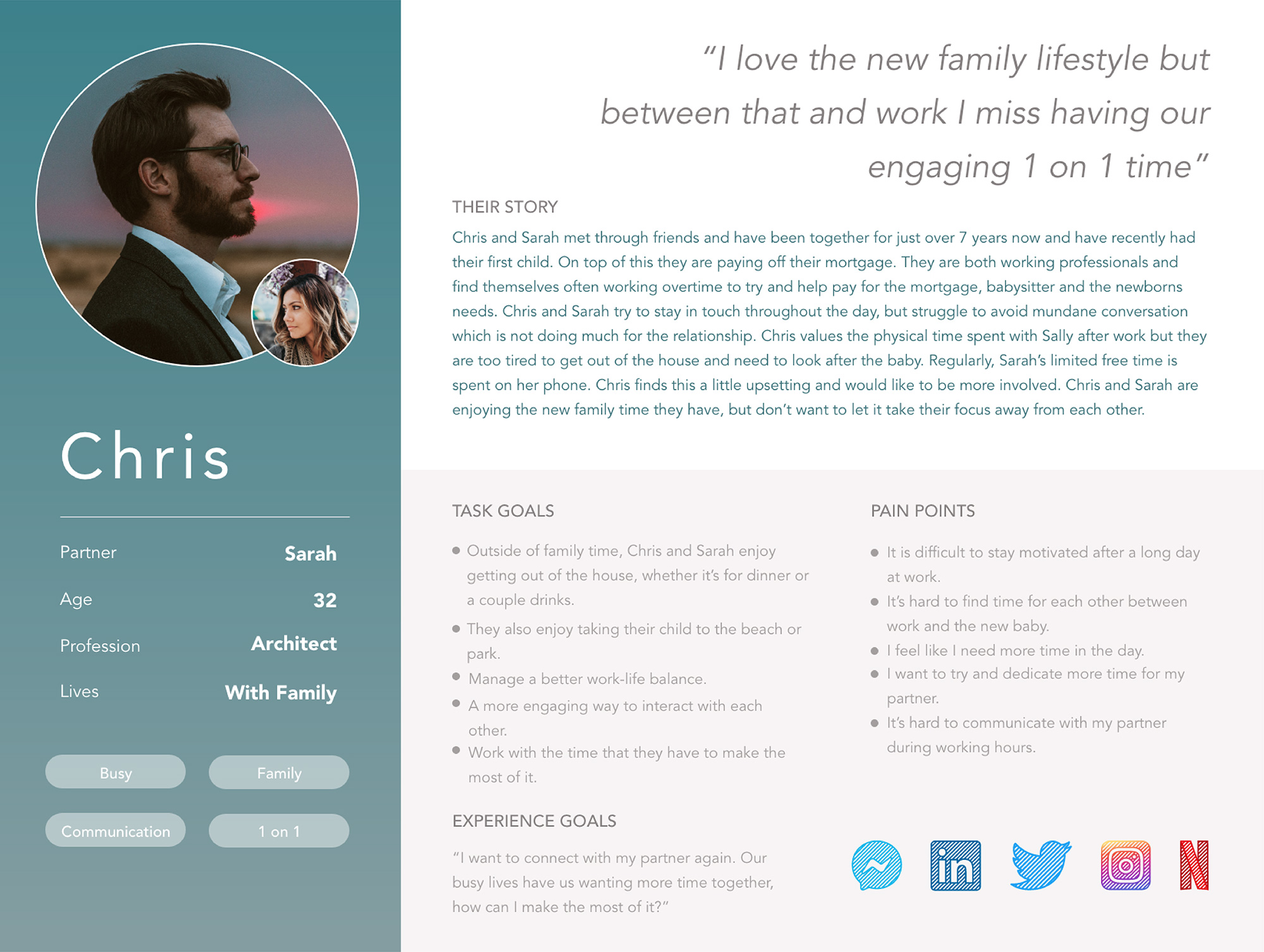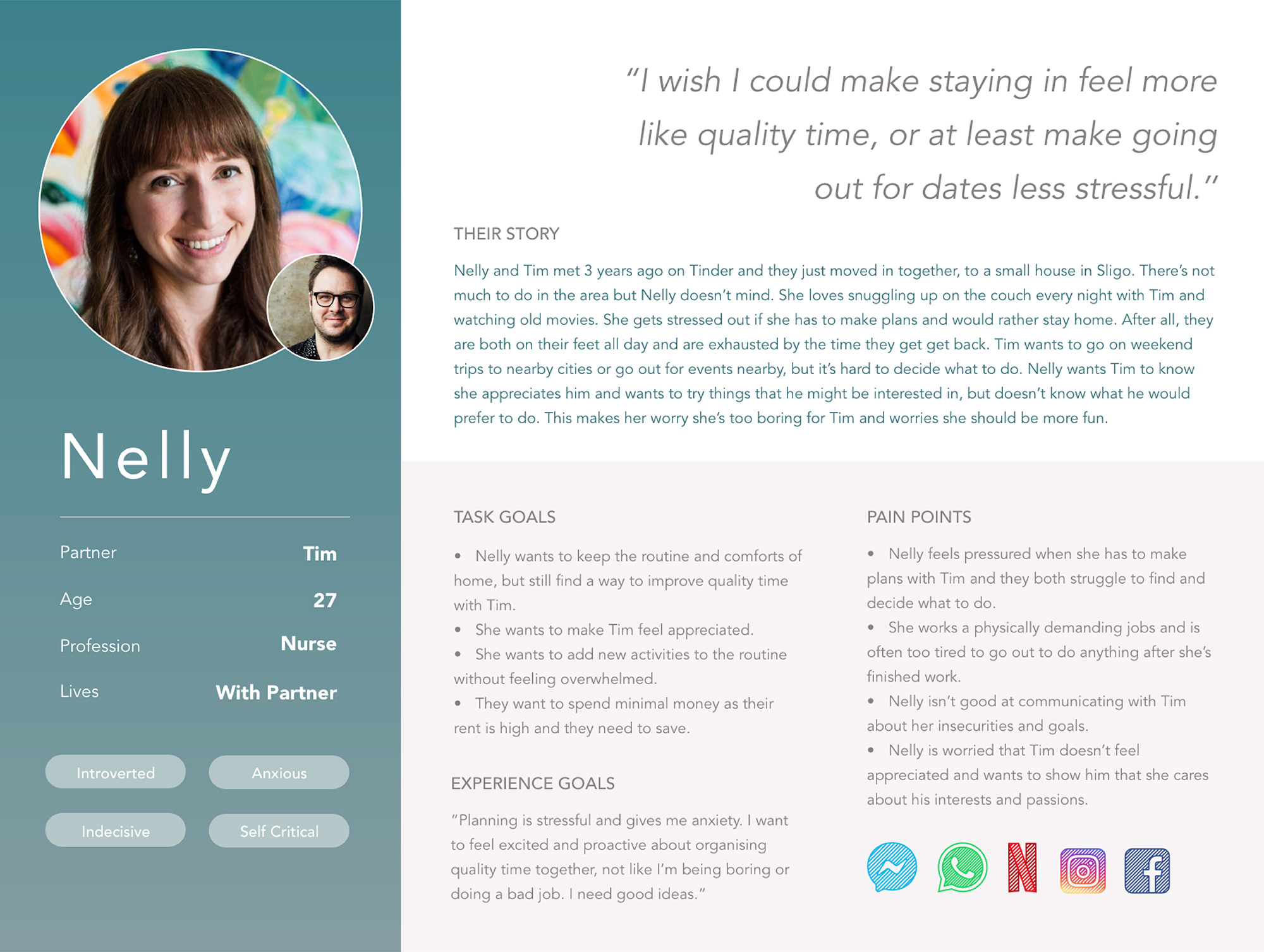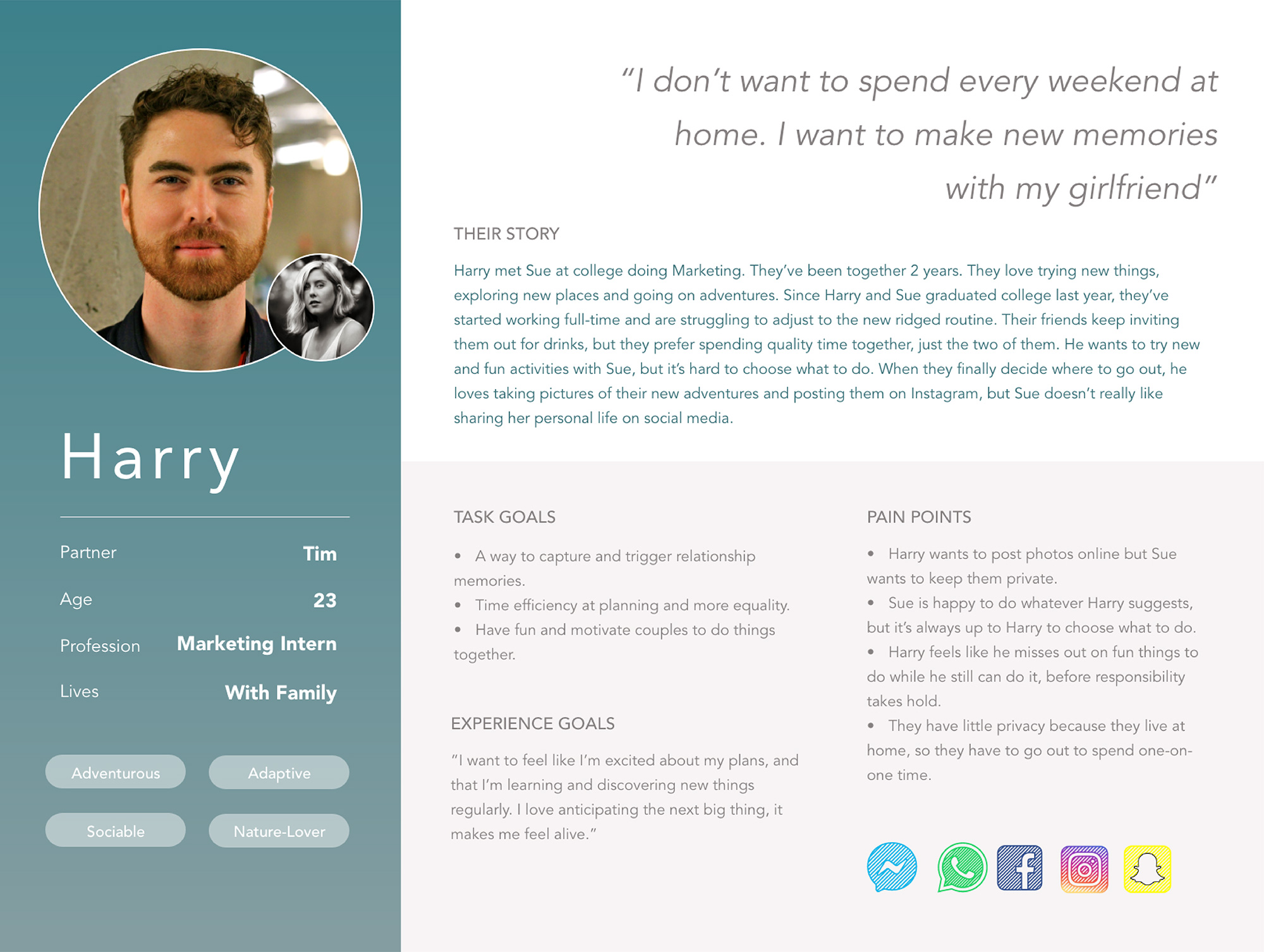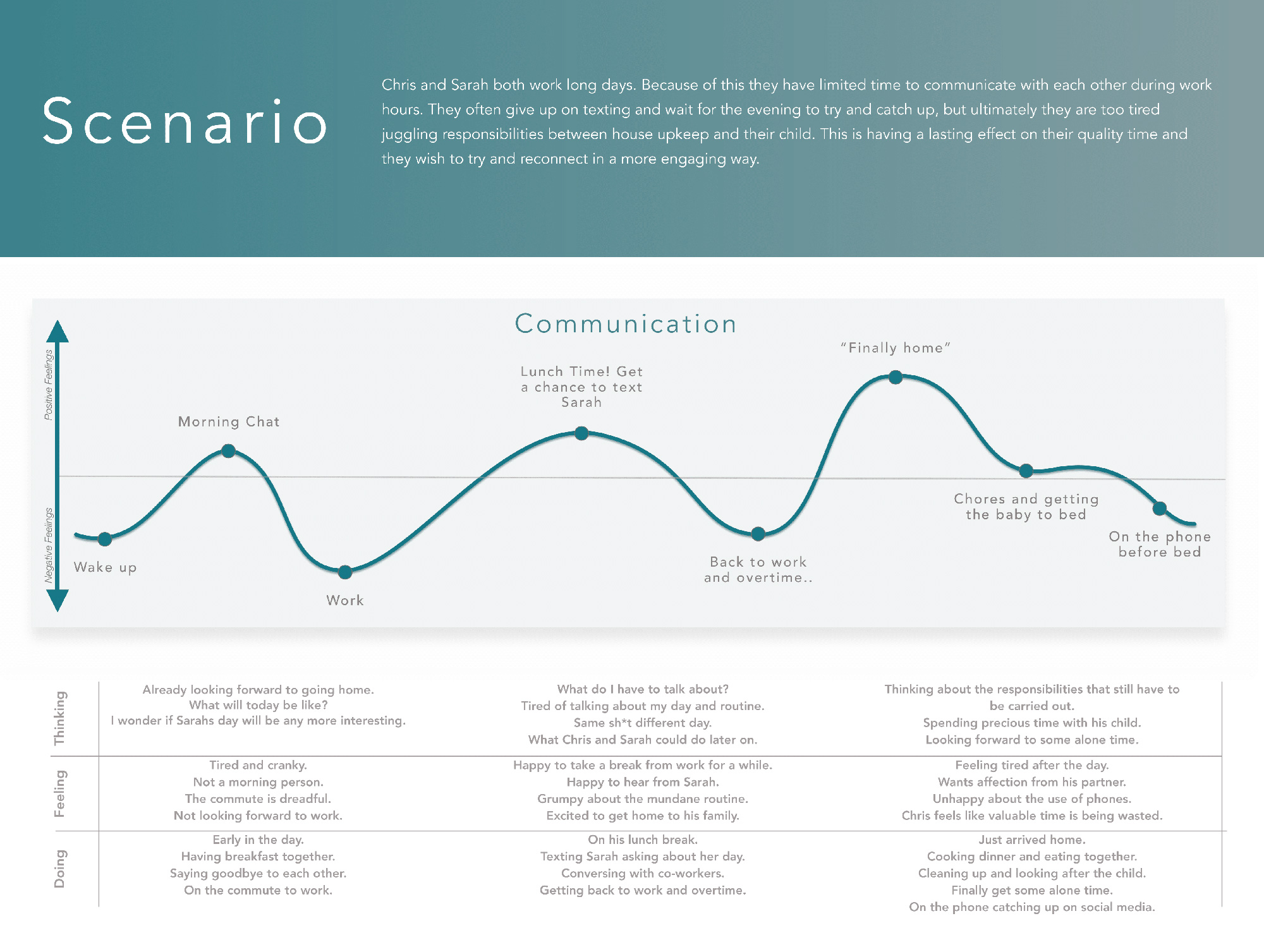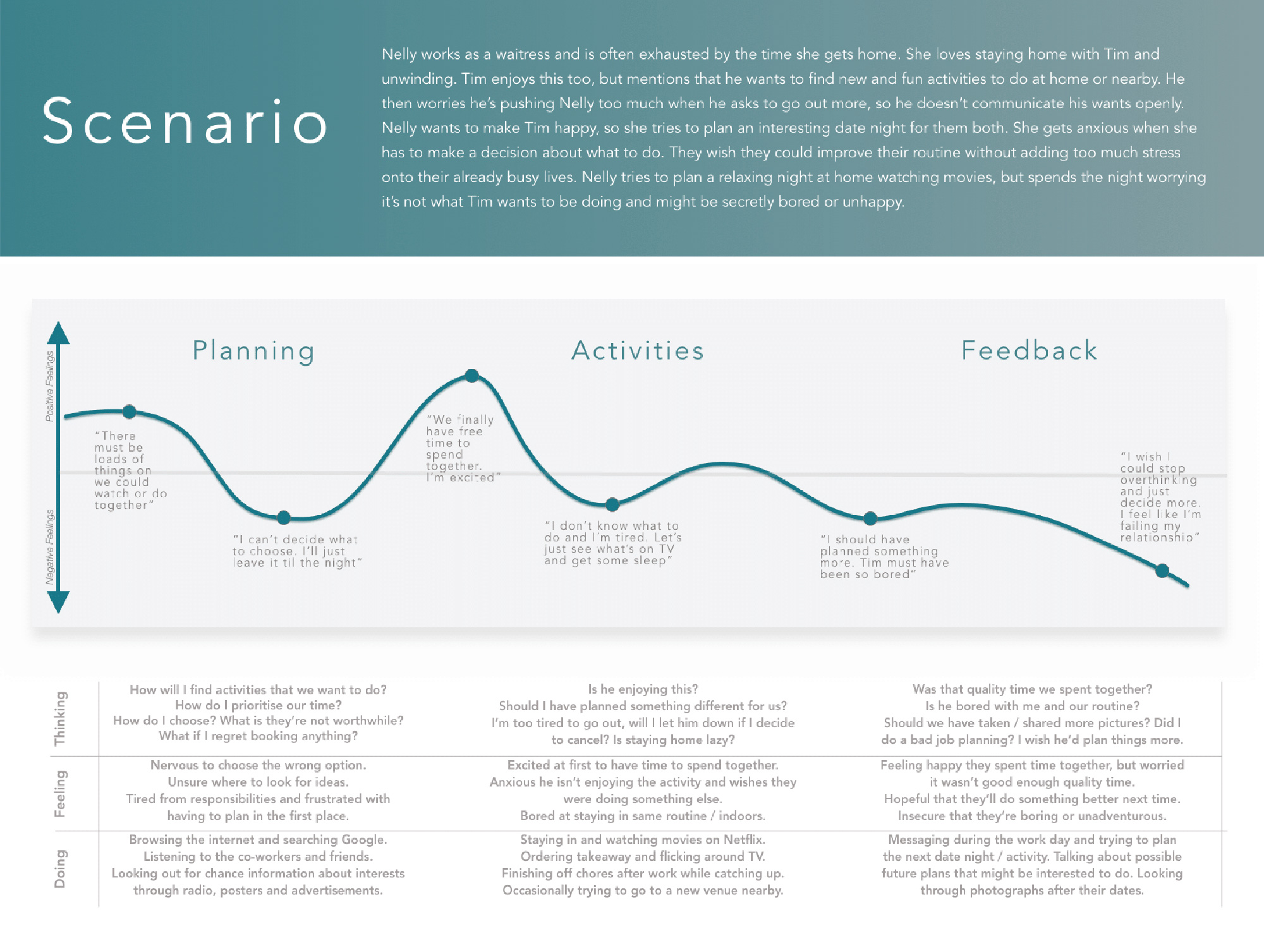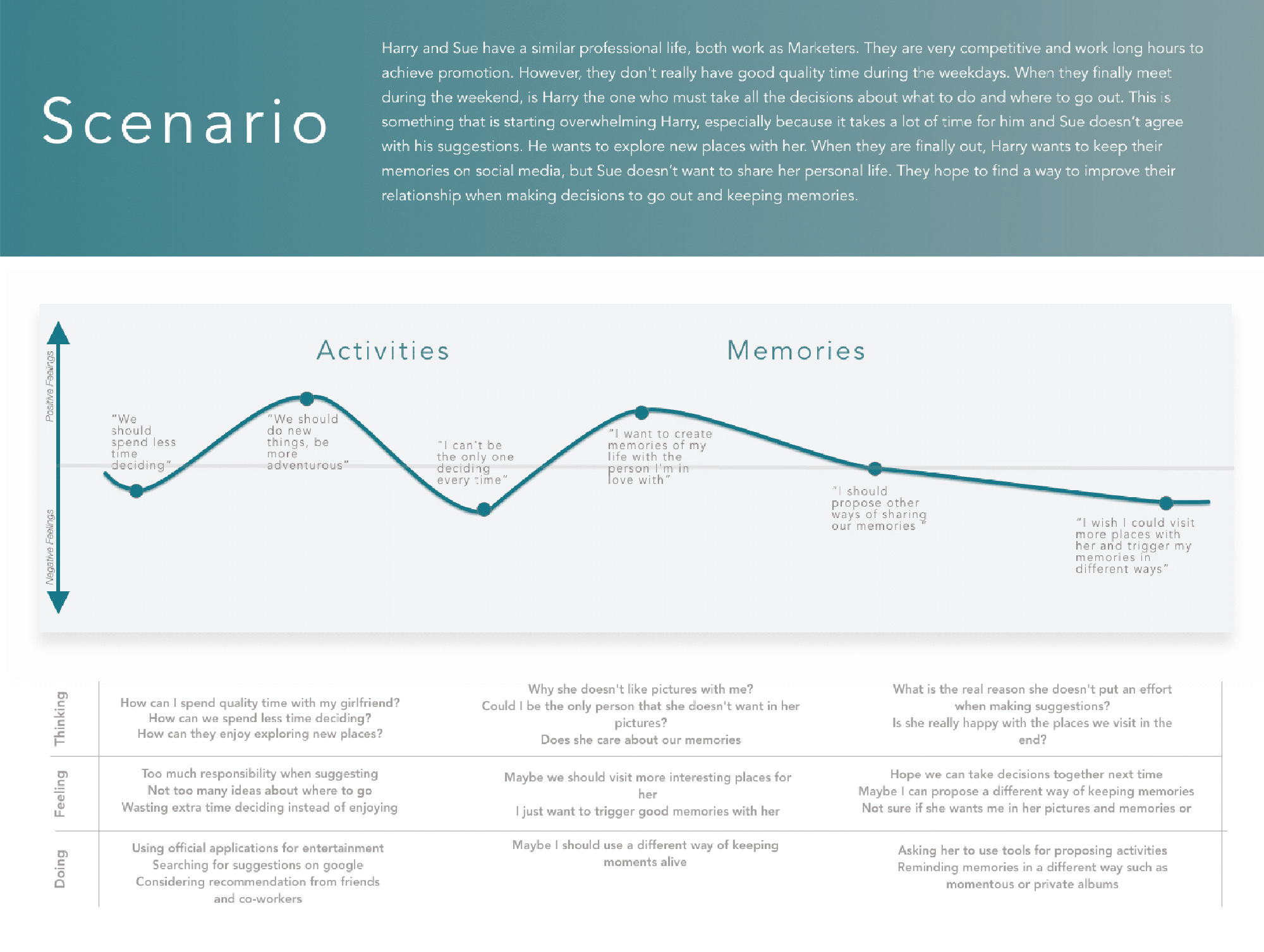 As it was a 5 week project, we broke out from our research groups and quickly transitioned into the design of the app beginning with idea generation, basic wire frames, user flows and site maps. Being sure to stay true to the key insights from our personas ensured the app remained relevant and useful. These designs constantly changed through exploration with various UX layouts and features. Updating the site maps and user flows alongside the wire frames helped give a clear sense of what the app is intended to be before moving into testing.
Some of the ideas at the time were looking at how couples might find inspiration for dates, or accumulate a list of desired activities for both short term and long term. Originally, I was looking at leveraging from a community feed of ideas, but moved on to using existing events that are on in the area and piggy backing from other event advertisement software.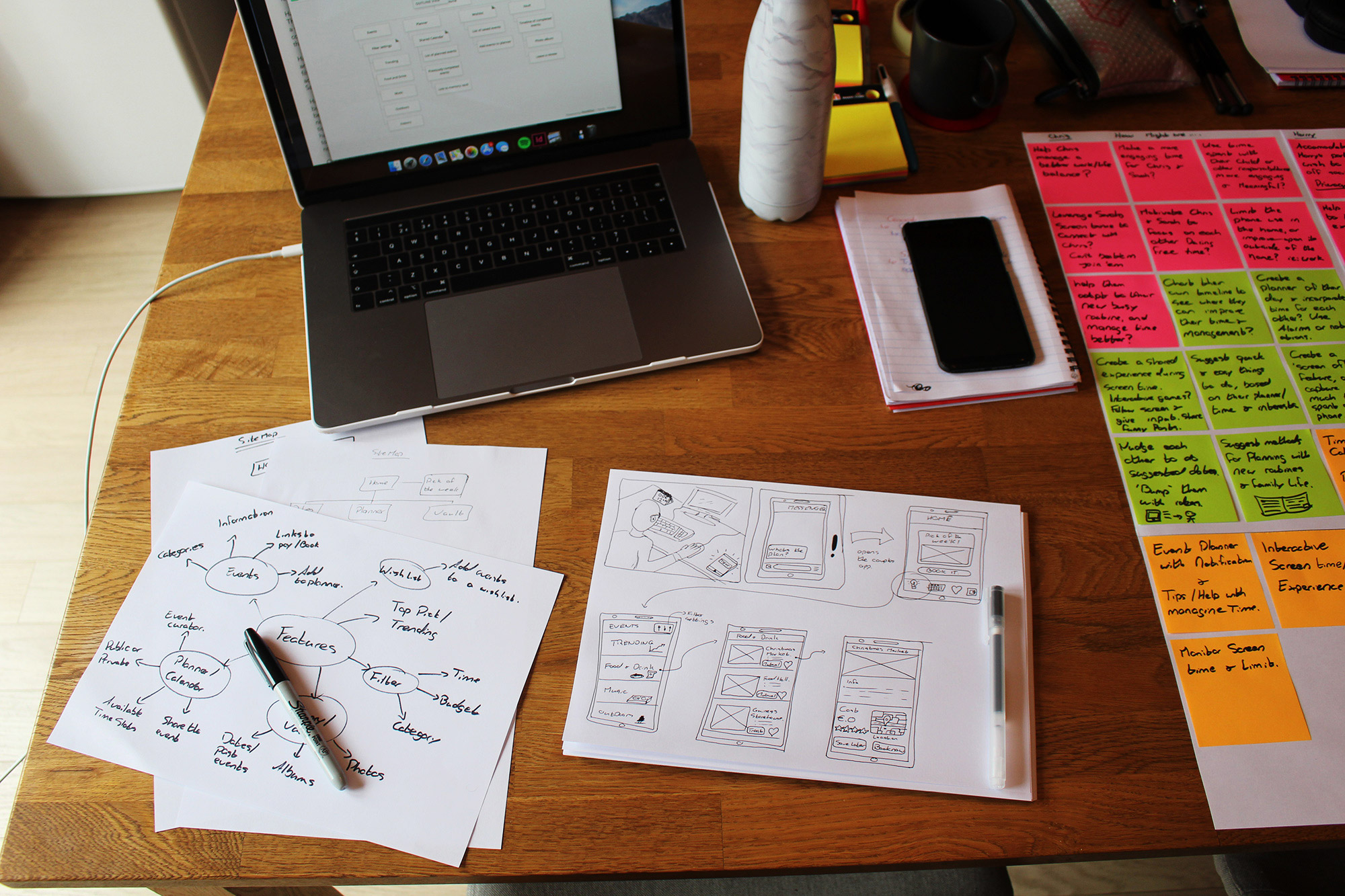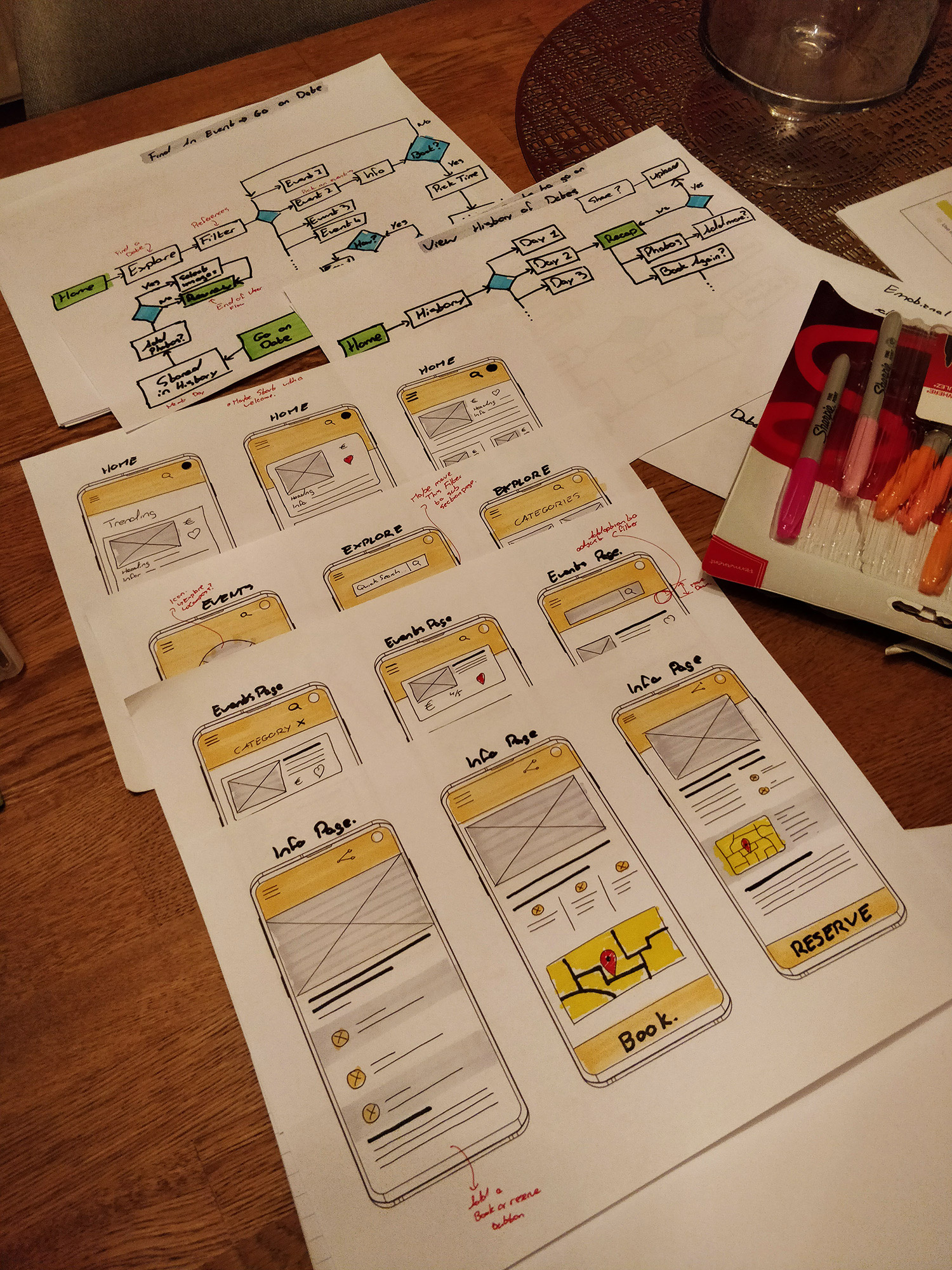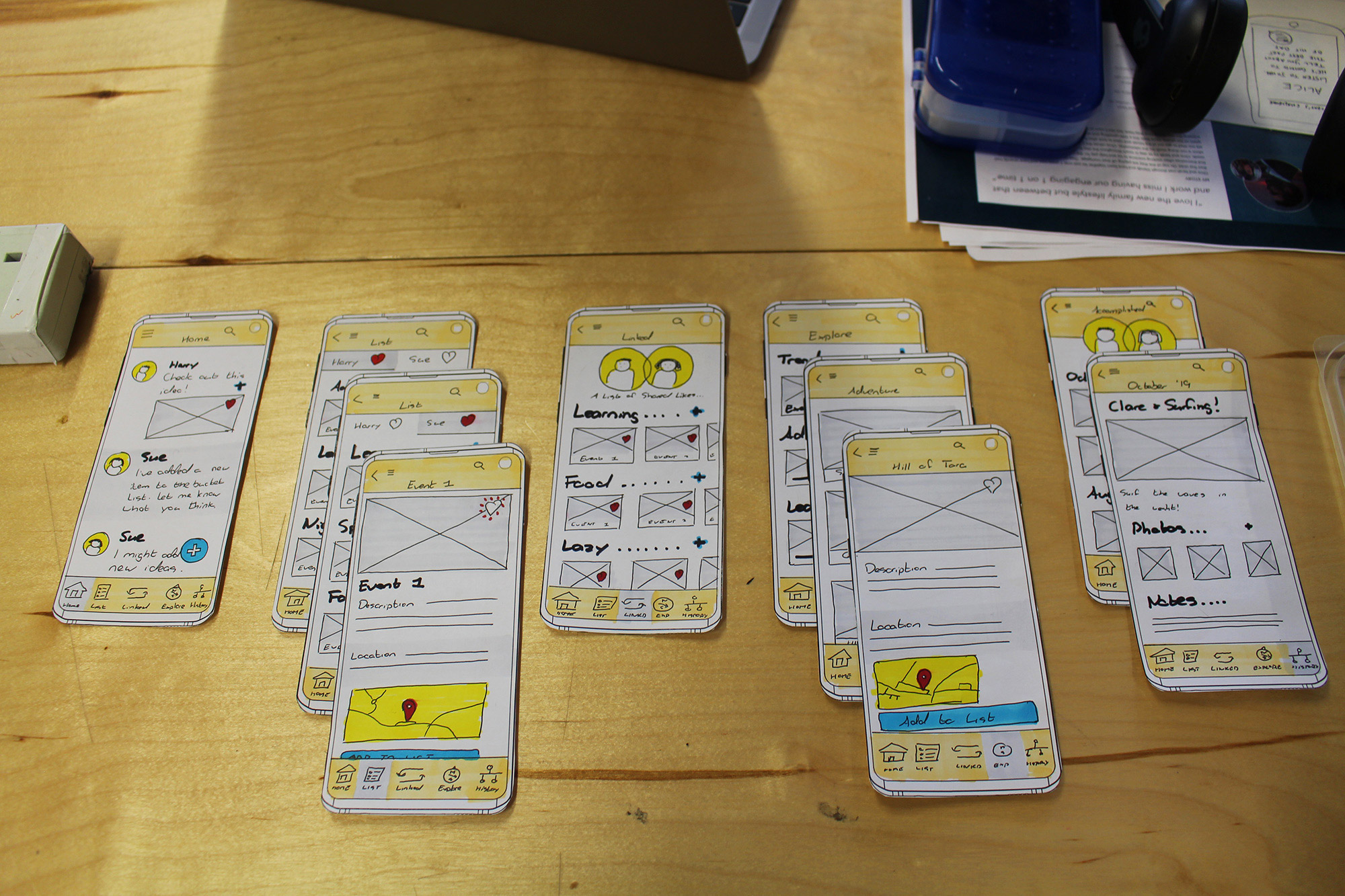 Once the functionality and features were determined I began user testing. This uncovered a lot of inconsistencies in the design that were overlooked on my end. The feedback was also quite consistent from the various people which gave a clear sense of what needed to be done next.
There was confusion around the definition of certain buttons as the users thought it had an alternative function. There was also uncertainty on how best to find an event to add to their wish list or how the 'Shared Wish List' tabs worked. These design changes were made along with further user testing to uncover any other usability issues. This then set things up nicely when moving on to higher fidelity prototypes.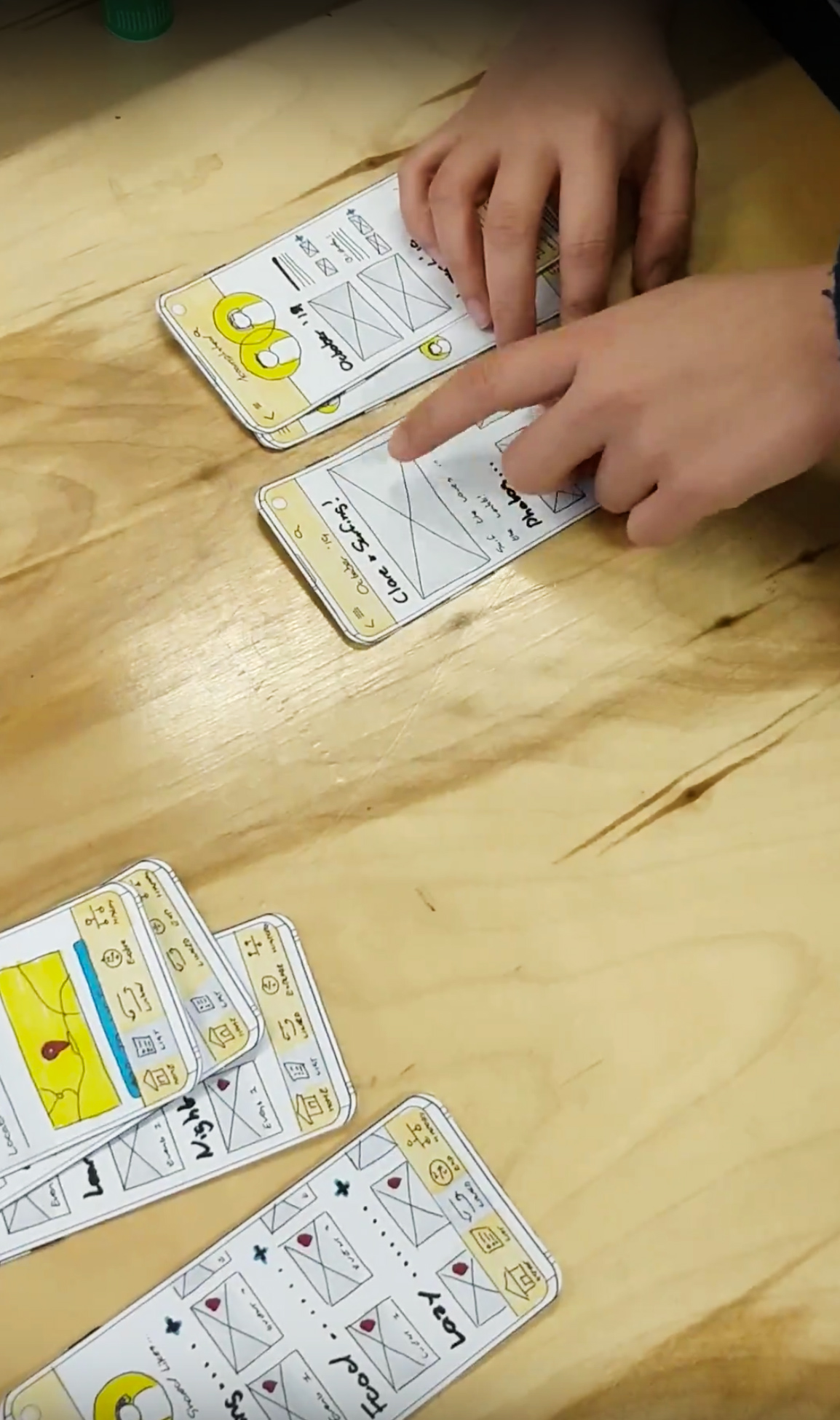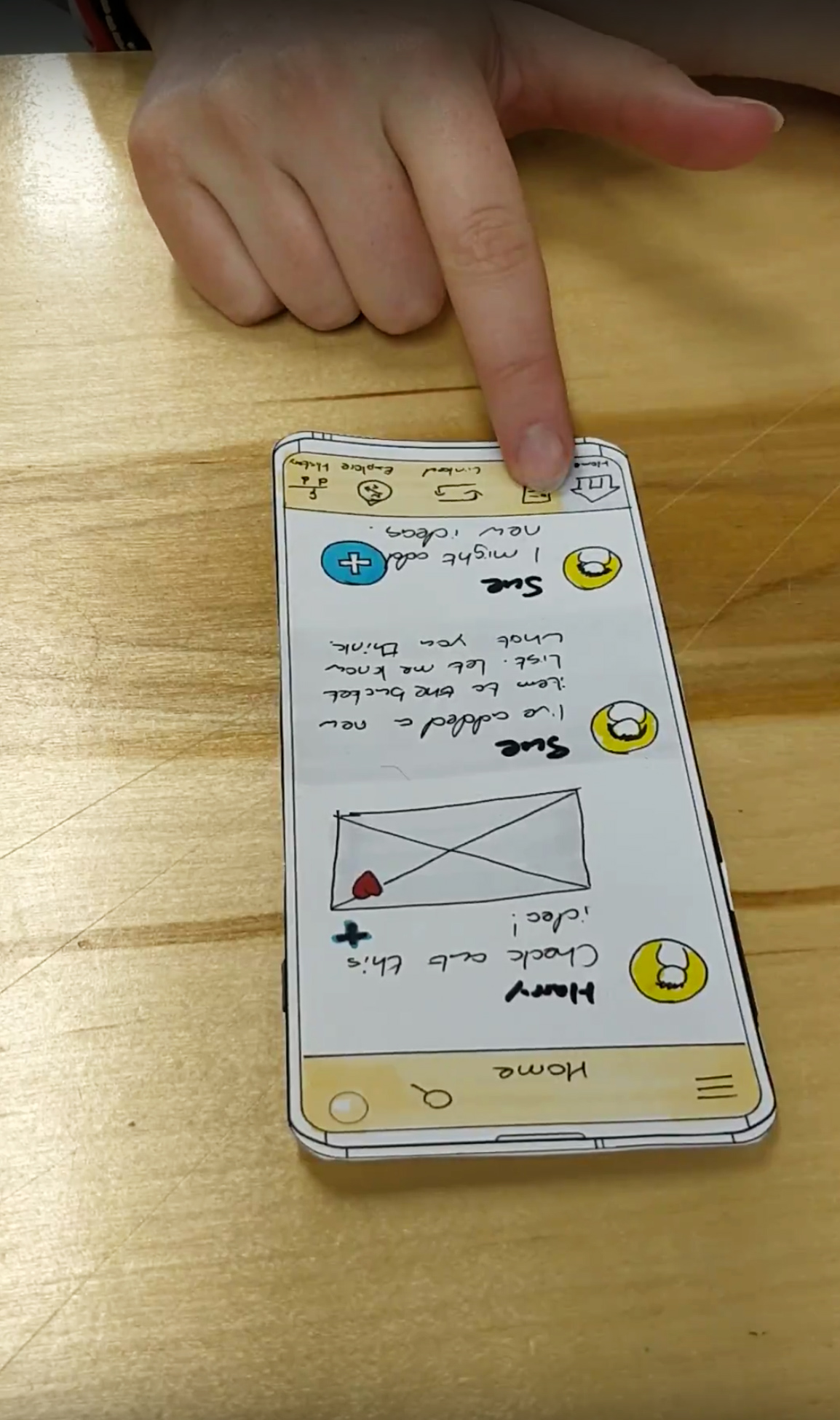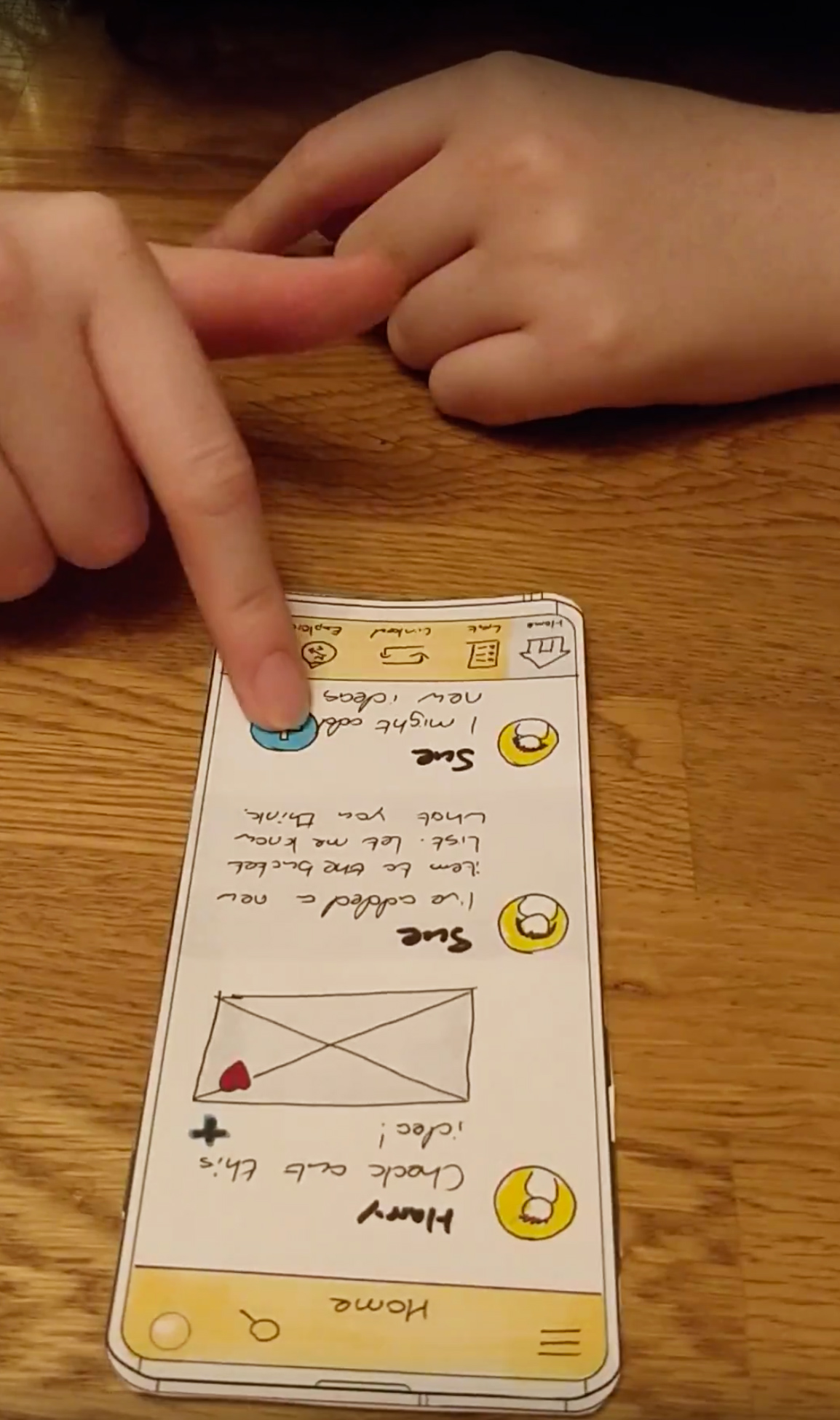 We conducted a feedback session with some fresh eyes. We printed our High-Fi screens for writing notes as well as providing an interactive prototype on a phones for testing. We rotated around the table providing feedback on each project with a follow up discussion to explain our feedback in further detail.
Some of the feedback discussed how the 'Shared Wish List' section was still confusion and not following conventional UI elements. Also the on-boarding process would need to be worked a bit more to provide the user with more context to the app and how it works. For example, how do we invite our partner to join the app? How does our partner know we have added an item to our wish list, or do we 'tag' them or share it with them? Some of these features then made its way into further development. At this point we also took time to brainstorm creating our own event as couples might have something unique to them, and started to map out this process.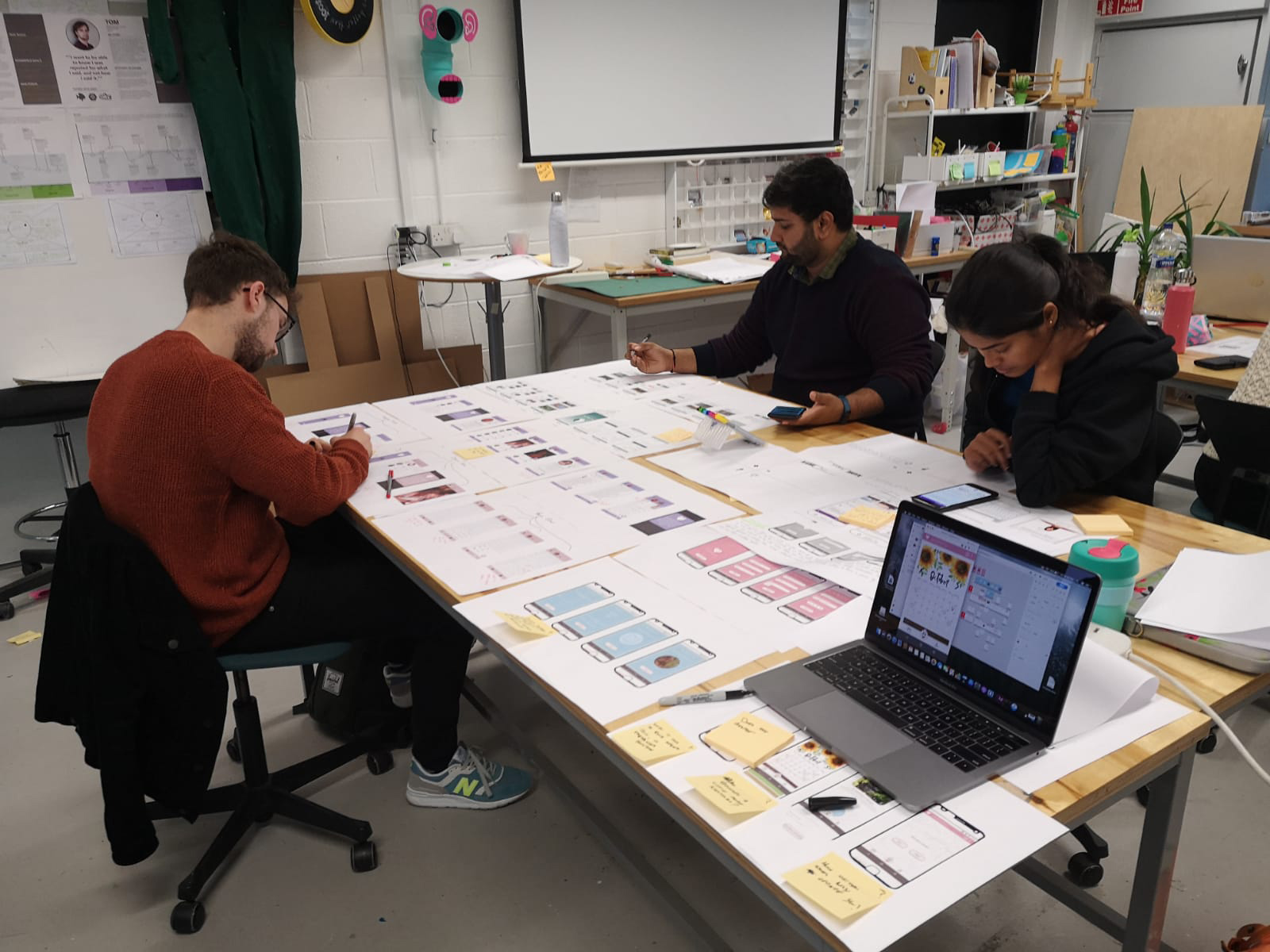 Having completed enough user testing I was confident to move forward to higher fidelity prototypes using Adobe XD. With the limited time we had we were asked to design for the key user flows. Below is a number of animations of the Key user flows.
Wish List allows you to create a shared wish-list for you and your partner to explore common interests, and to discover something new.
Search for Activities in your area based on you and your partners interests, leveraging off of existing event apps (Eventbrite, Ticketmaster etc). Add these items to a wish-list and notify your partner by 'tagging' them. You can set a schedule in place to help plan an event. Pick a date and time and the app will remind you at an appropriate times beforehand. Completed dates or events are logged in the history tab where you can review photos taken on the day.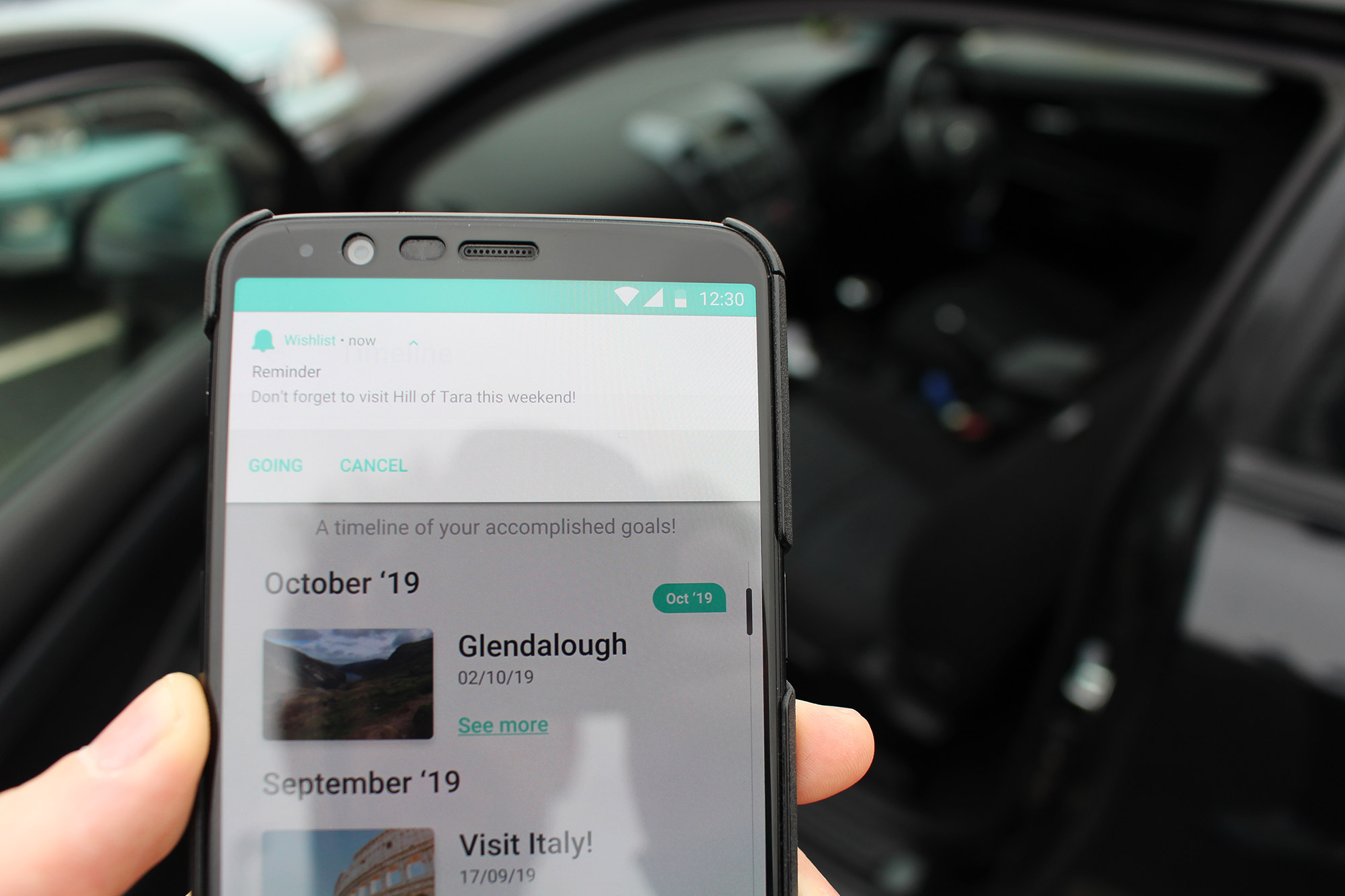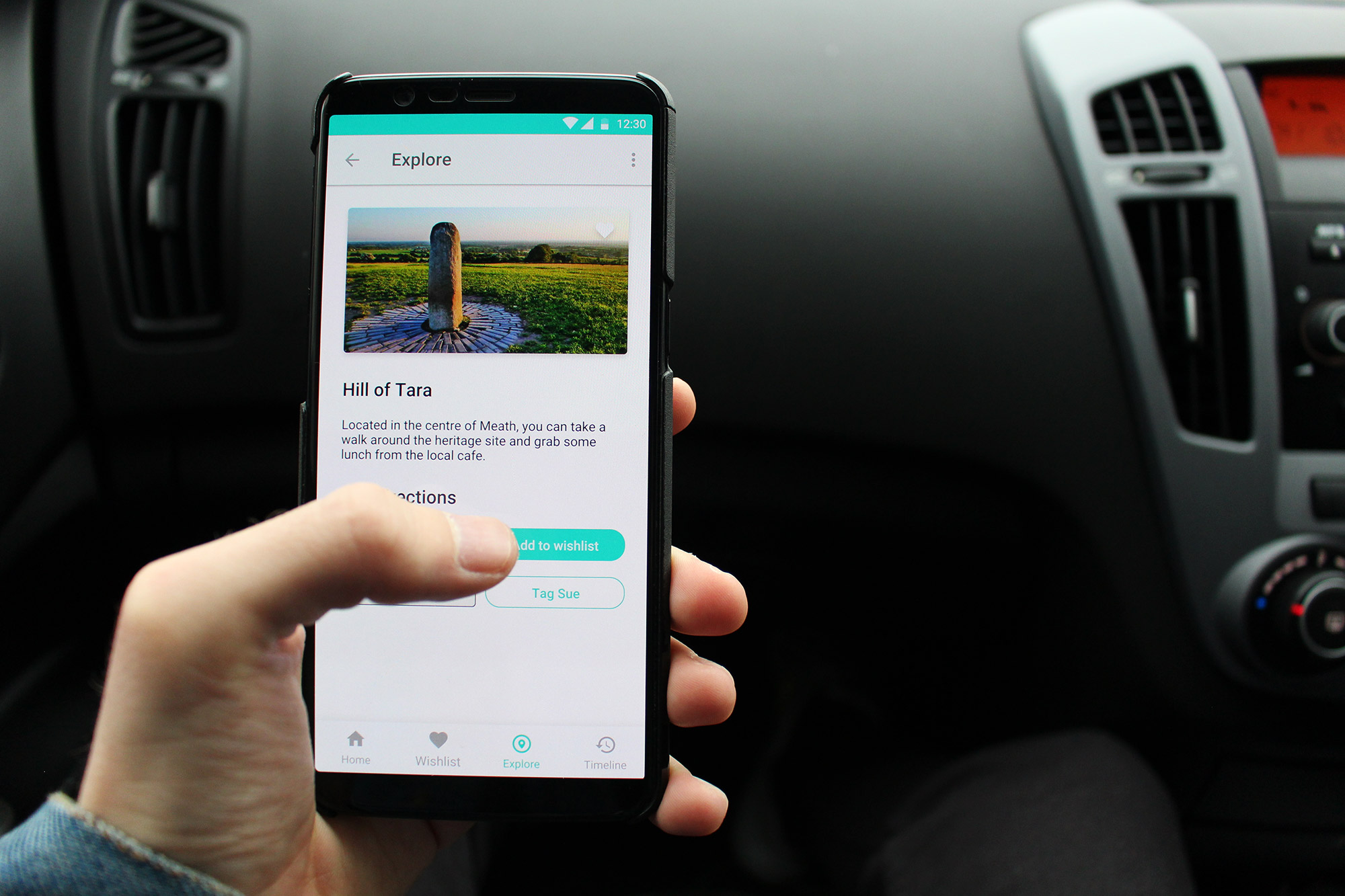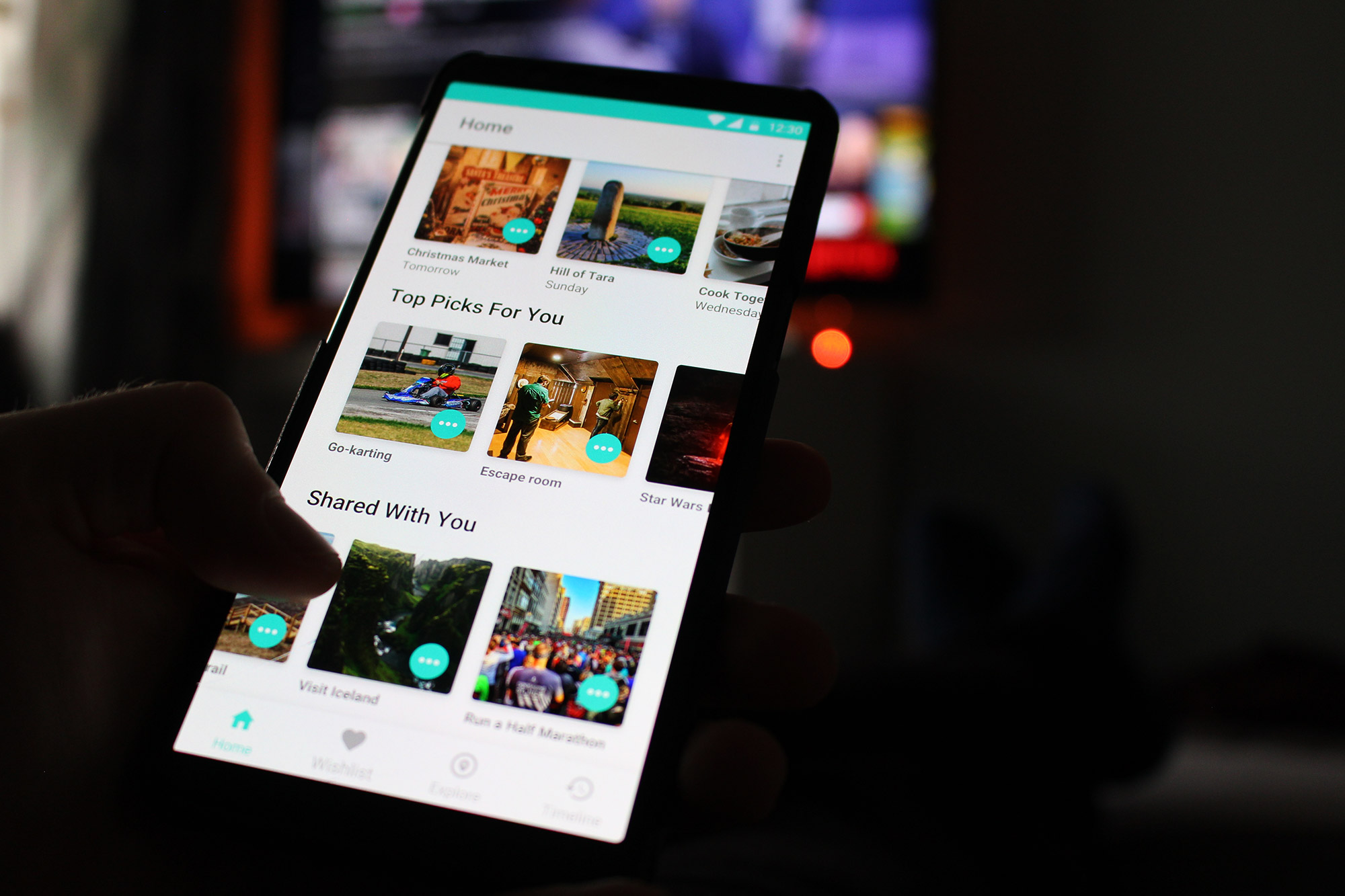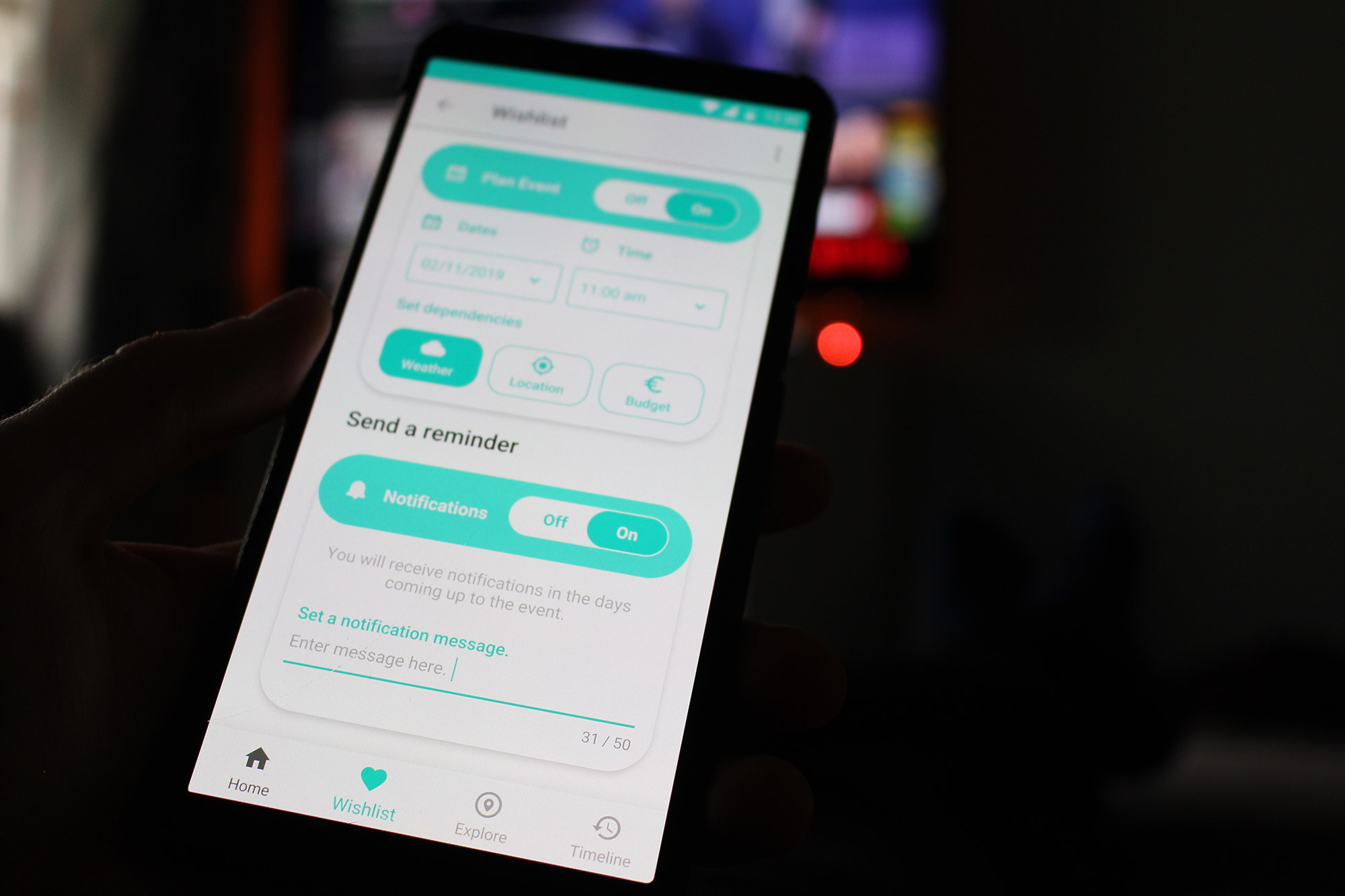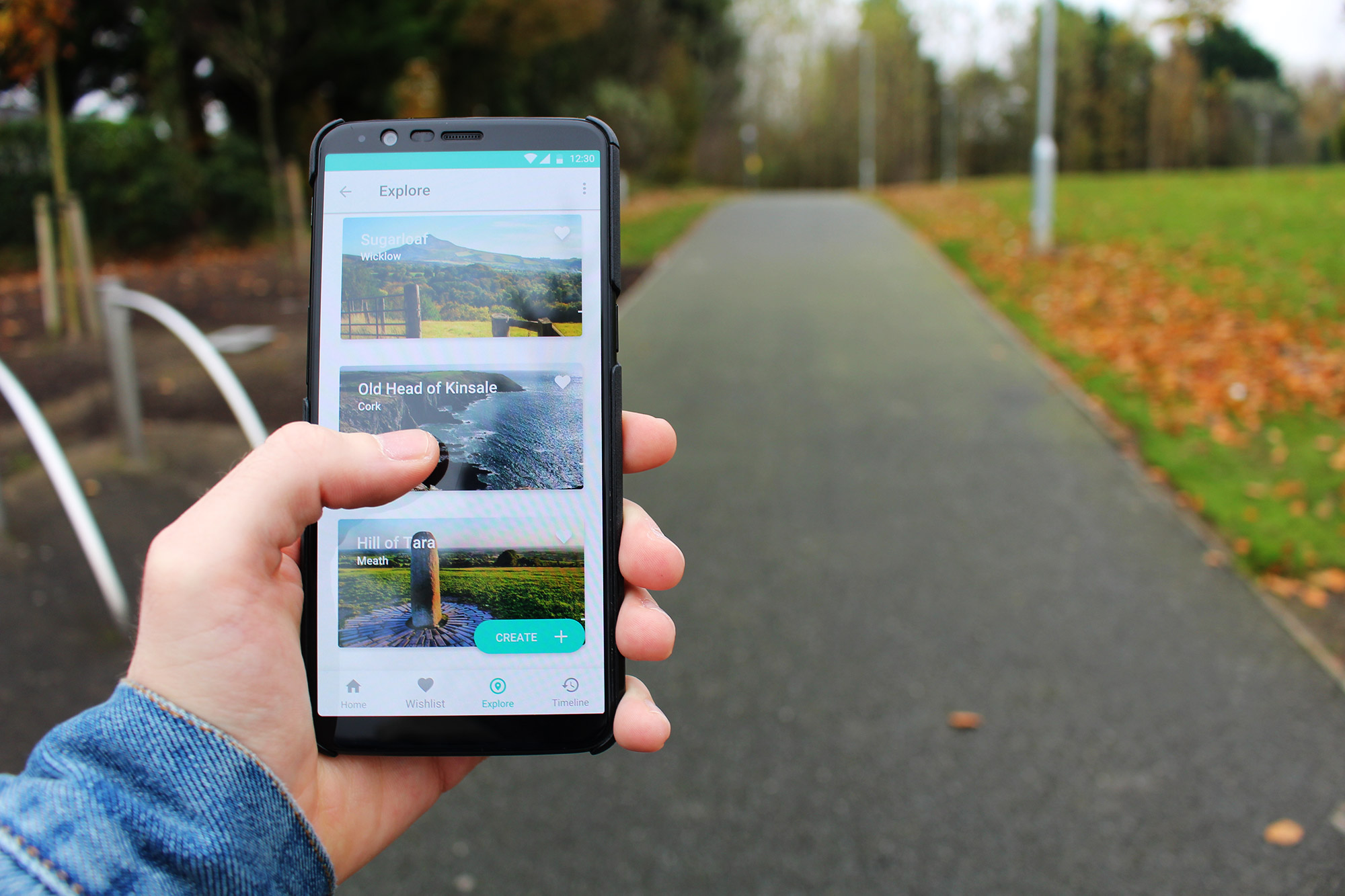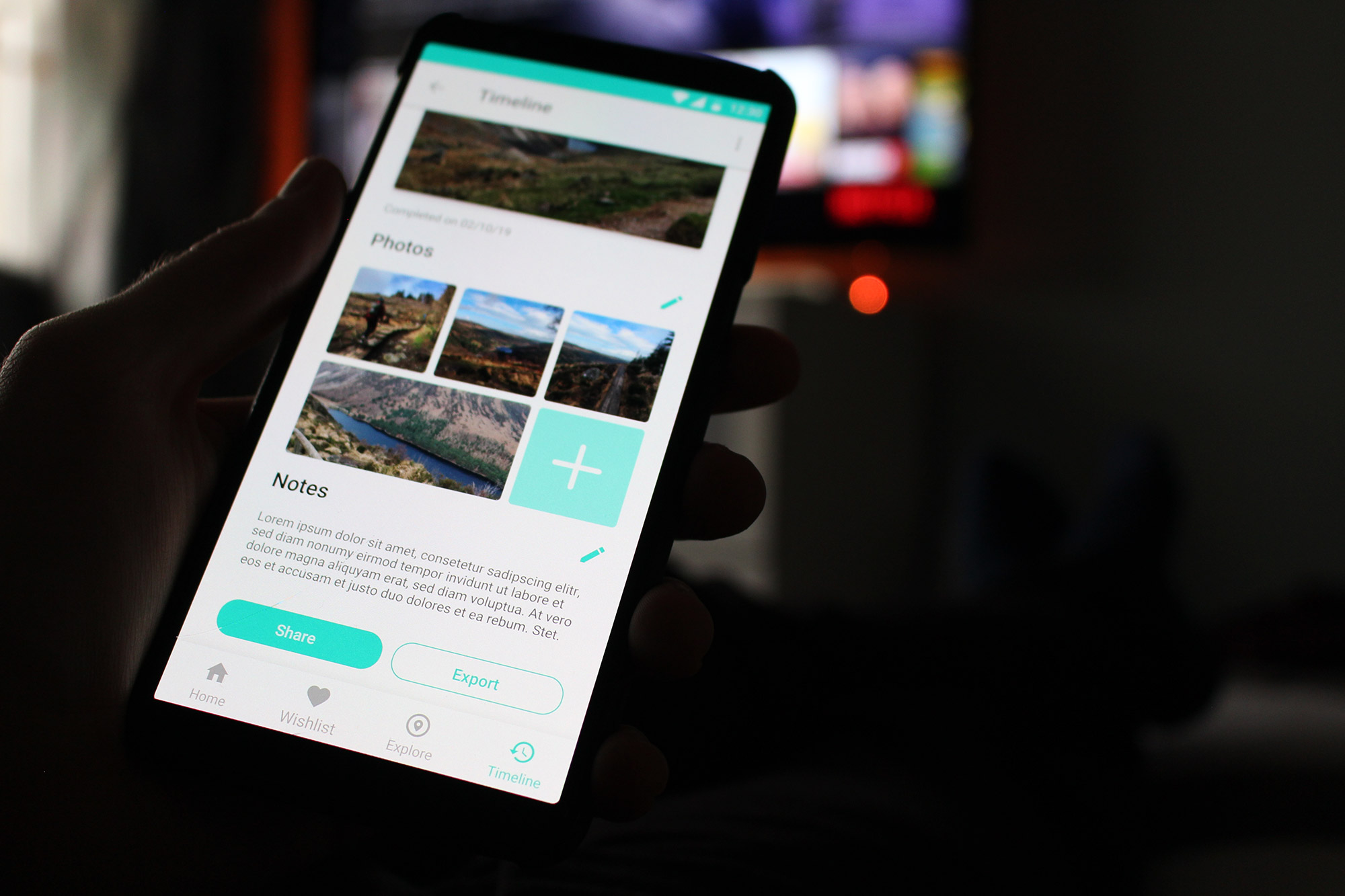 The app is designed to help keep a relationship interesting by doing what you both love, and to bond through exploring and learning. Doing all of this in a world where we are often too busy to plan or choose what to do with your time. Wishlist tries to make these pain points easier by showing you relevant information and streamlining the planning process.