What is it?
RE-VIVE is an app that helps empower its users to repair their home appliances and tackle our throwaway culture.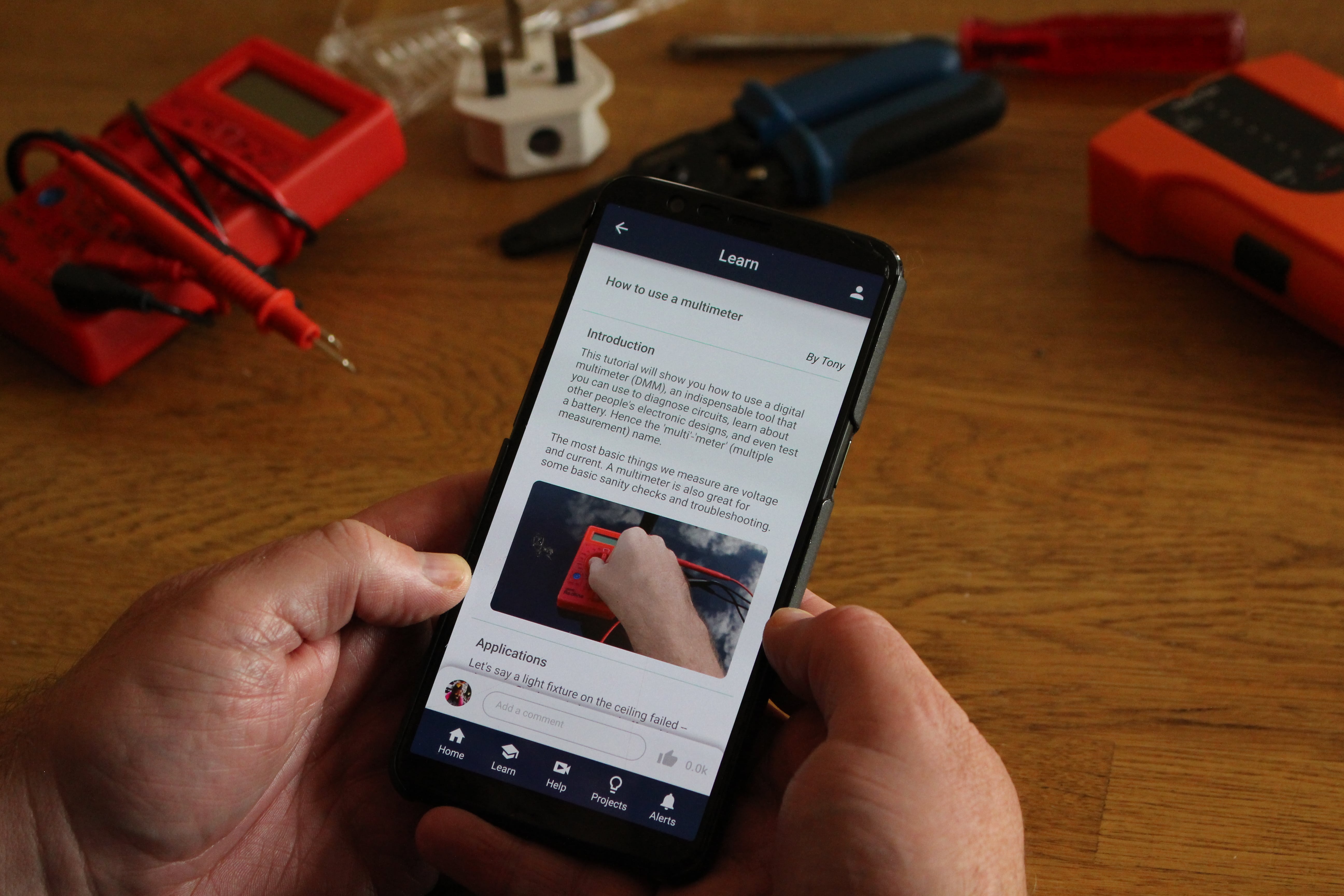 How it works
RE-VIVE is circular system designed for users with varying levels of skill, from beginner to expert. Use the app to connect with a live volunteer assistant for tailored advice on your appliance, or browse from the community created guides to learn about the basics of repair. Once you've made your first repair, share the process with the community to help inspire and educate others!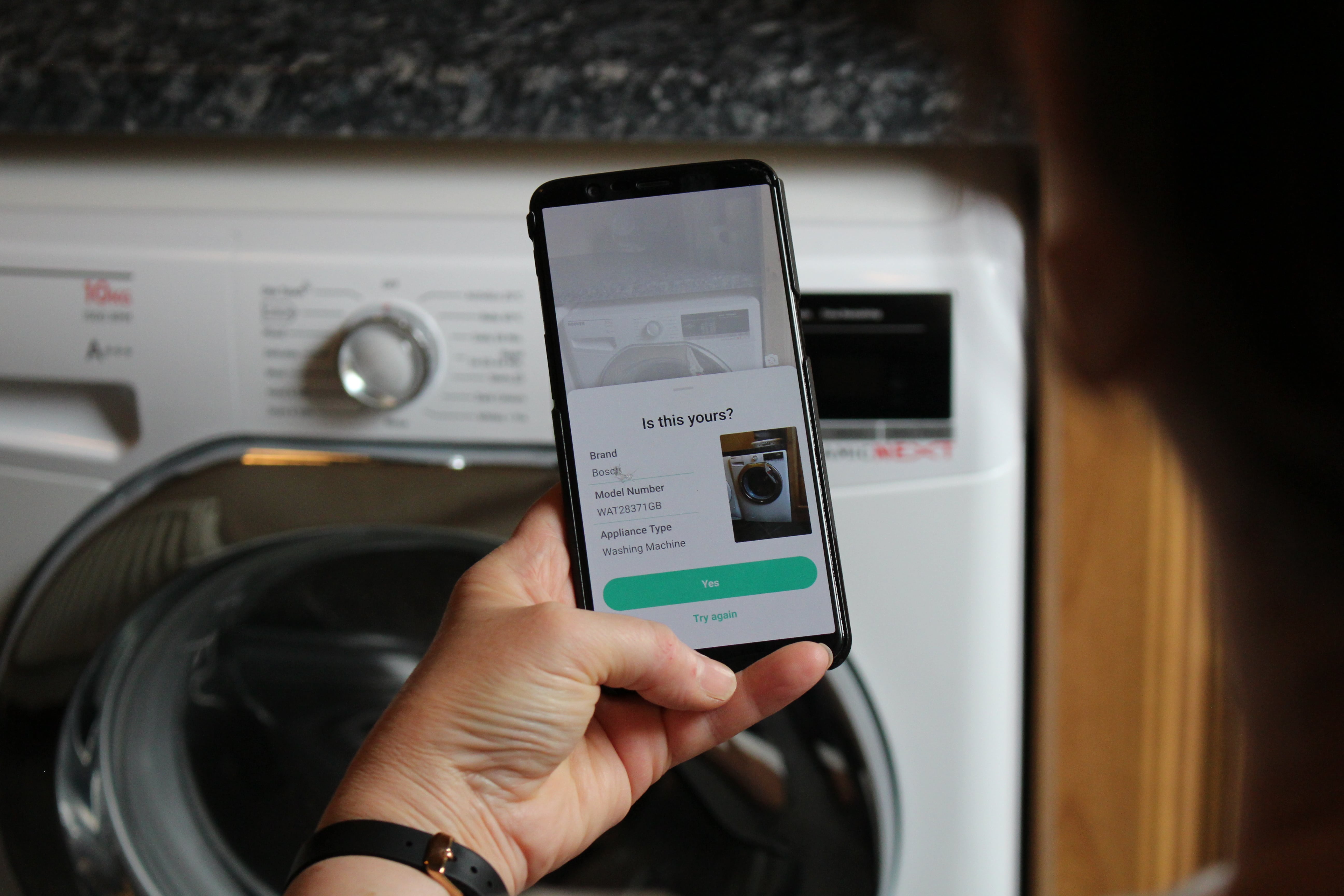 Who is it for?
The key target audience in this situation is the consumer of home appliances. A person that might be aware or just made aware of the impact of e-waste on our environment. Because of this, people want to make a more conscious decision about getting rid of their once valuable electronic devices. While some people might see these older devices as outdated, other people might have another perspective. How can we share these perspectives with these conscious consumers? What about the knowledge of repair technicians? Can these old devices be brought back to life?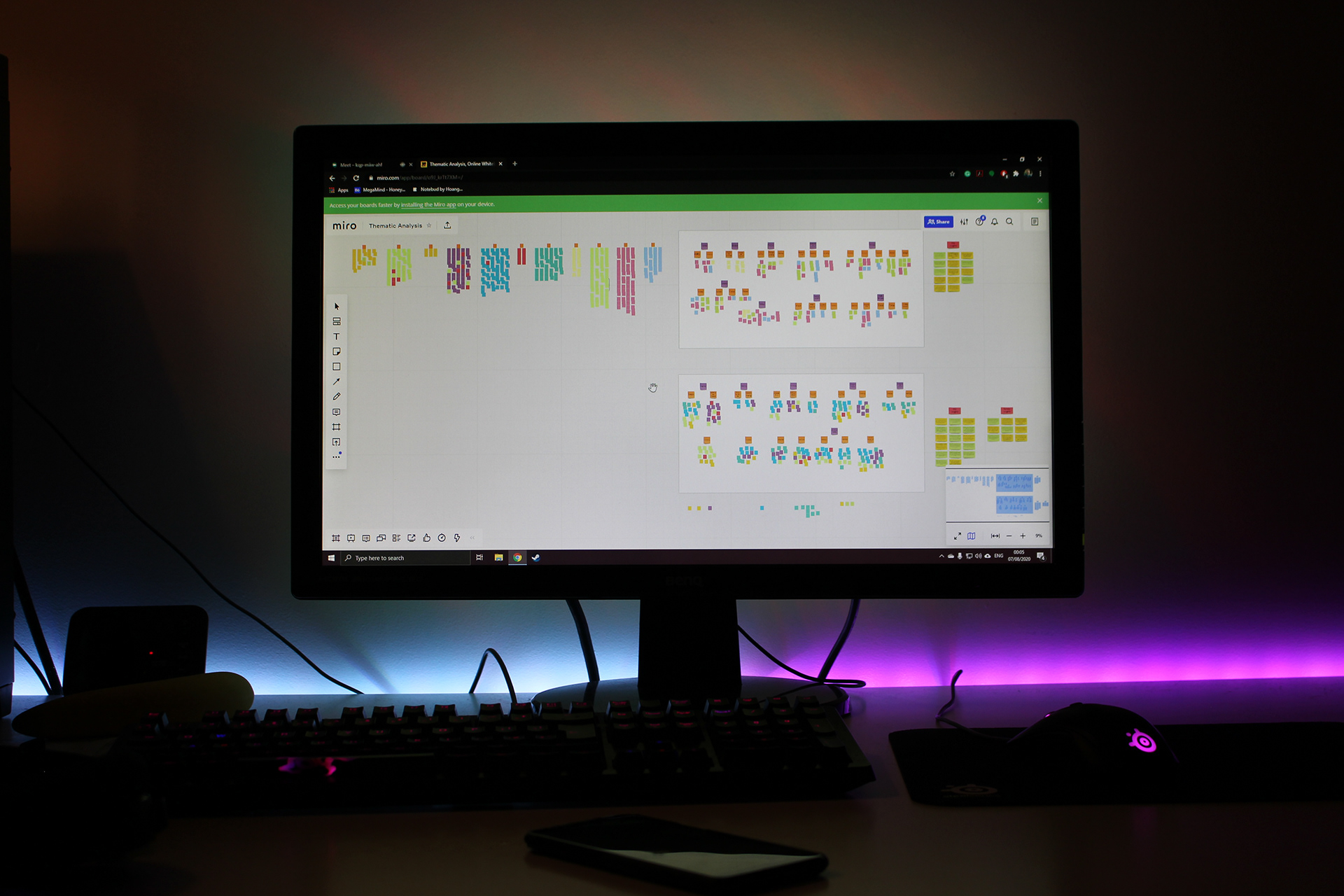 Primary research was the main focus of this project in order to get a better understanding of people's behaviors and attitudes towards repair. The majority of this primary research was done through interviews involving people with varying levels of experience when it comes to repairing.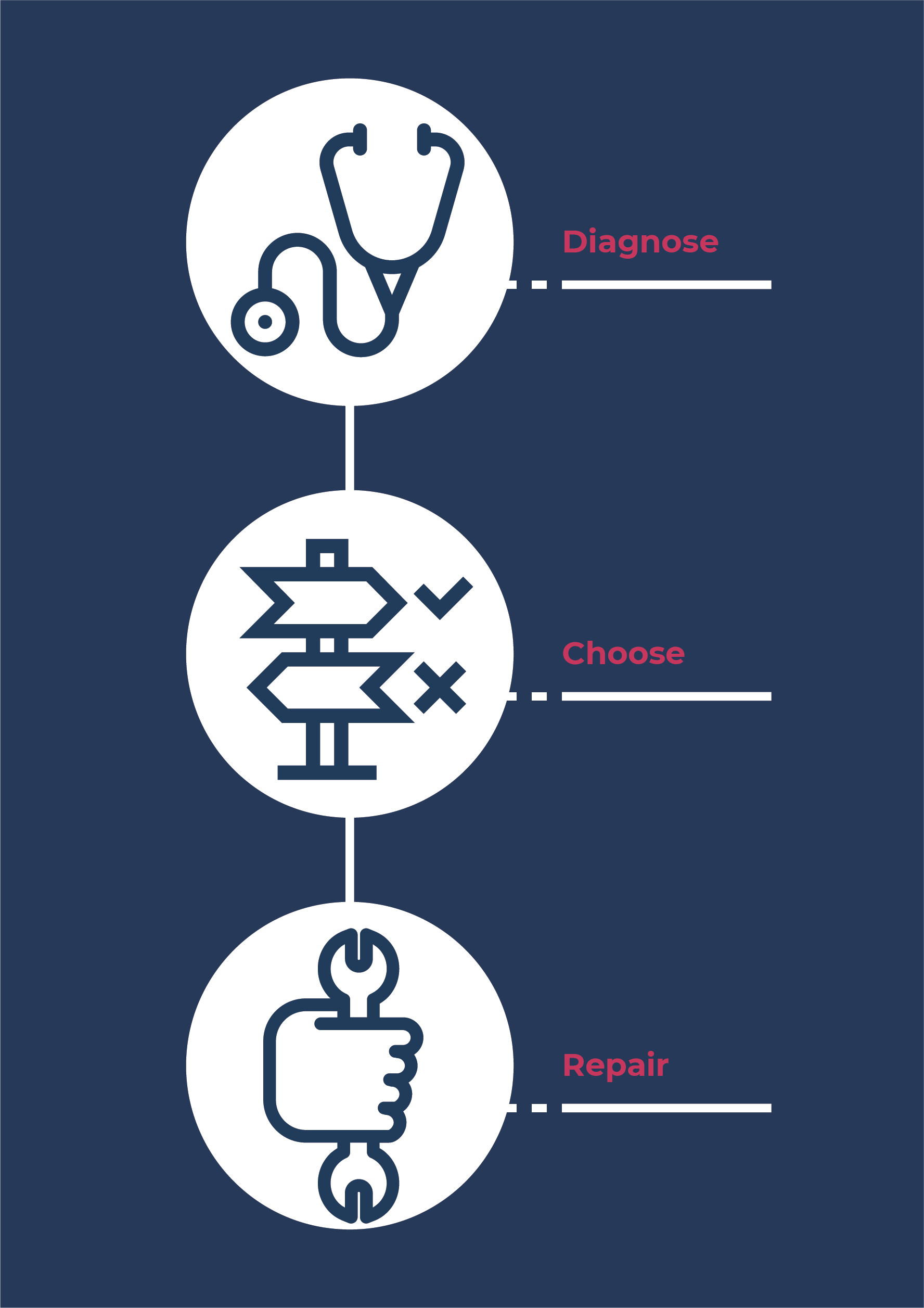 Findings
1. We can utilise existing DIY communities to share their perspectives and inspire others to adopt a more sustainable living.
2. There is a need to educate people about the basics and practice of repair in order to empower them.
3. There is a systematic way in which the expert diagnoses problems, and this is done by knowing how components work together on a basic level.
4. Peer to peer learning is one of the most effective ways to demonstrate what can be done, and how they can do it for themselves.
5. The peer to peer learning is also a great way to overcome the lack of tailored information, as the discussion is more dynamic and the expert would be able to adapt their process accordingly.
6. There is an overwhelming feeling of pride when it comes to repairing something, and there is a need to make the process of repair as easy as possible to achieve this moment for the user.
7. Following the moment of pride, people often then want to share their experience with others, and to educate or inspire people.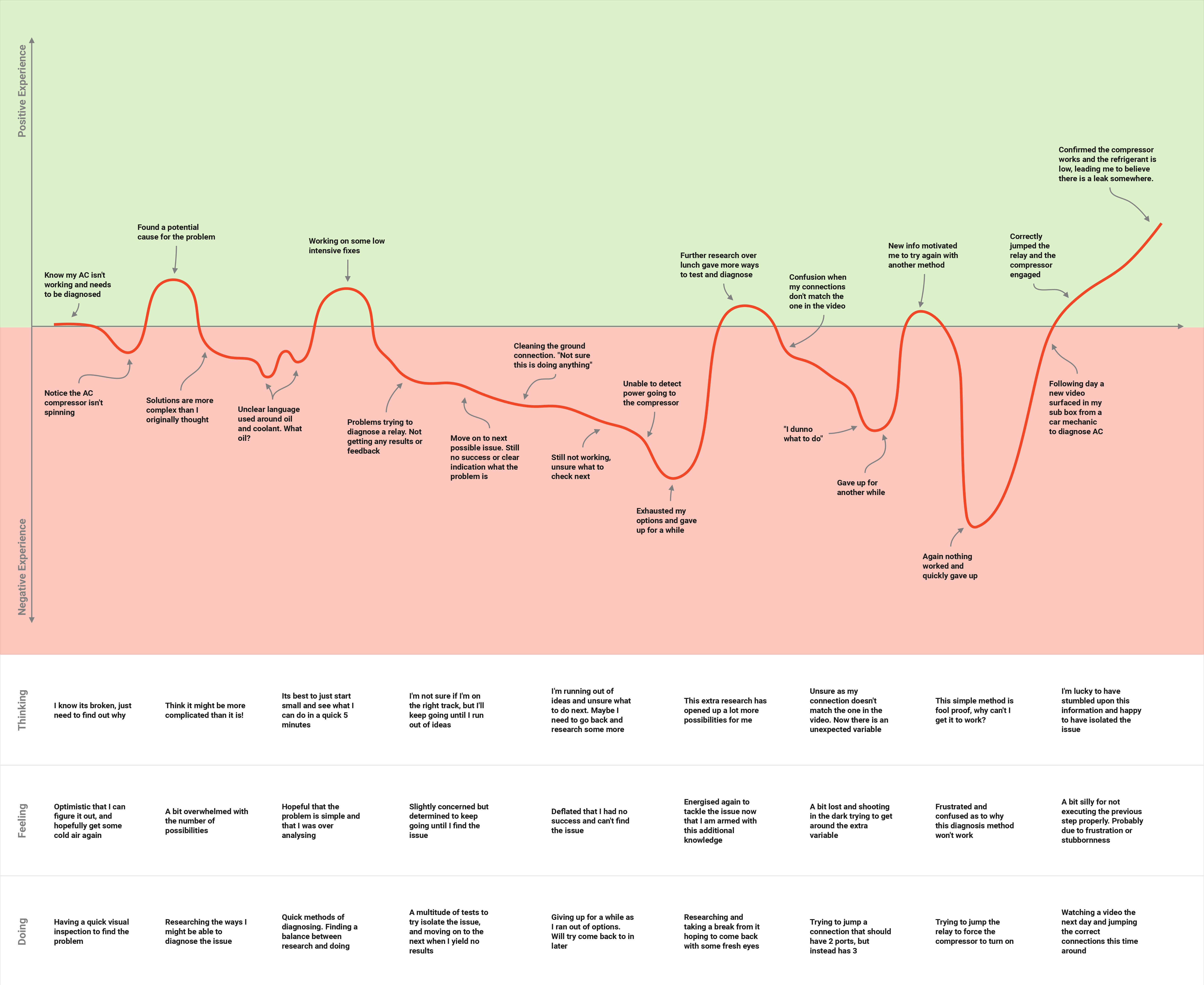 Autoethnographic experience mapping
I wanted to document the process of diagnosing something for myself to create an accurate user experience map. The goal of this test was to diagnose the fault with the air-con not blowing cold air. A number of approaches were made, such as making a visual inspection to see if anything was out of place and research was done to determine some of the common faults with air-conditioning.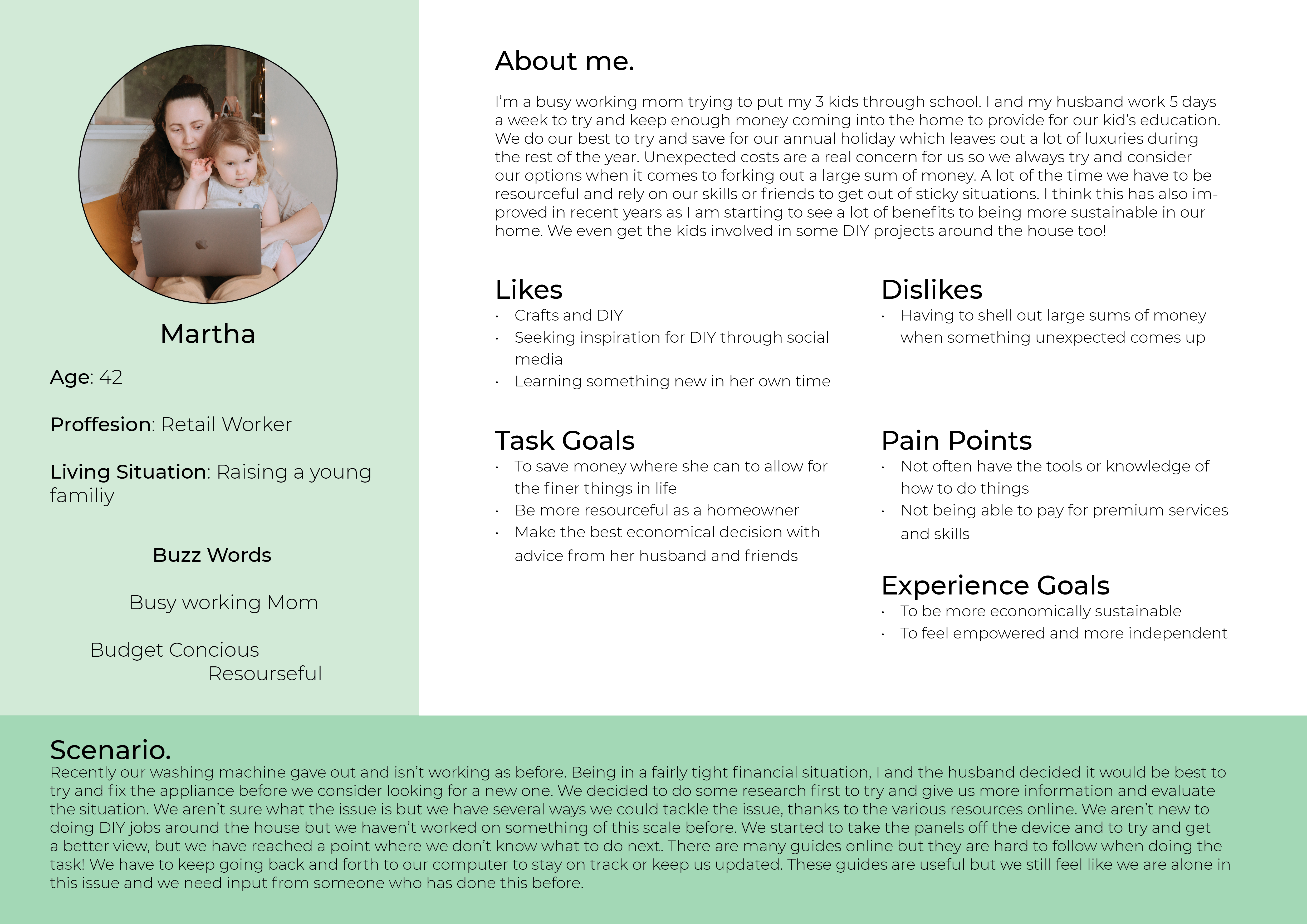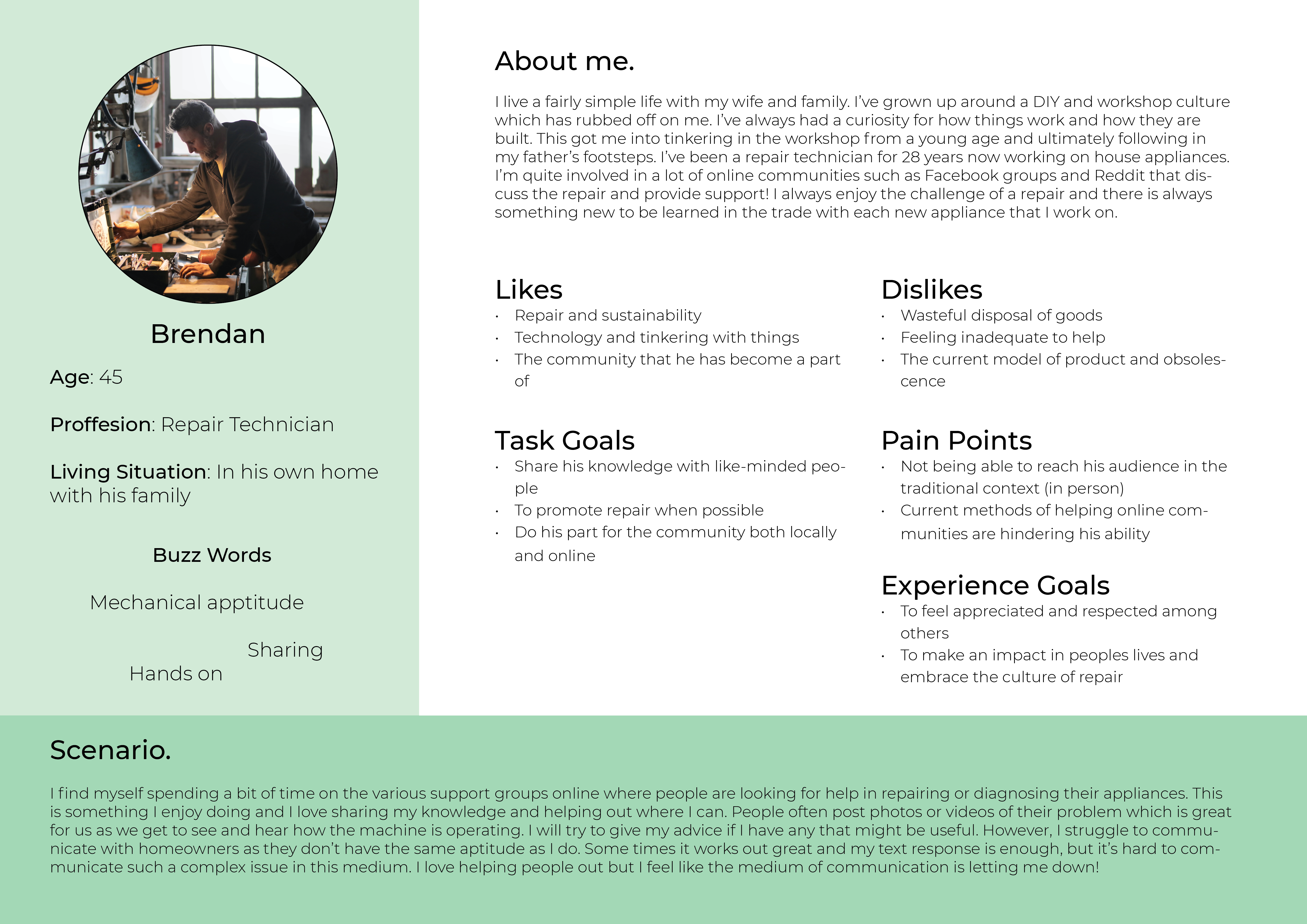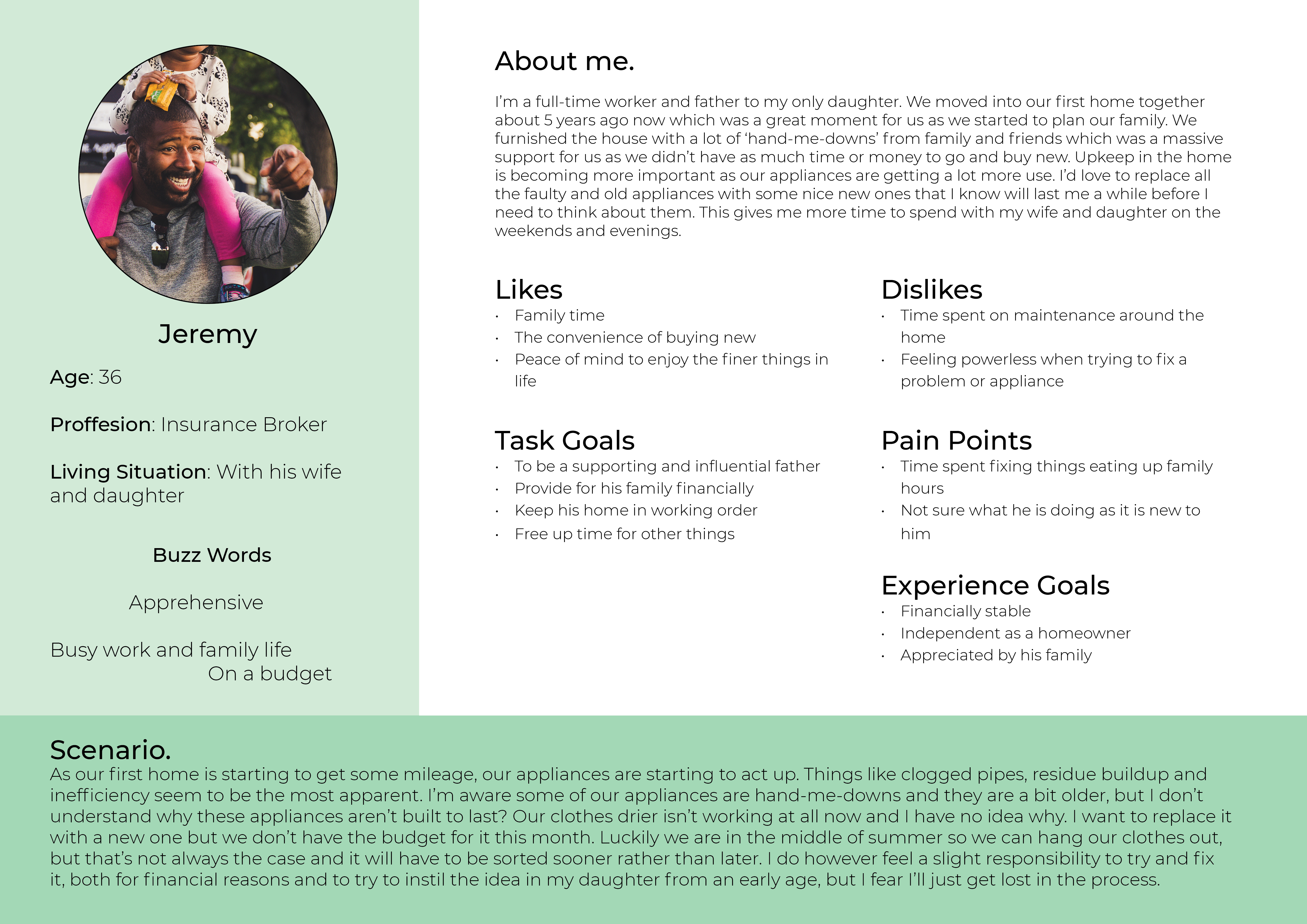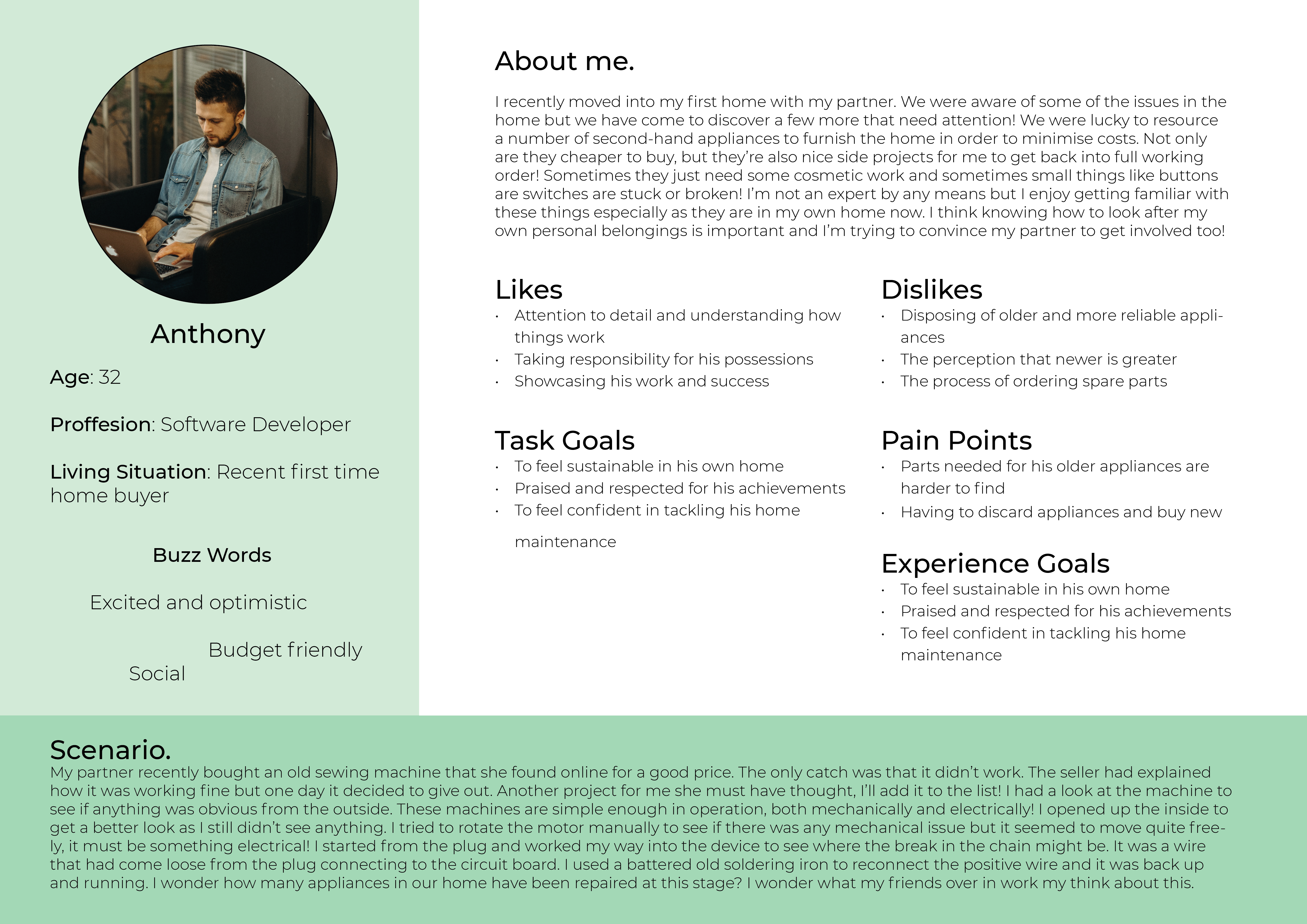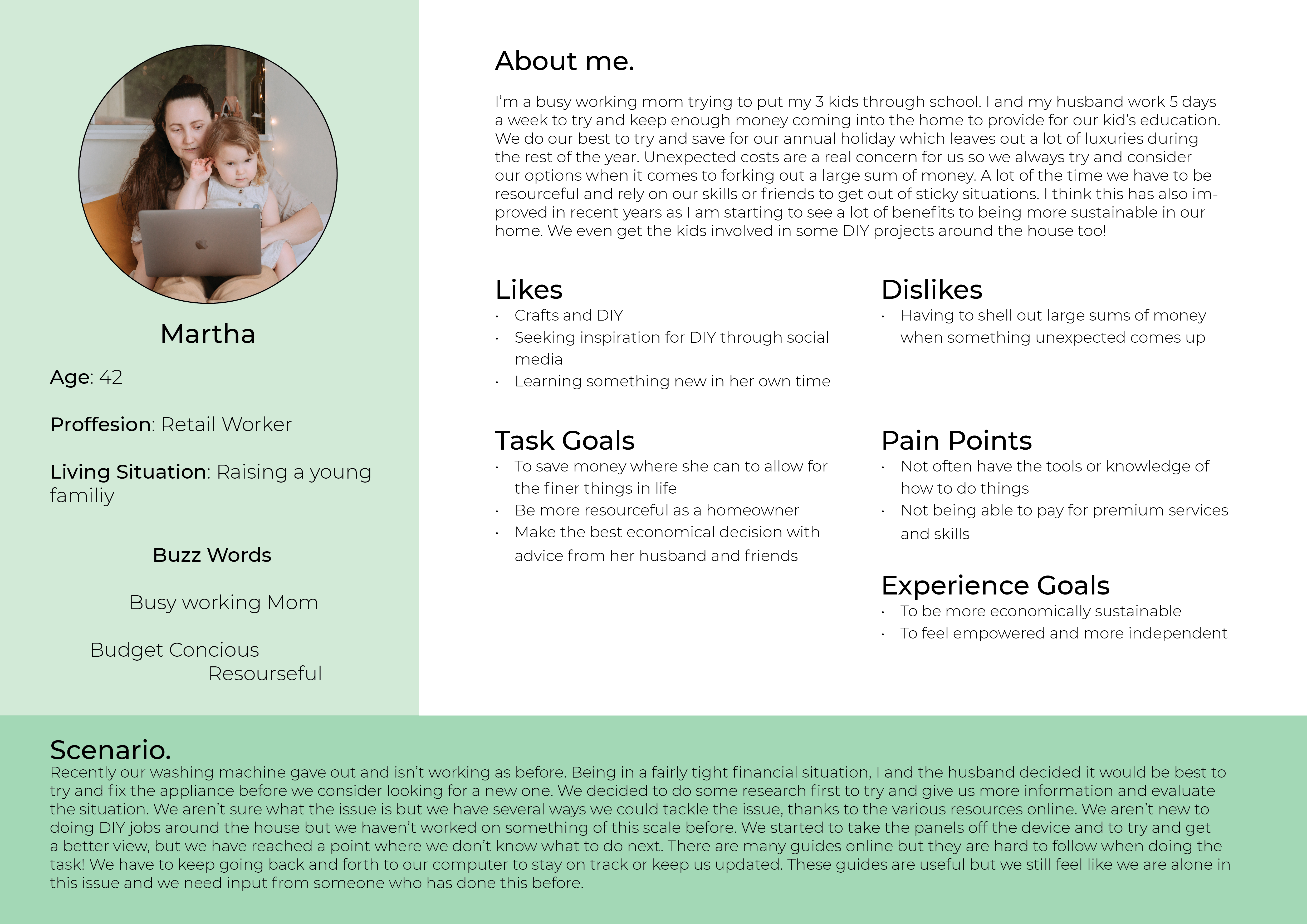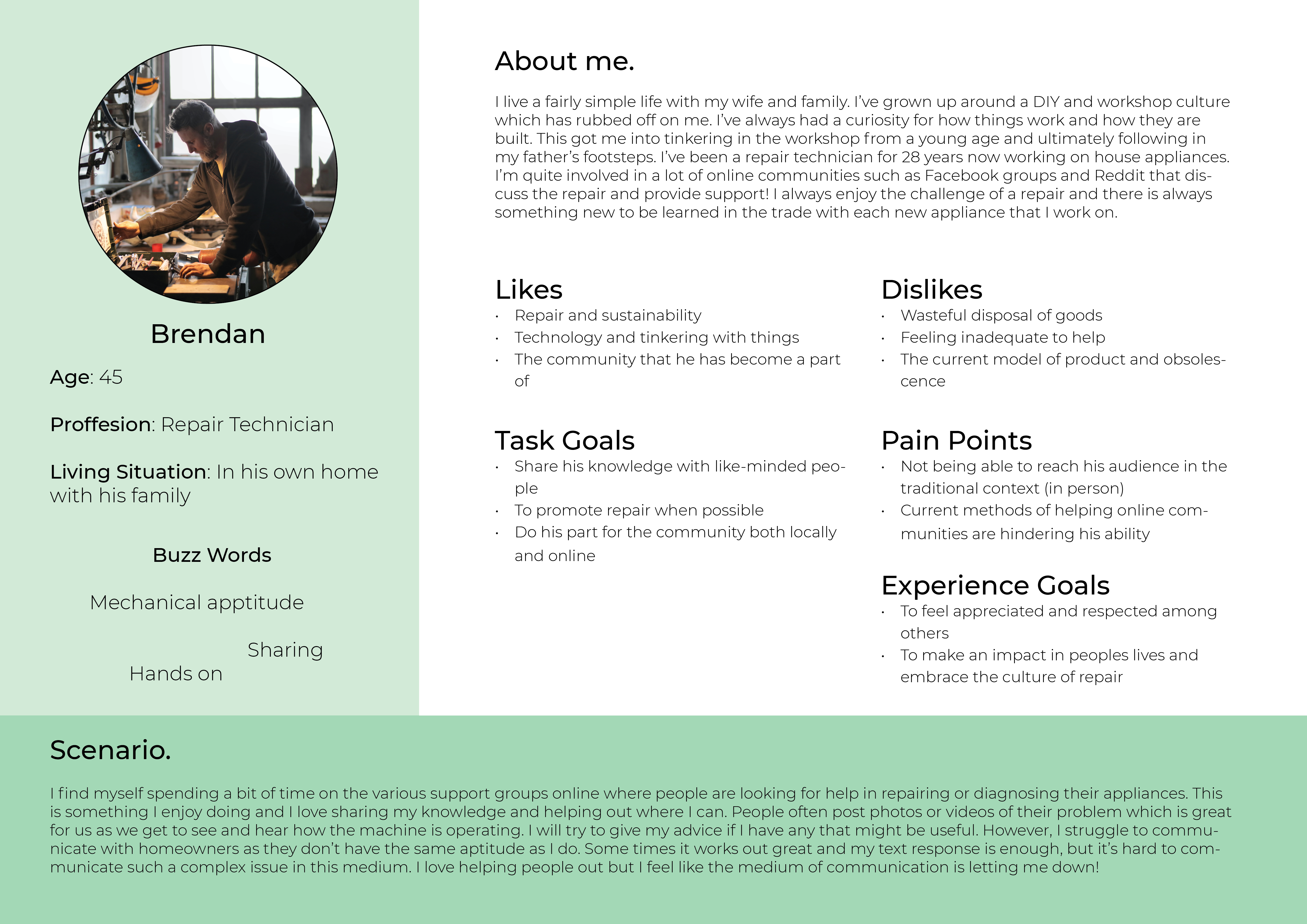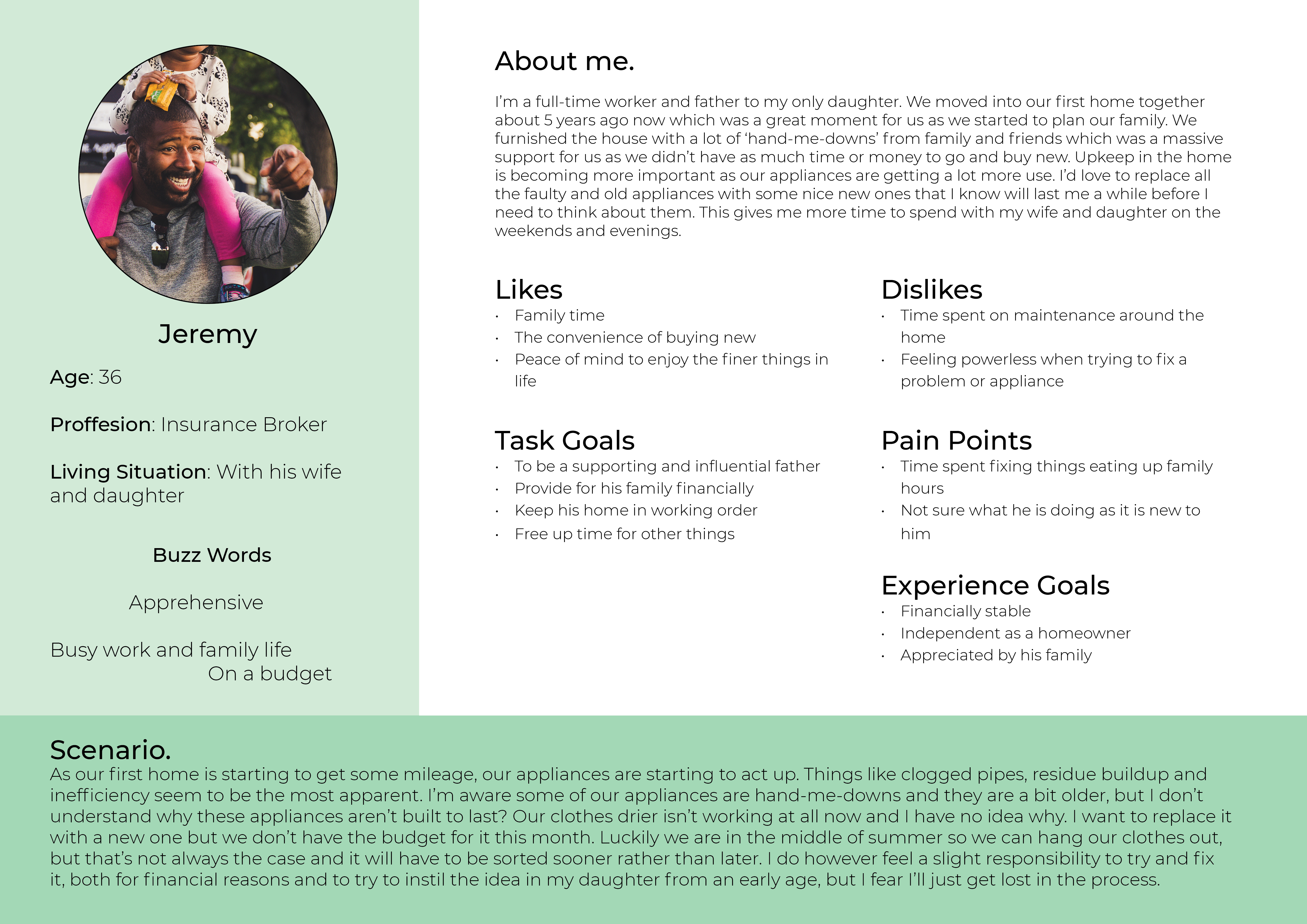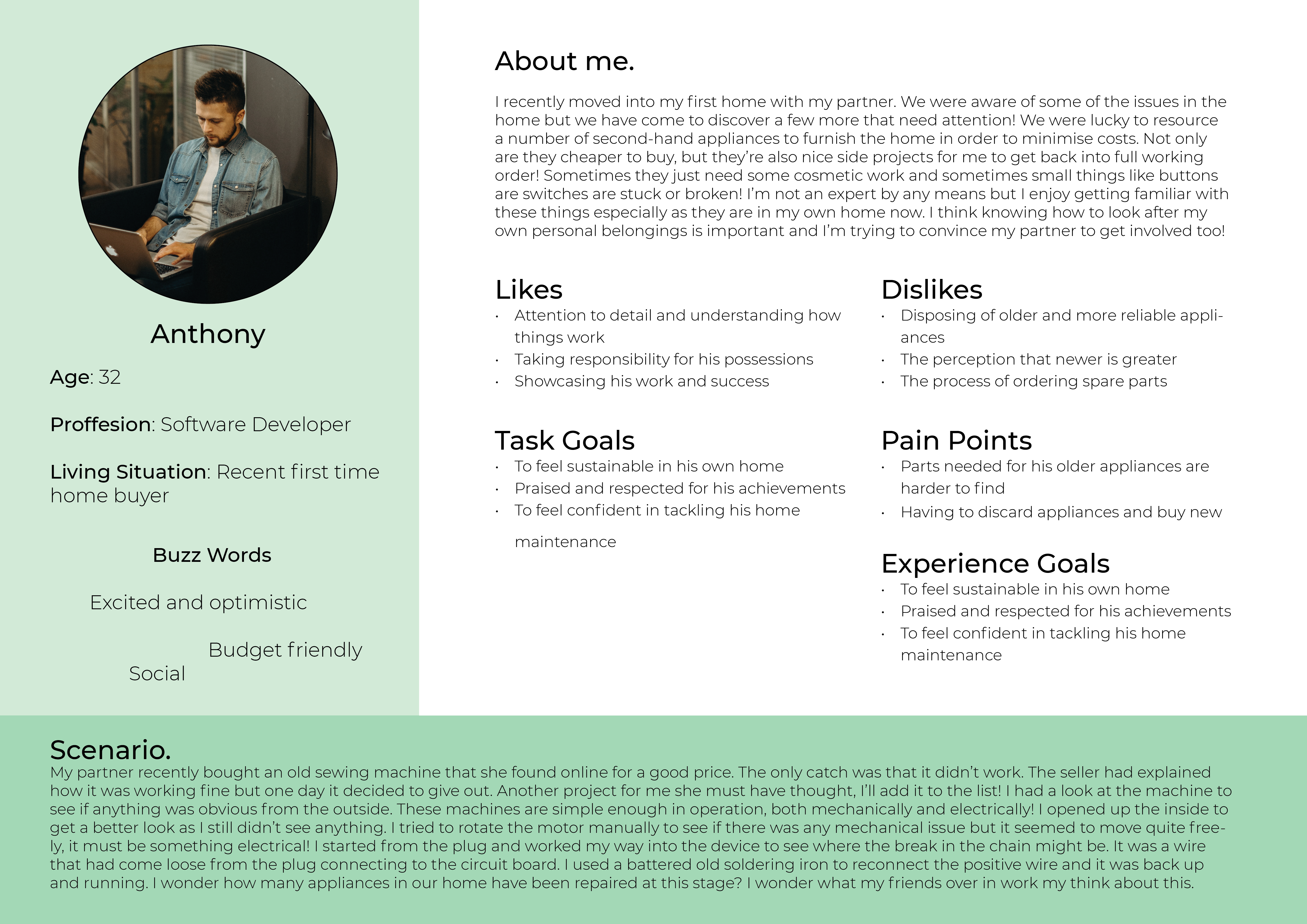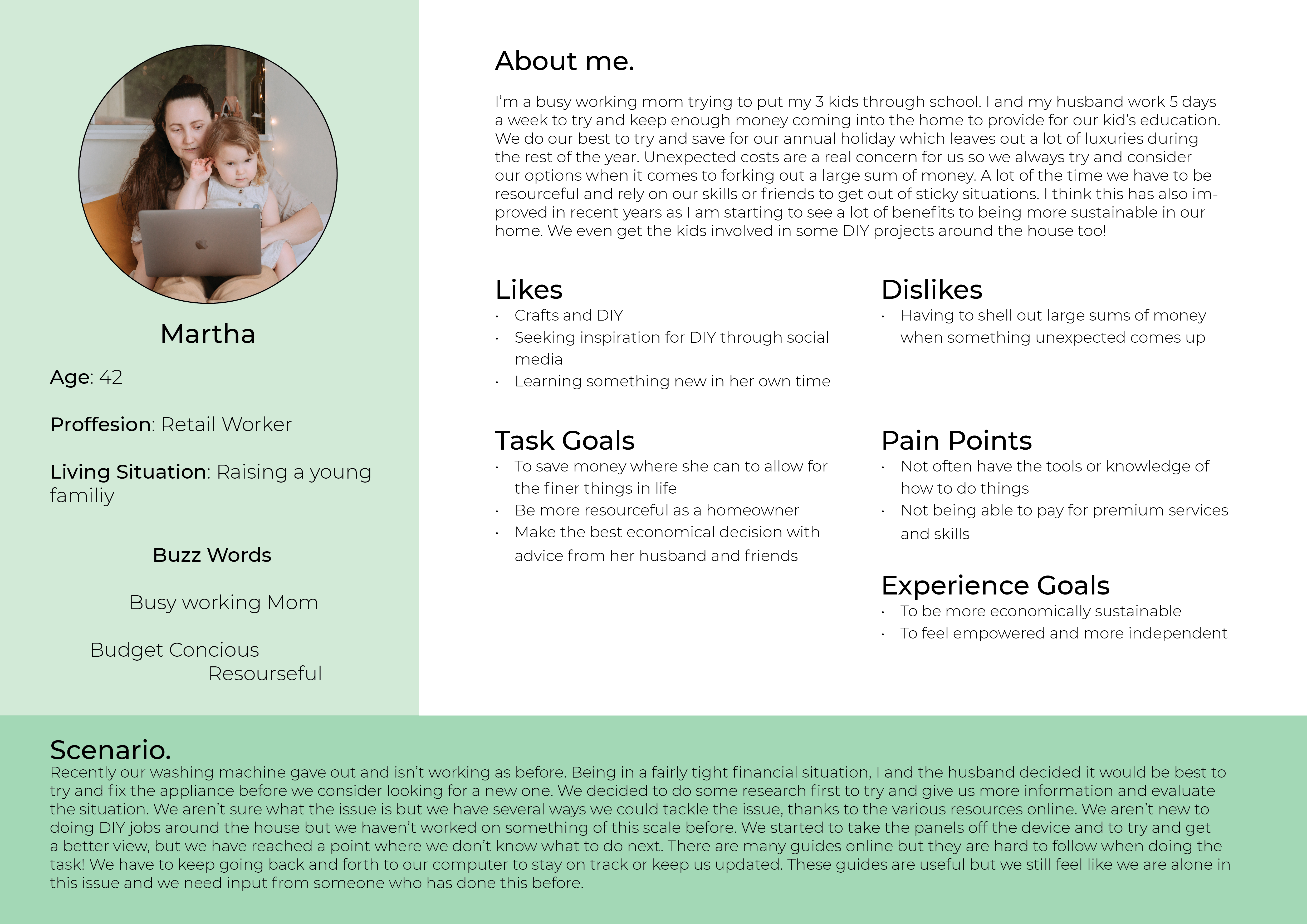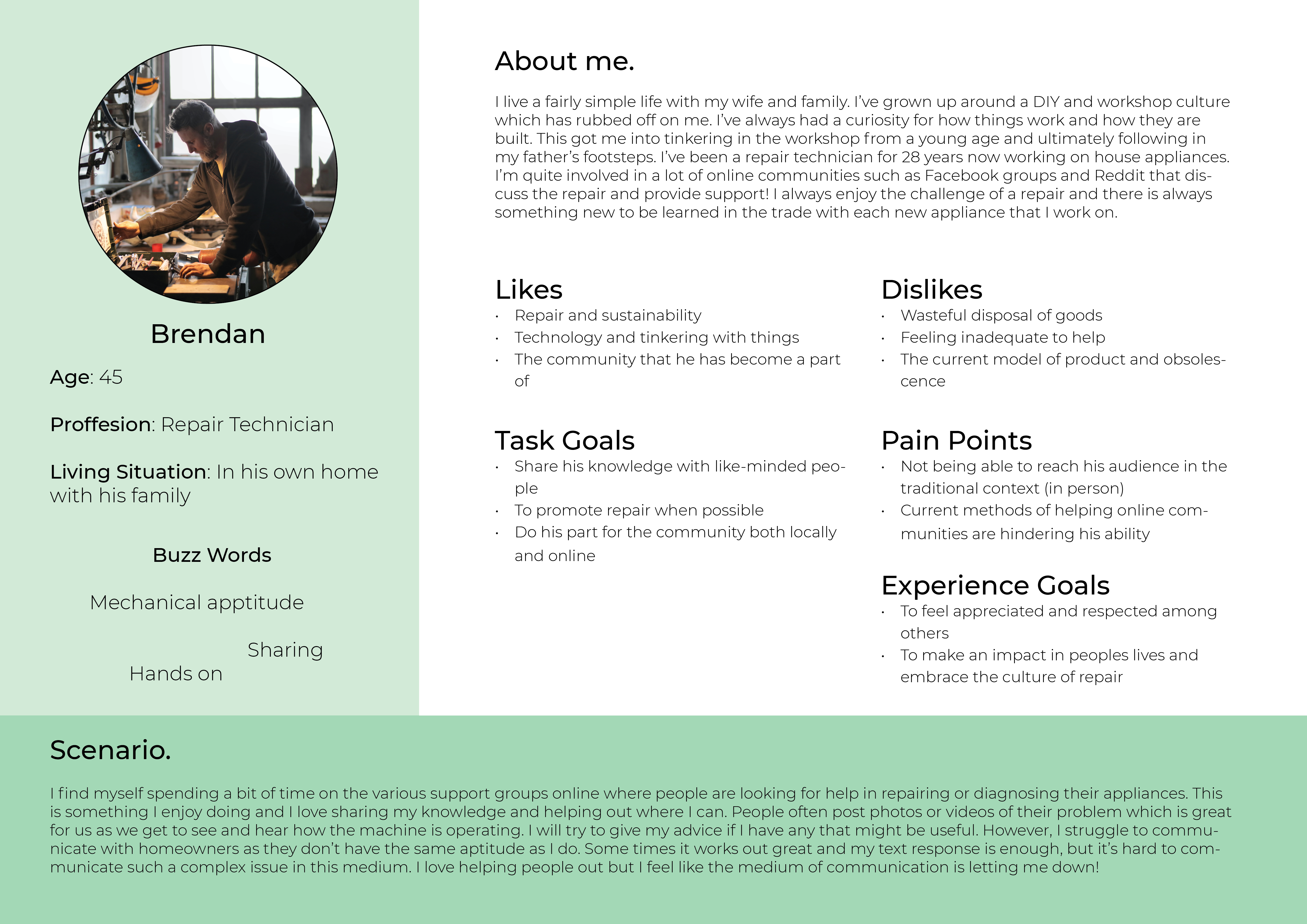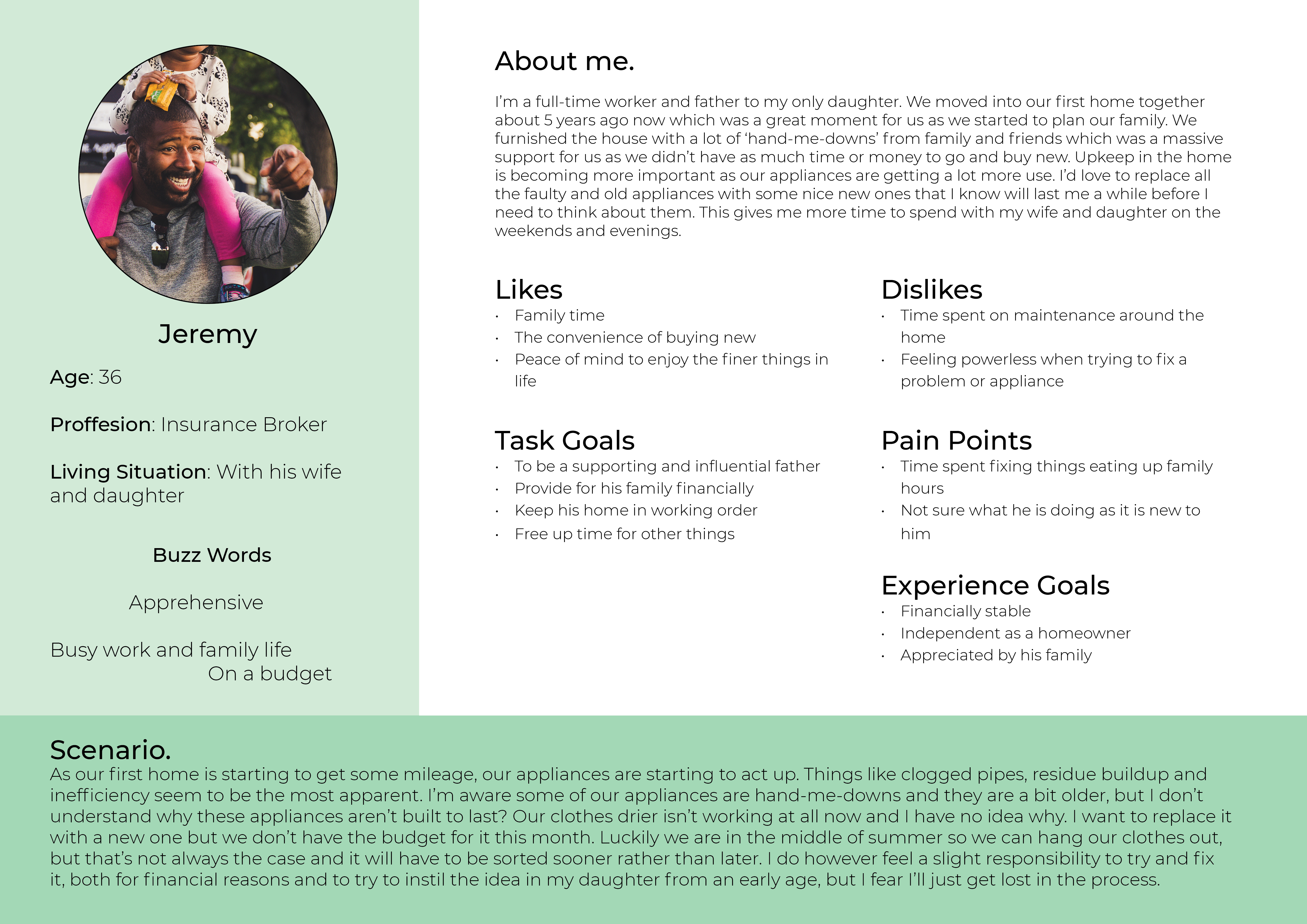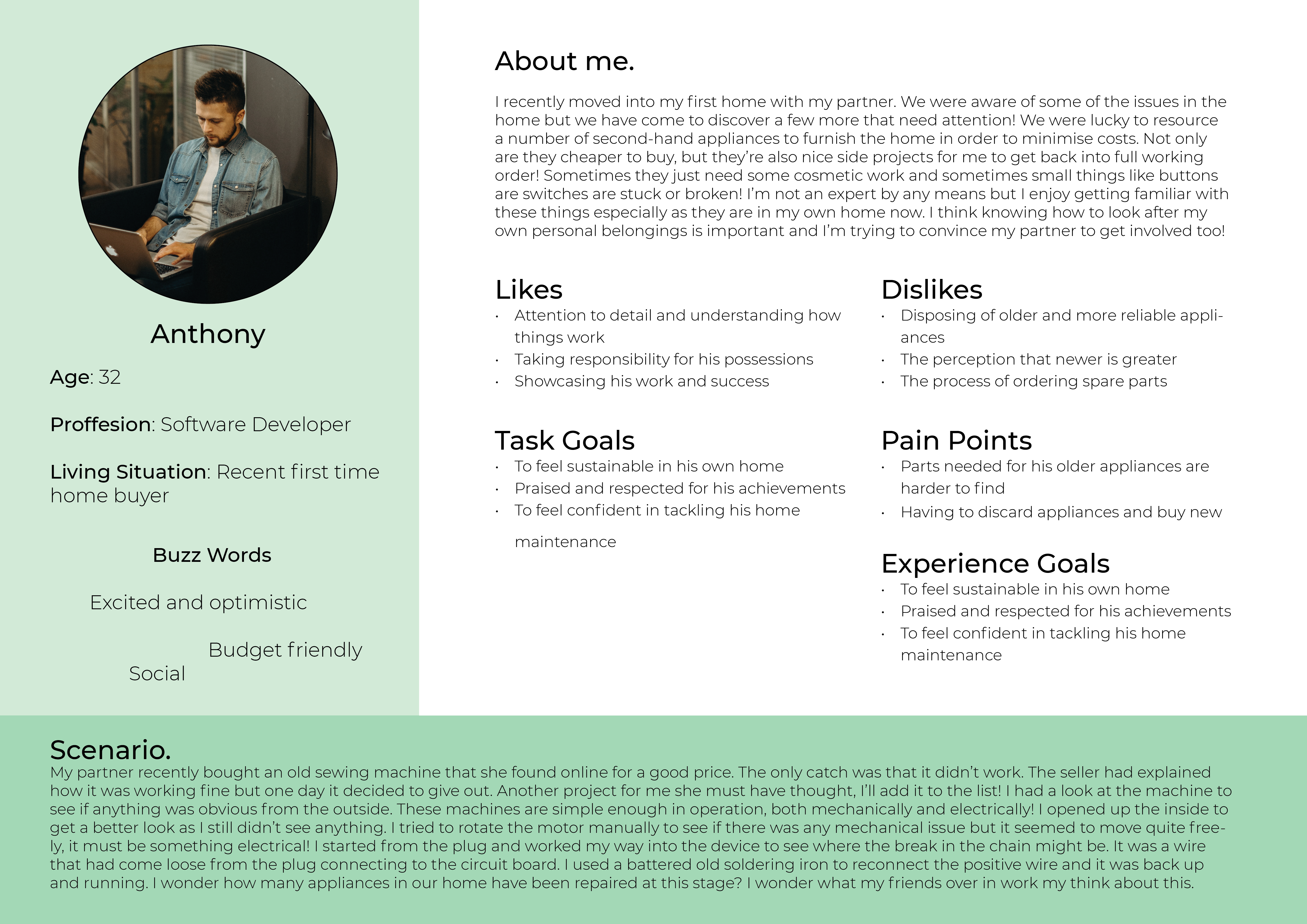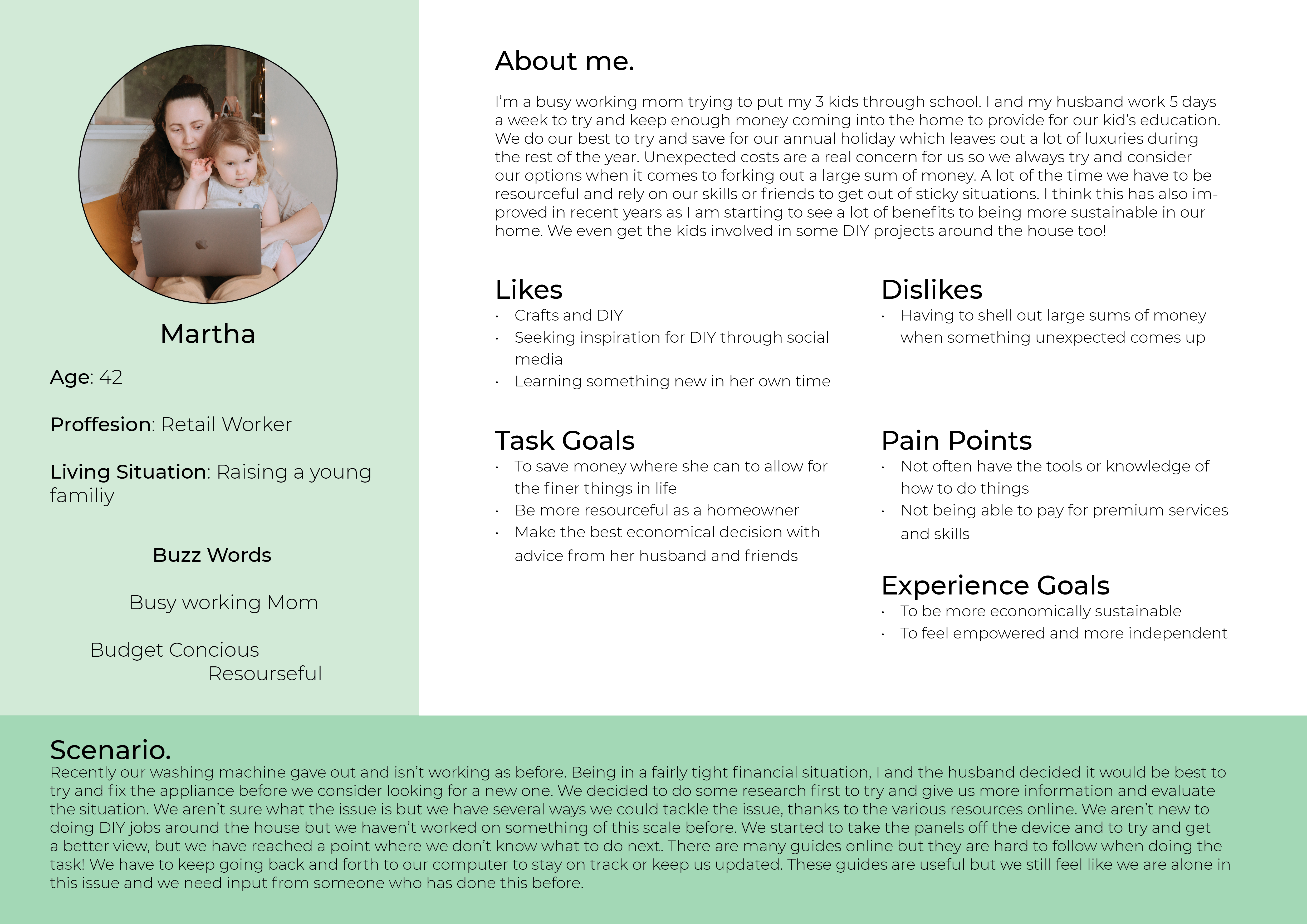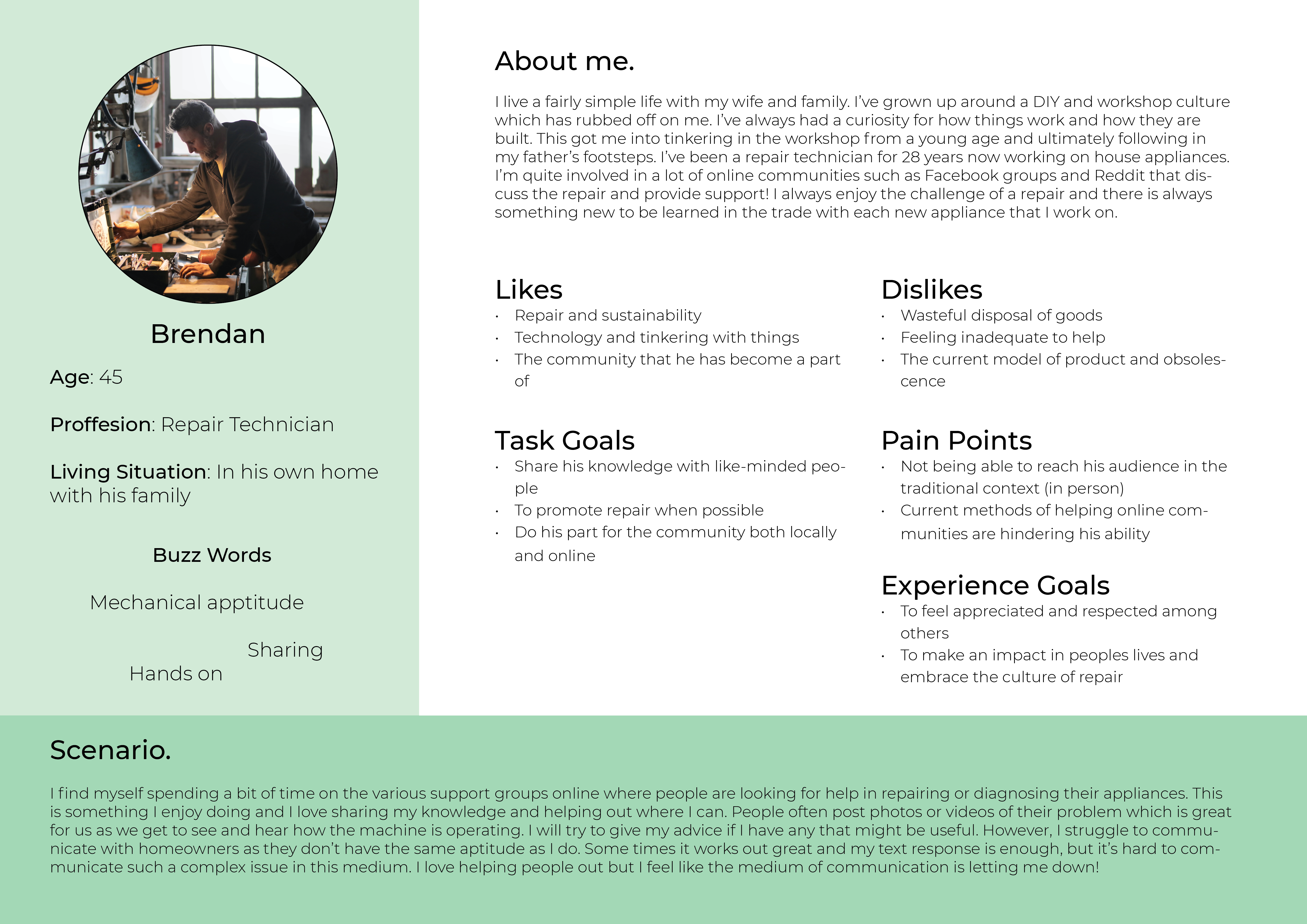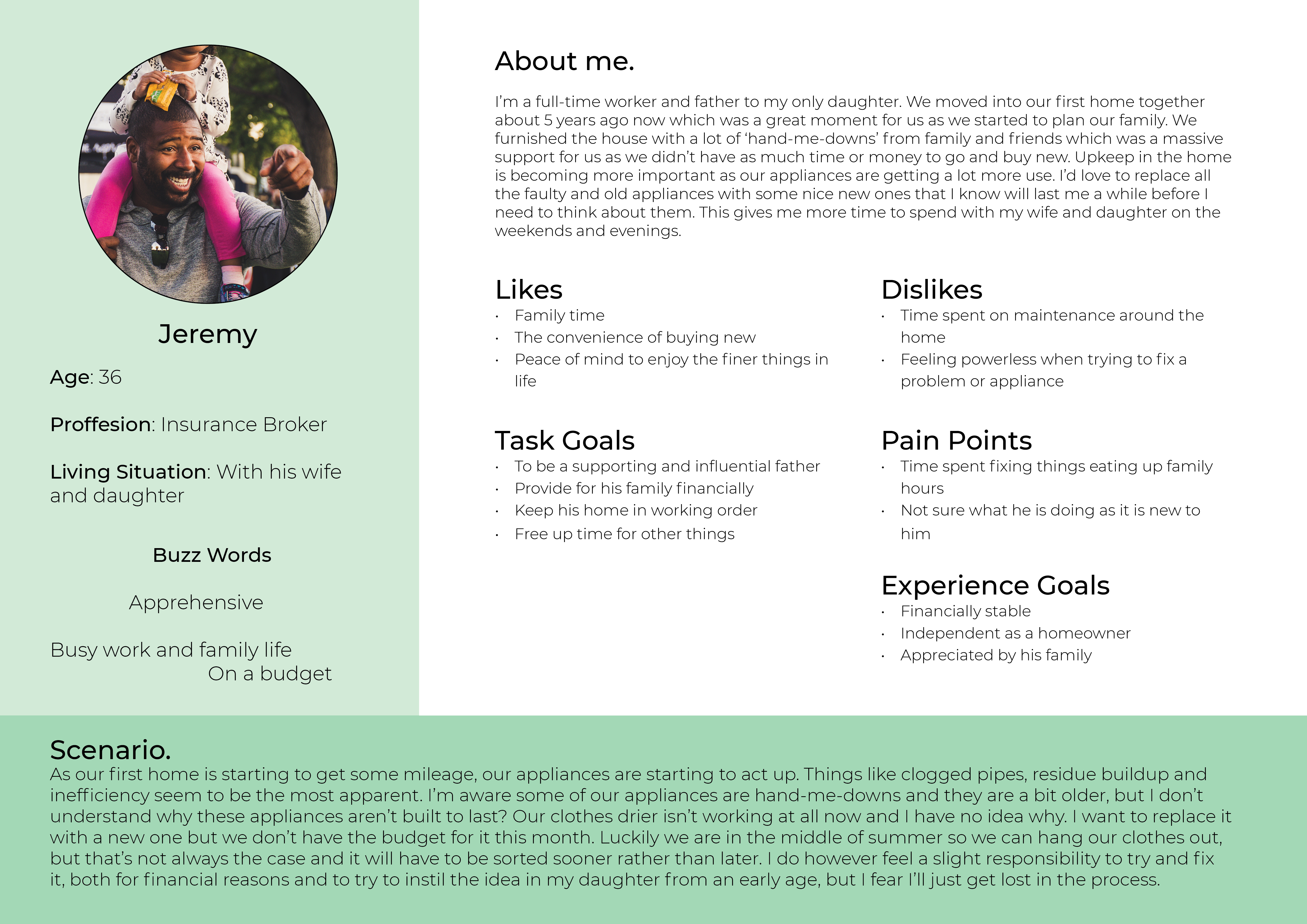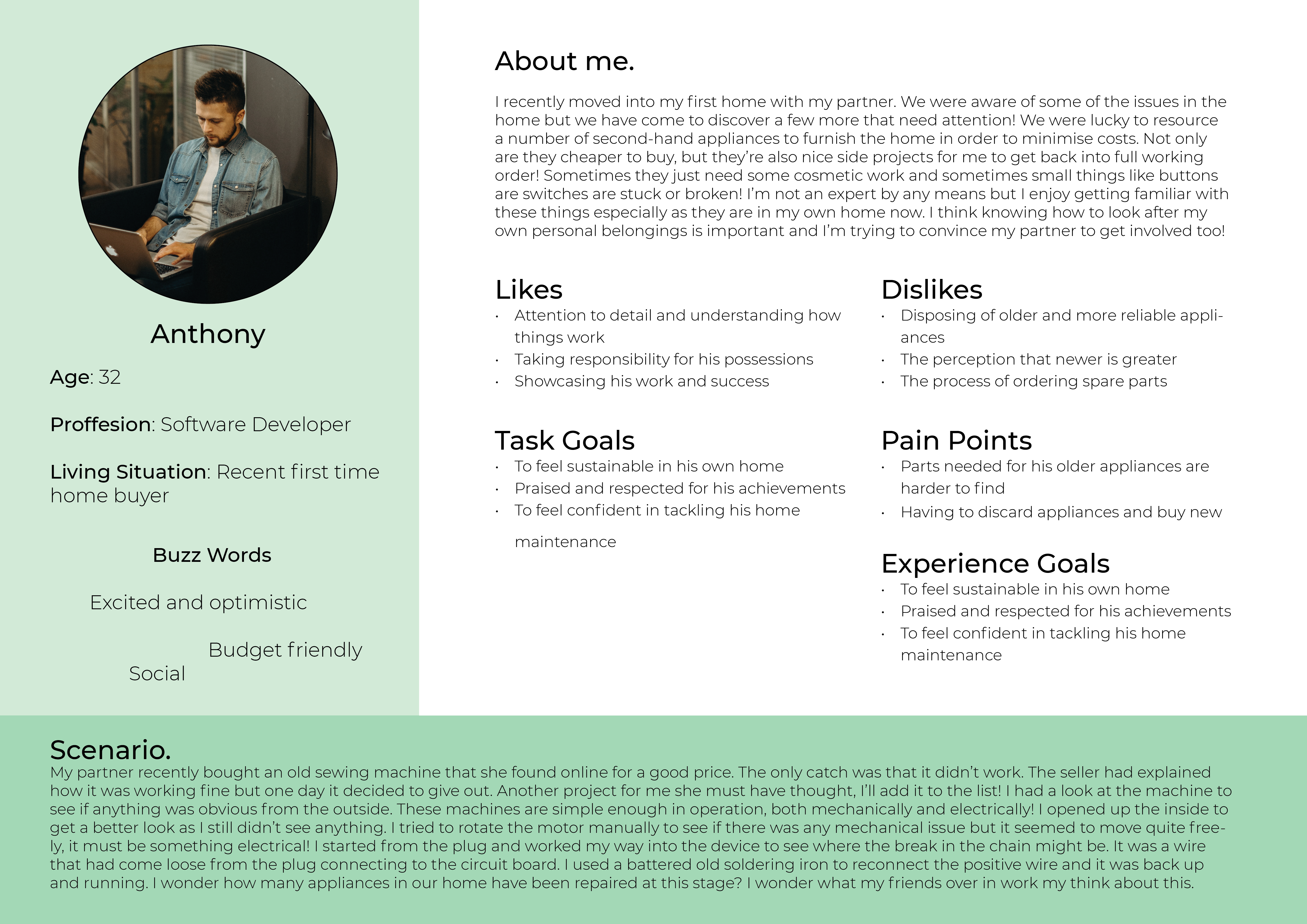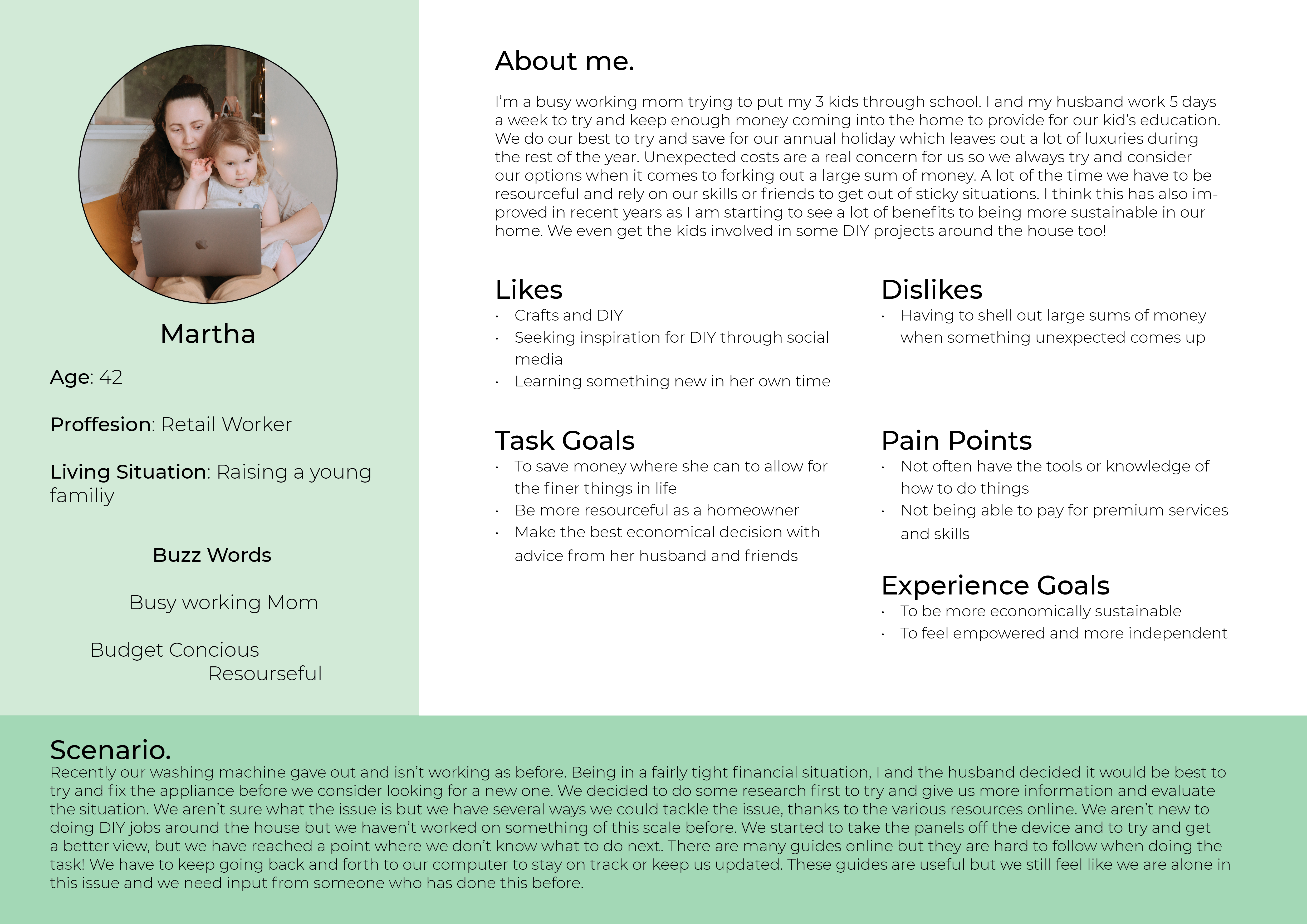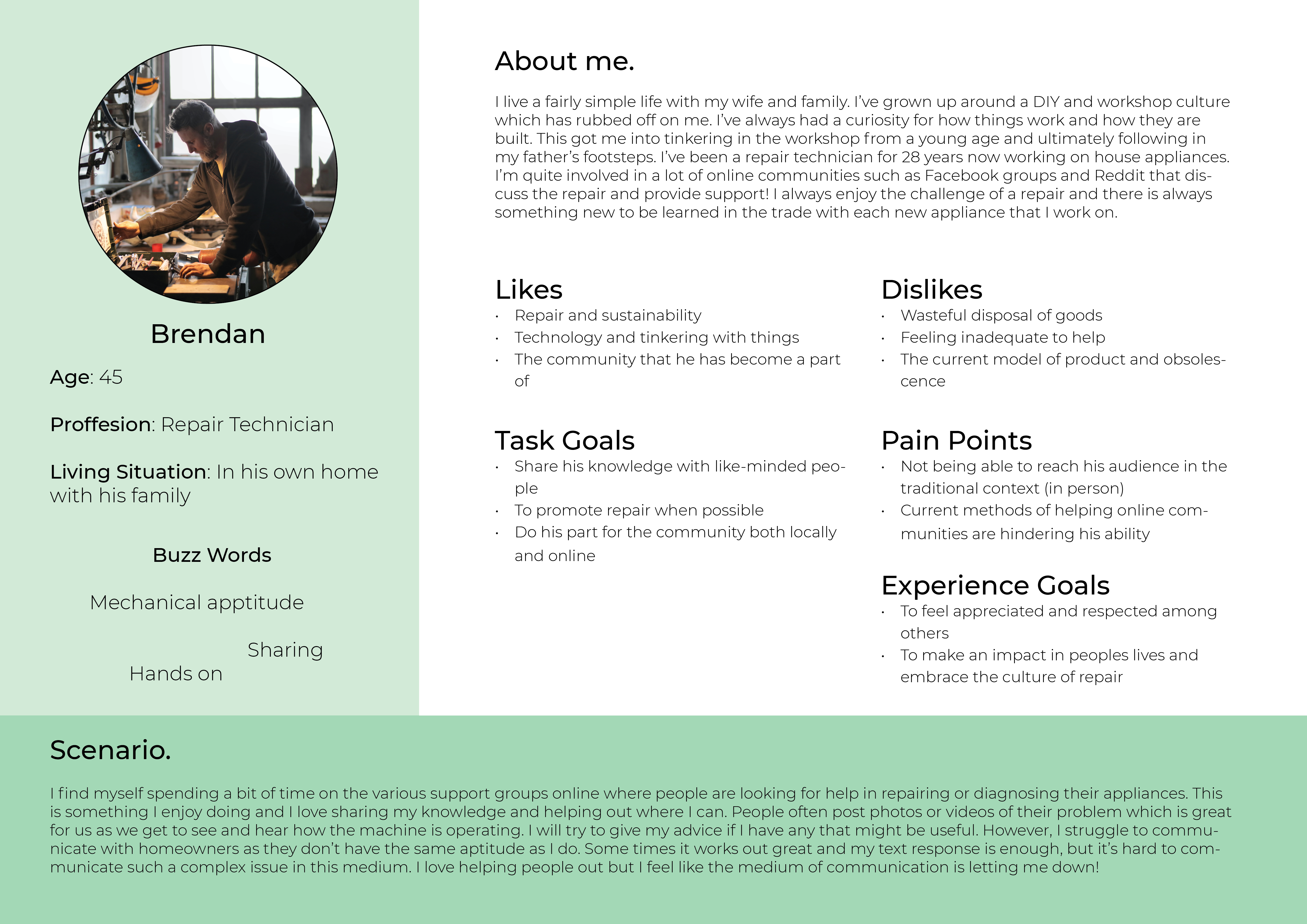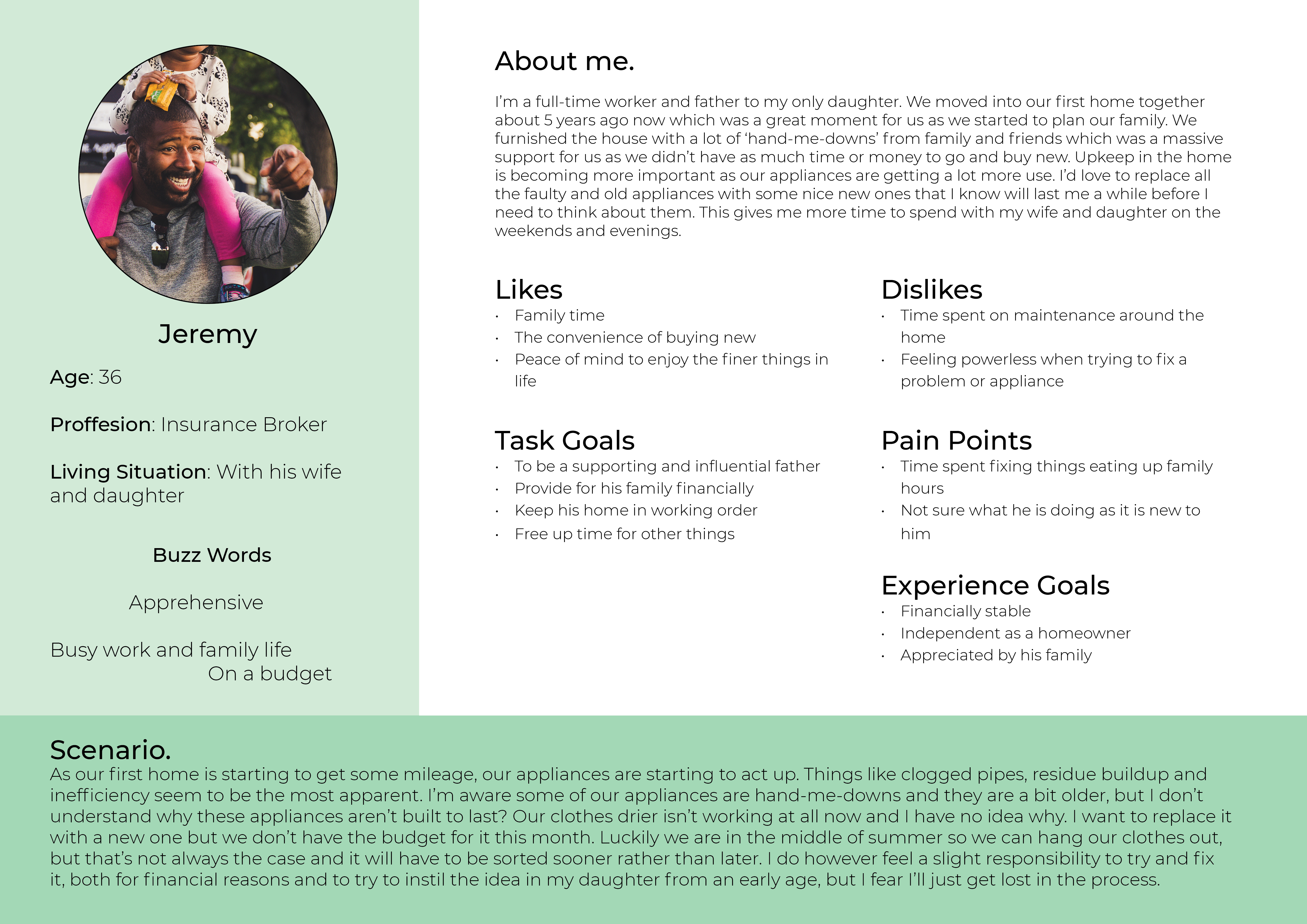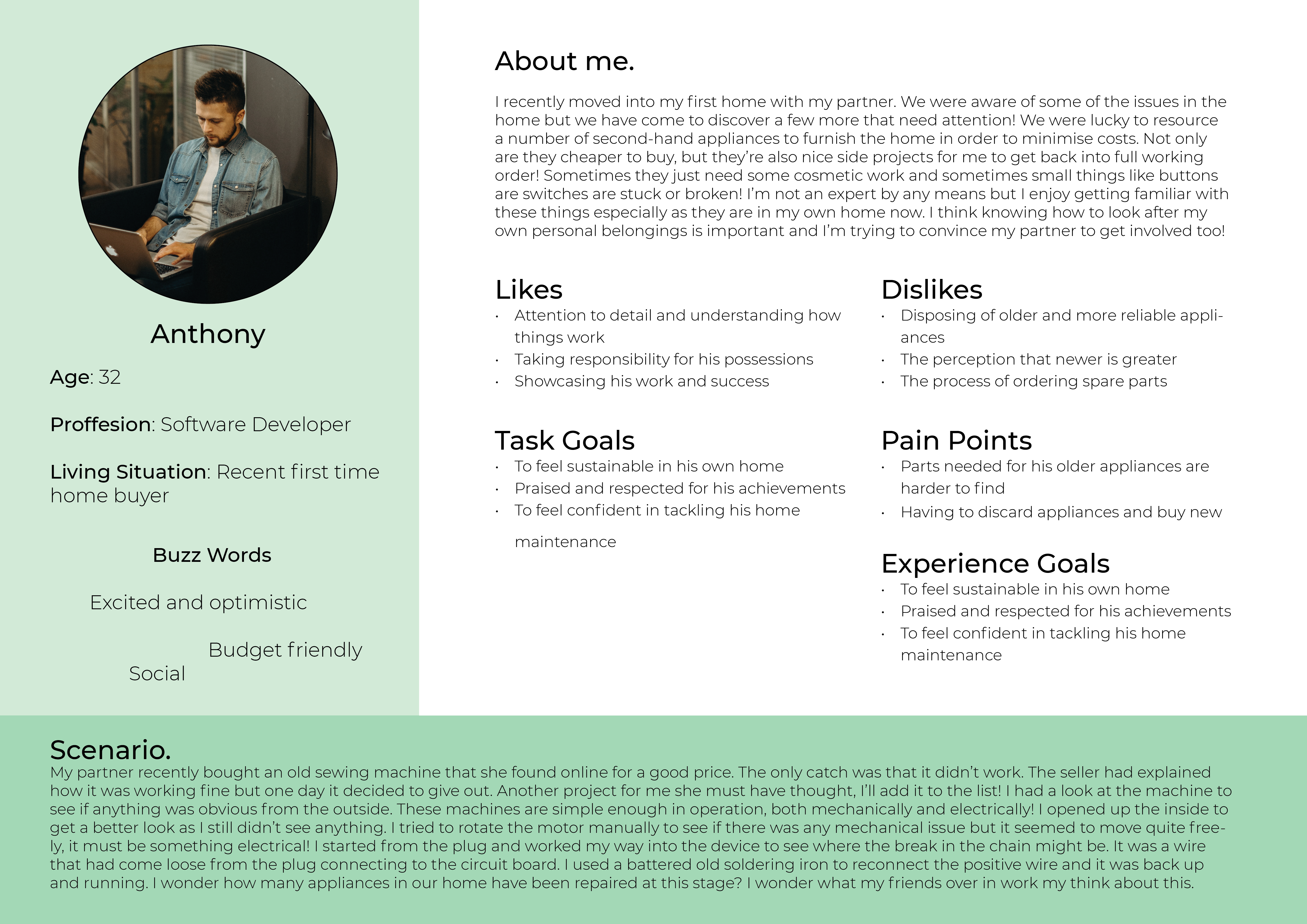 Who are they?
For this project, there are 4 types of personas that I have developed. I have left out a negative persona and focused on two key users and two secondaries.
Martha is the first key user that I have identified. She is a resourceful person trying to cut house maintenance costs, but lacks the expertise to carry out some of the tasks herself.
Brendan is my other key user. He is a repair technician with 28 years of experience. In his downtime, he often uses online communities and forums to interact and keep up to date with events. He also browses the various forums he is interested in to offer assistance, or maybe learn something new himself.
Anthony is one of my secondary personas. He has been repairing and restoring a number of appliances for his new home. He has learned a lot about the basics of repair and how things operate and would like to share his newfound knowledge with others in his circle and to show his achievements by telling a story.
Jeremy is my other secondary persona. He has been living in his home for a number of years now and is experiencing an increase in faulty house appliances due to age. He is on a budget and is aware that repair is the cheapest route, but he lacks the knowledge to do so as this would be his first time trying 'do it yourself' repairs.
What do they need?
I have identified a demographic that is aware of the benefits of DIY repair but need assistance. This assistance could come in the form of educating the user through guides or case studies of similar appliances. This person needs a nudge or helping hand to complete their repair.
On the other end, we have those that are active in online communities sharing their success and offering this advice to those that need it. Using my insight from my interviews that people find it difficult to learn from written guides, there is a need to connect these two demographics in a visually engaging way.
Asynchronous Prototyping
Following my auto-ethnographic experience map, I wanted to see if I could replicate and improve upon it with someone else. We arranged to send pre-recorded videos to each other. I asked the participant to explain the issue to me and to show me what they were trying to do to fix it.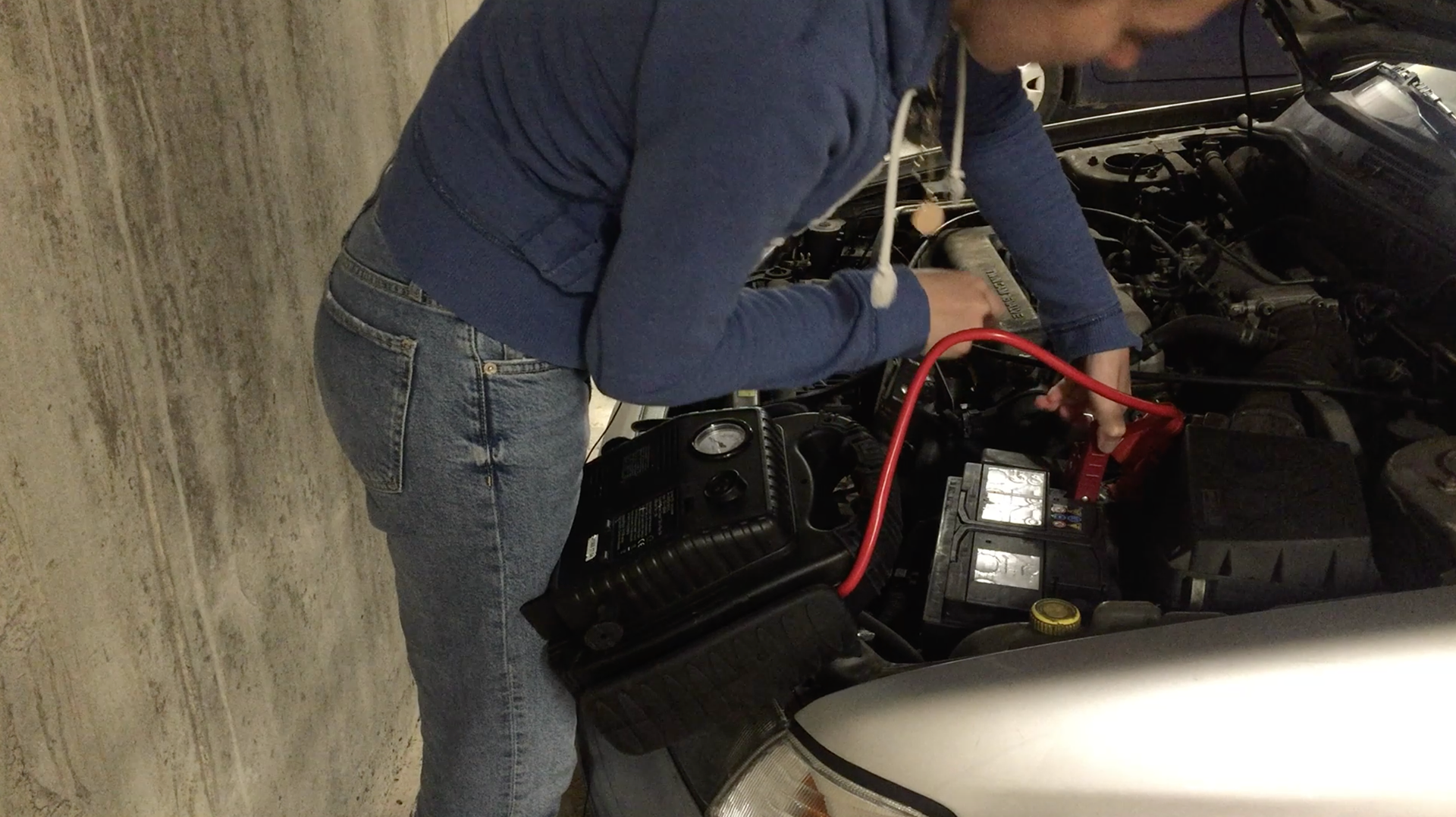 The scenario
For my response, I prepared a list of steps the participant could take in order to confirm the issue along with some suggestions to fix them. People found text instructions hard to understand, so I created a video demonstrating each of the steps. We arranged to send pre-recorded videos to each other. I asked the participant to explain the issue to me and to show me what they were trying to do to fix it.
The findings
It was much easier to demonstrate methods of diagnosis and to explain any of the intricacies involved. The asynchronous communication was definitely slower and took time for me to generate the information for the participant. The participant found that the video was very informative, and that she learned a lot about how her car operates.
Synchronous Prototyping
For this experience prototyping session, I was able to conduct a video call to offer advice on replacing a unit for a vacuum cleaner.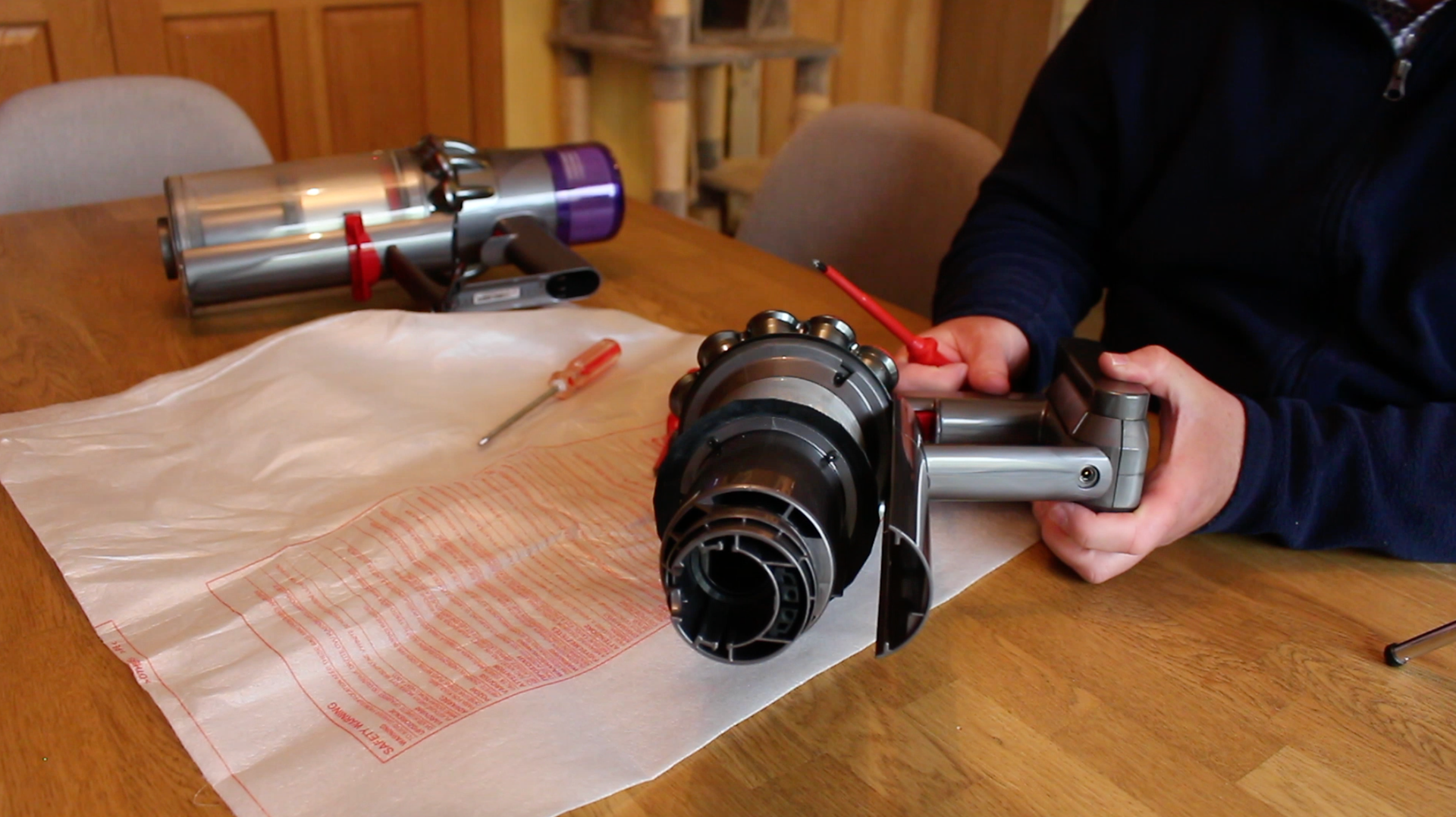 Findings
What I found was that the live communication was a better method of communicating and correcting technique. Even when the participant had to explain the issue to me and bring me up to speed, it was quicker than the previous example.
However, I did notice there is an issue when trying to direct the user over a video call. Trying to identify what screw I was talking about was confusing for the user.
From a distance assistance
Being on-site I was able to assist in the repair from a distance. This acted somewhat as 'remote' assistance as I was not physically able to interact with the appliance at the same time as the participant.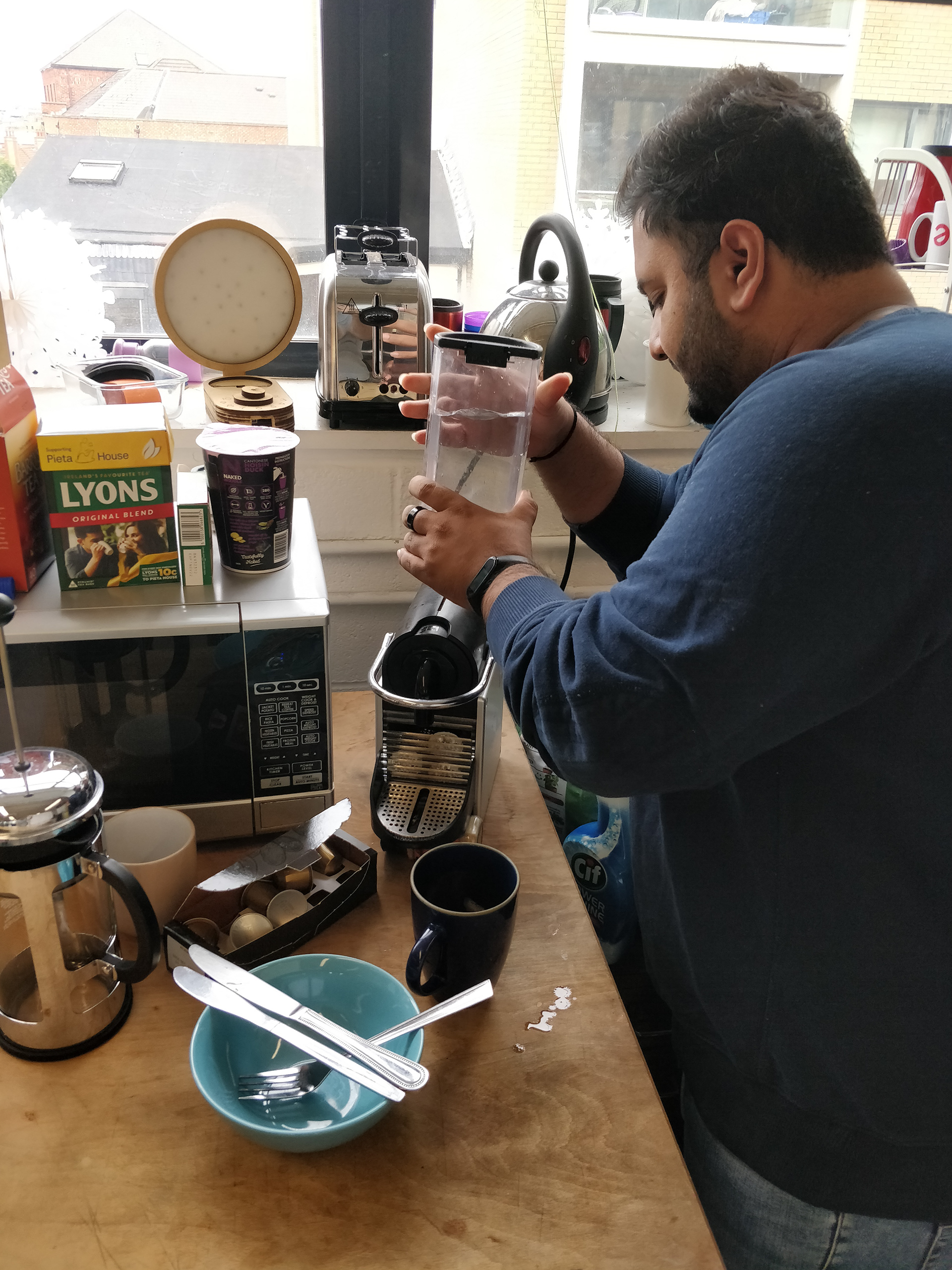 Findings
I found that it was easy to follow what the participant was doing in order to find the 'break in the chain'. I still had to describe what the participant might need to do, which at moments was difficult to explain.
The participant stated that he found it helpful to get a second opinion and the assistance confirmed his own suspicions, which made him feel confident in what he was doing.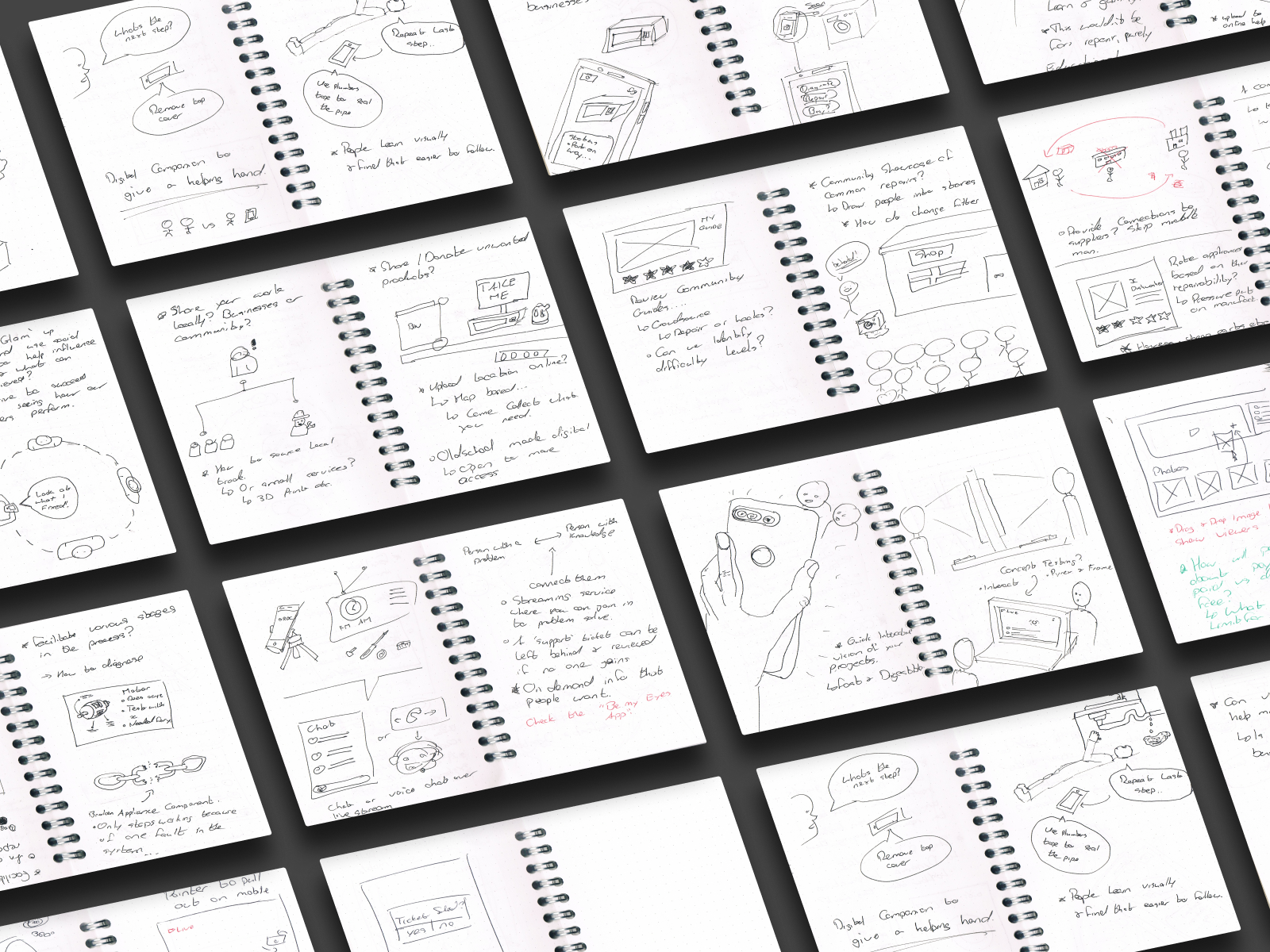 It is clear that the users are looking for assistance to diagnose or repair their appliances, in order to cut costs. There is also a need for reliable and on-demand information to assist the user through the process.
Video Call Assistance
We can use the existing communities in place that offer advice to the public. With manuals and written guides being hard to follow, users find peer to peer learning is far more effective.
Educate & Inspire
Educating users will empower them to view repair as a more attainable option. Experts also encourage the idea of educating the user before interacting with the assistant in order to provide a better, more fluid experience.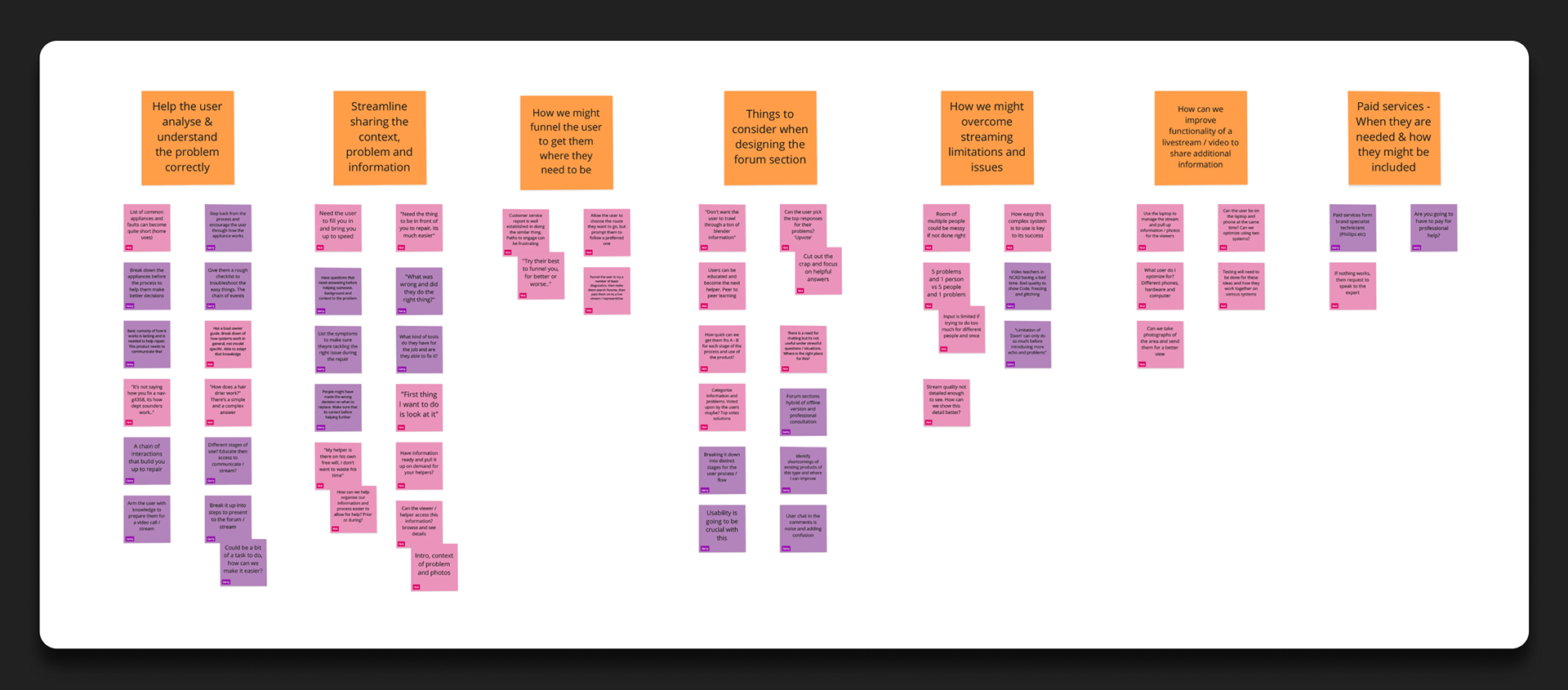 Talking with the Experts
The goal for this was to get a good understanding of what might motivate them to offer help. I wanted to ask how they would offer help to someone, and what other features or interactions are needed to make the process as fluid as possible.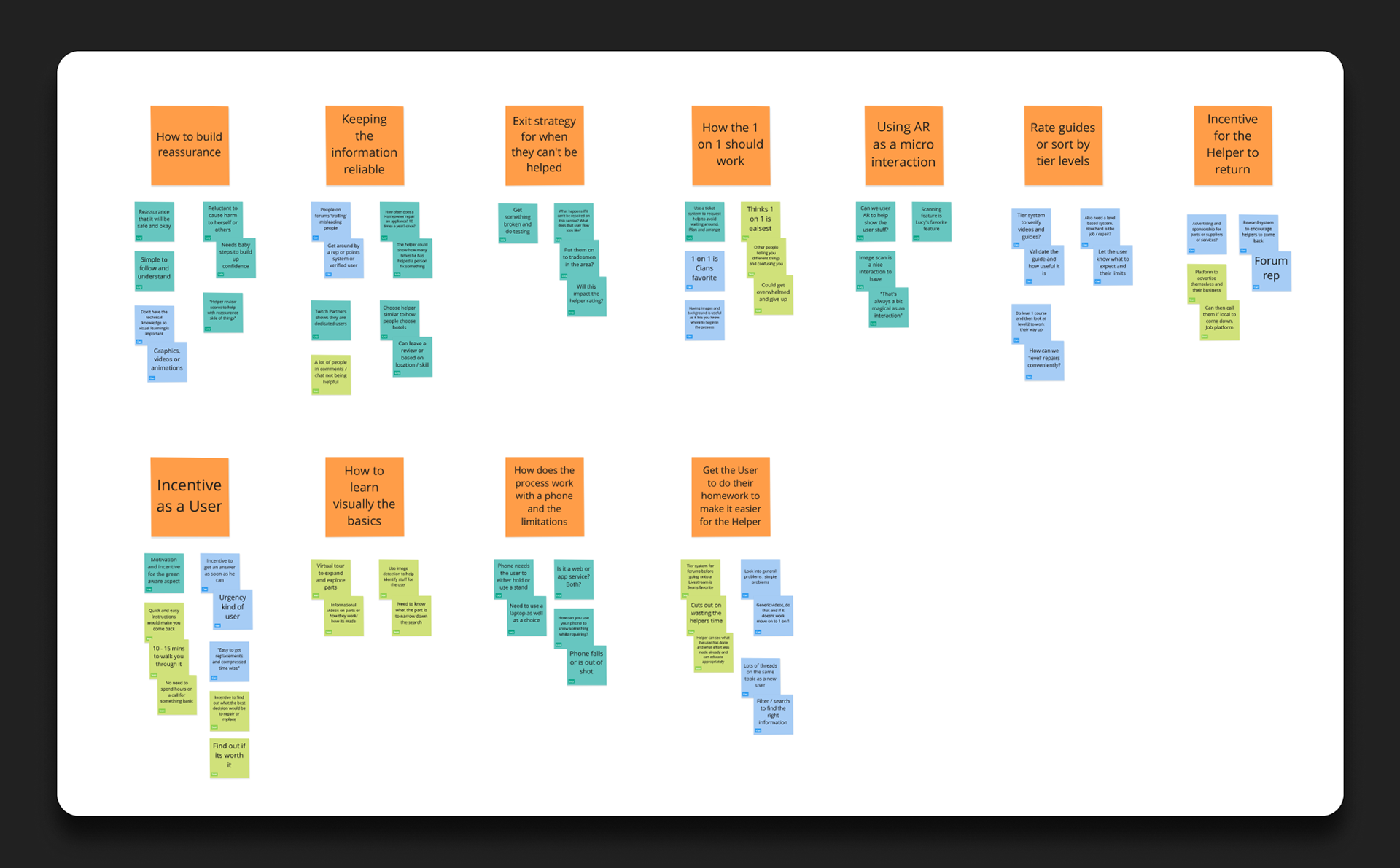 A mixed group
This was a great way to get mixed input from people with different levels of competence with regards to repair. I wanted to explore some of their concerns, and how we could design to overcome them with
User Incentives
Members reinforced the idea of using a rating system. This system could be designed to support the assistant in building their profile to indicate they are a more reliable and reputable source of information.
Also organising content in a way to make it easier to find the answer to what they want? This is something they need to make a more informed decision.
A discussion was had about guiding the user to conduct some self-education. S.M reinforced this by saying it would reduce wasting the helpers time.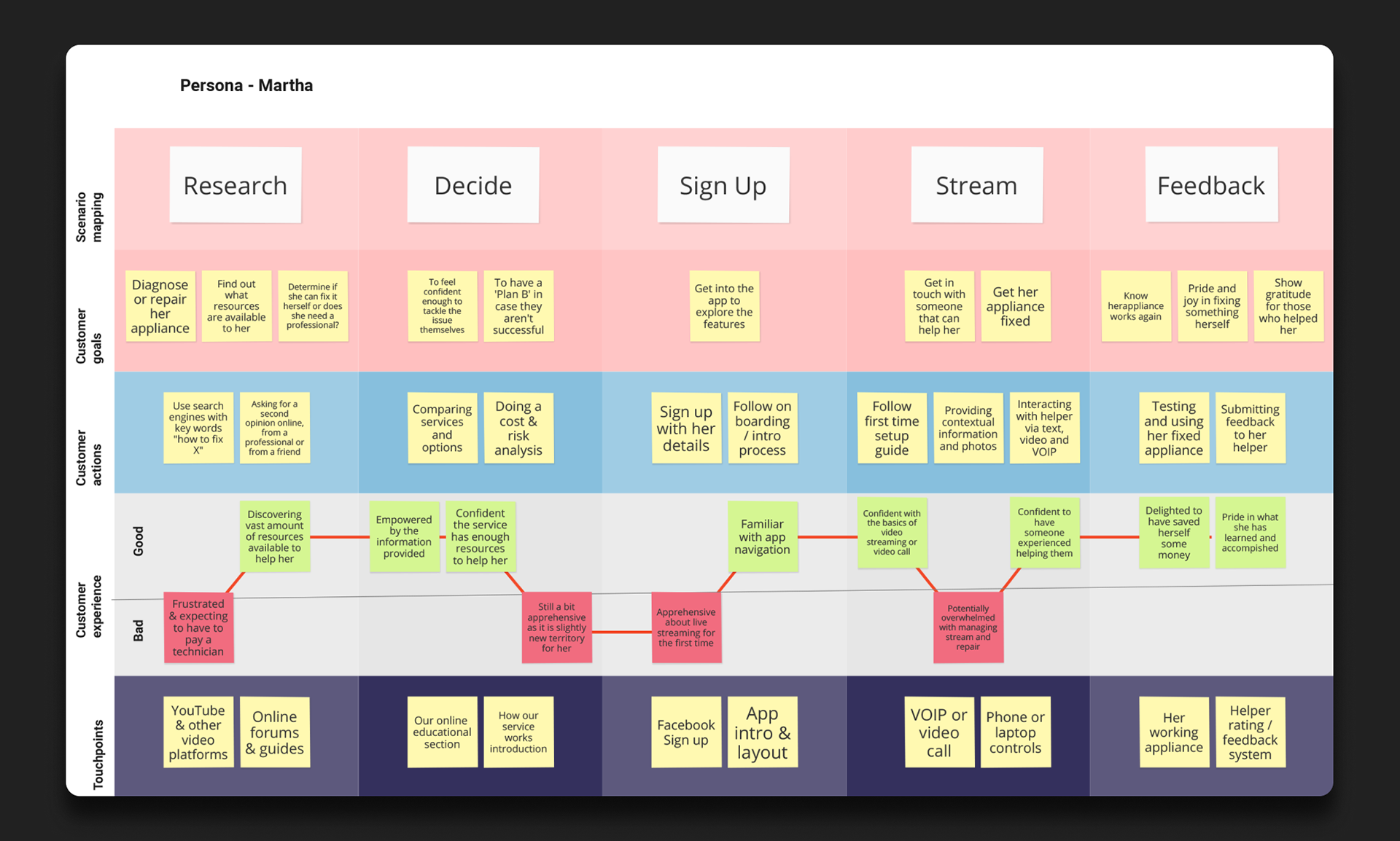 This is your heading
You can write here as much as you want, this text will always look nice, whether you write longer paragraphs or just a few words. Click here and try it out.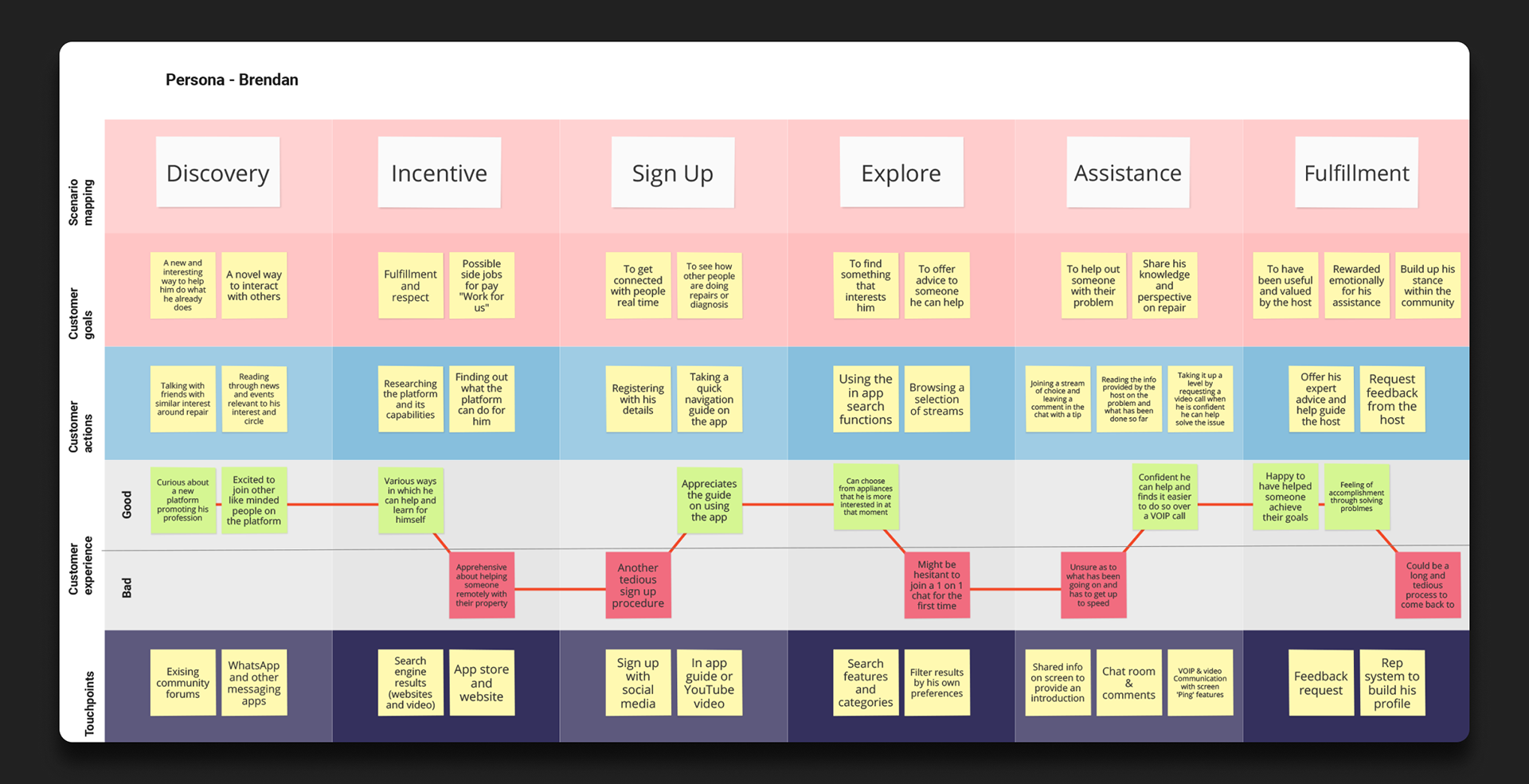 This is your heading
You can write here as much as you want, this text will always look nice, whether you write longer paragraphs or just a few words. Click here and try it out.

Findings
I used sketches and lo-fi prototyping to conduct early testing and discovered some of the following issues.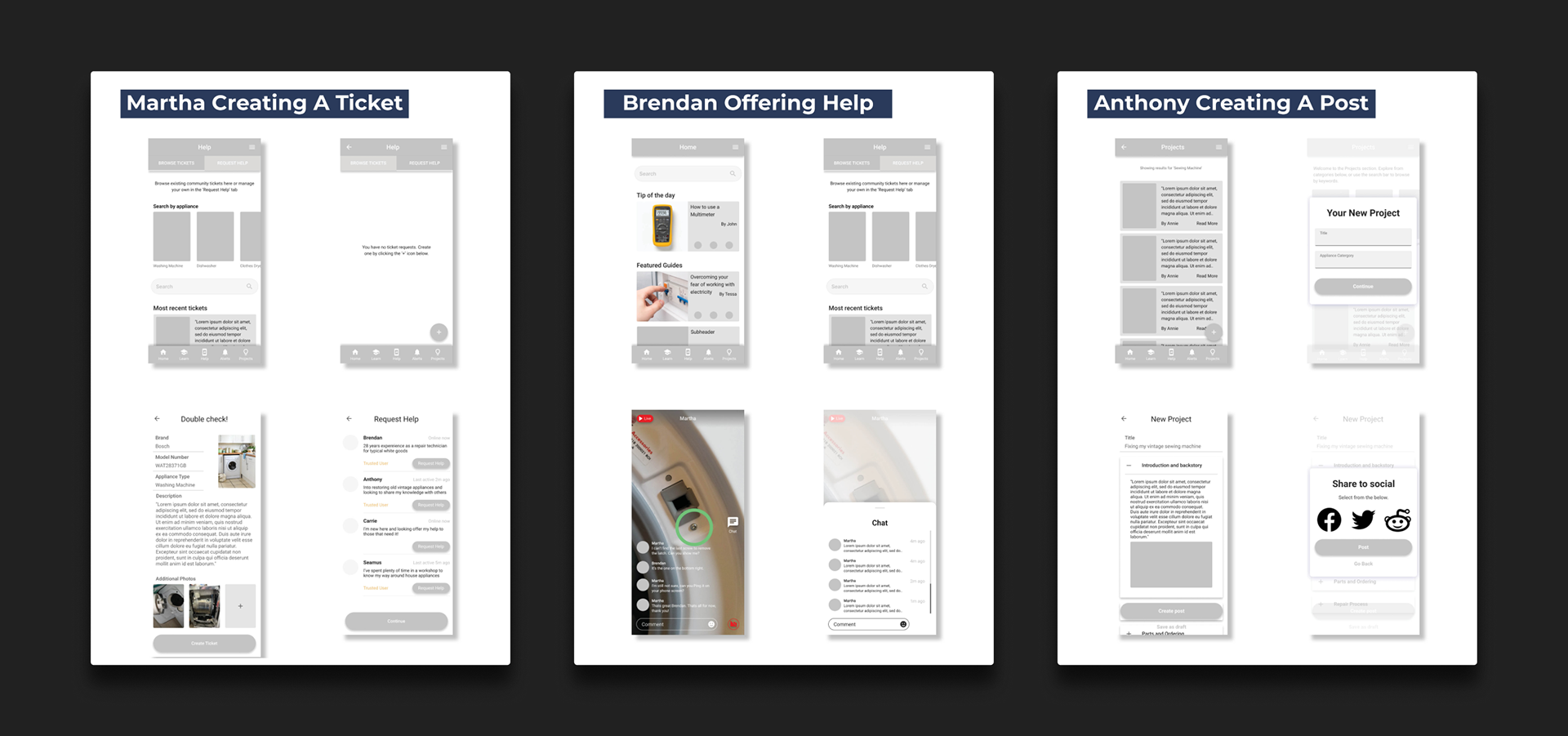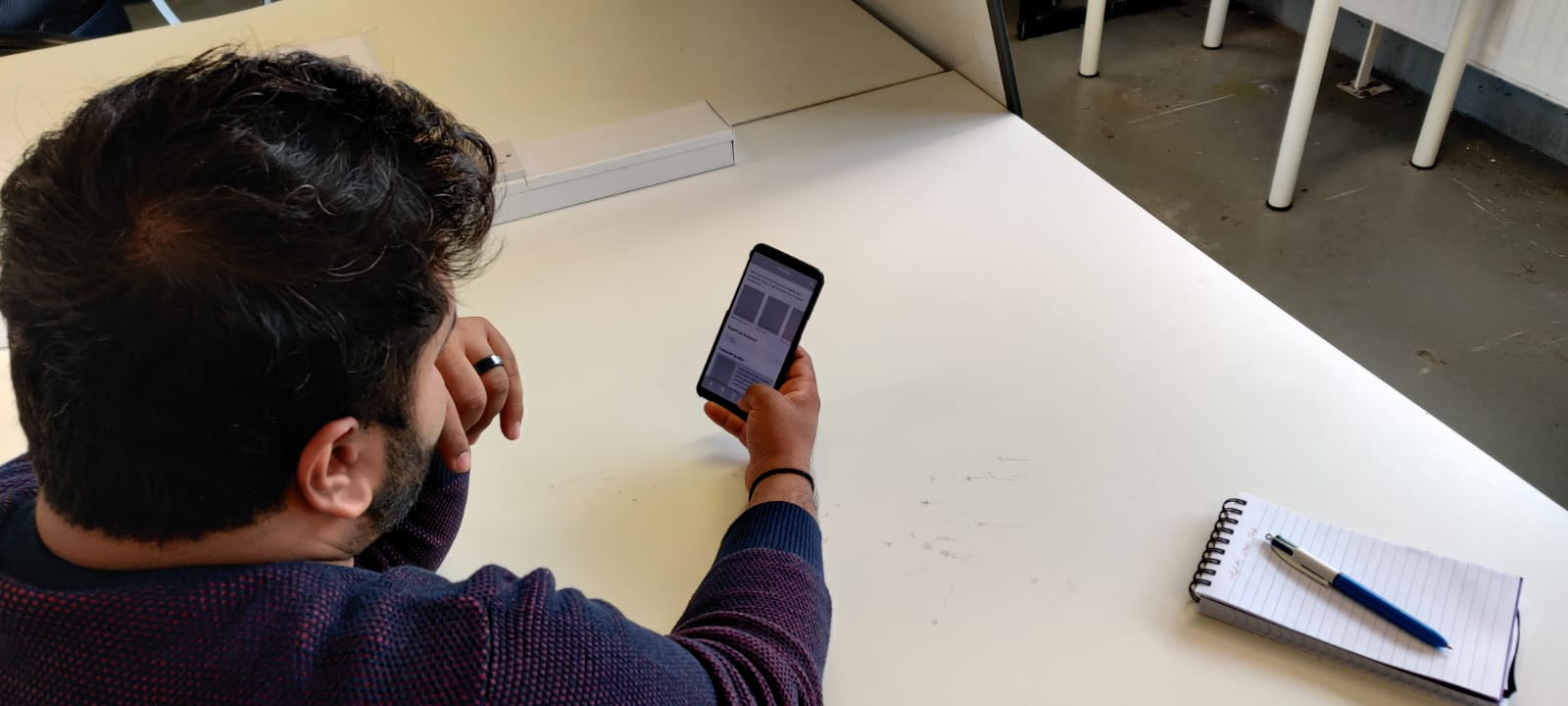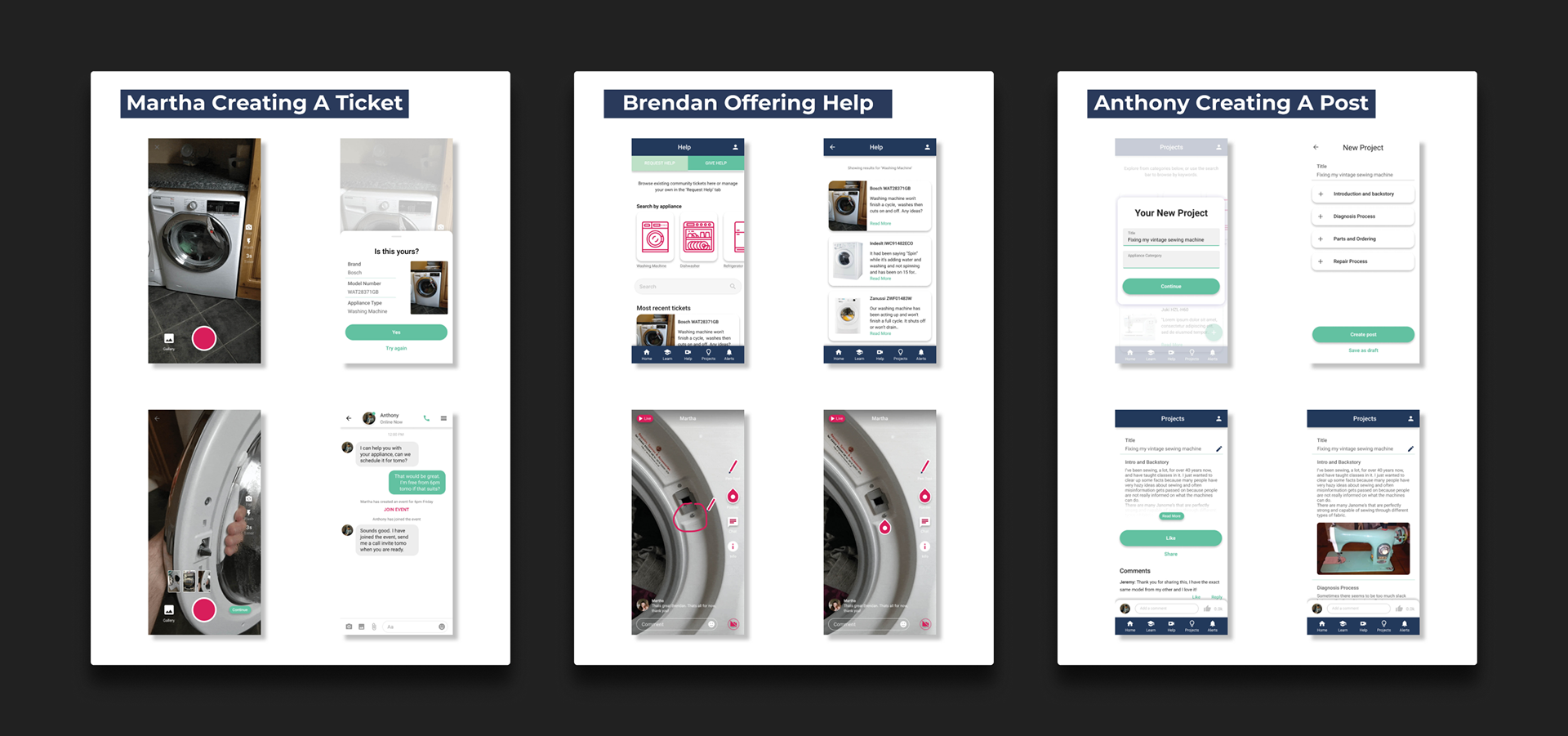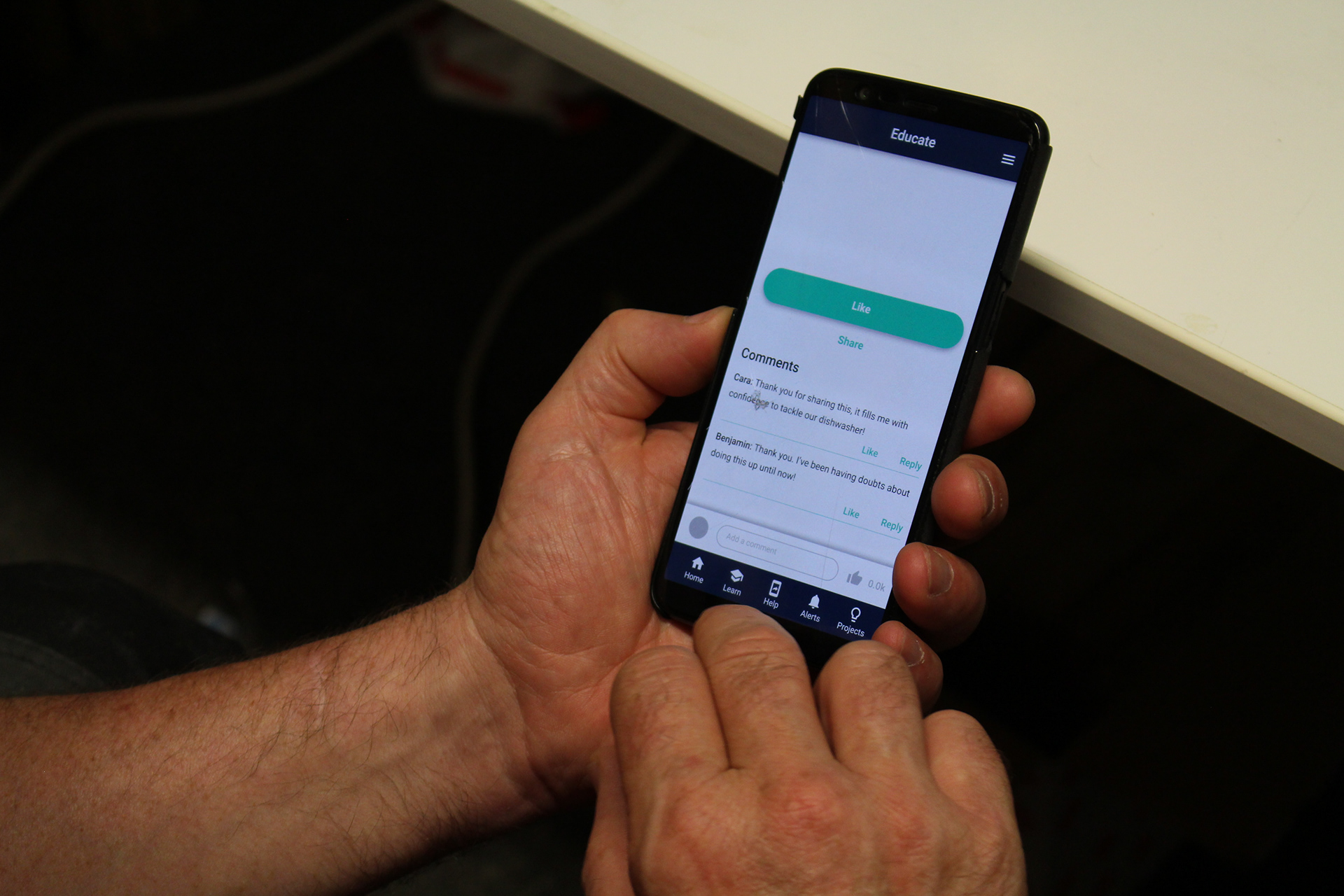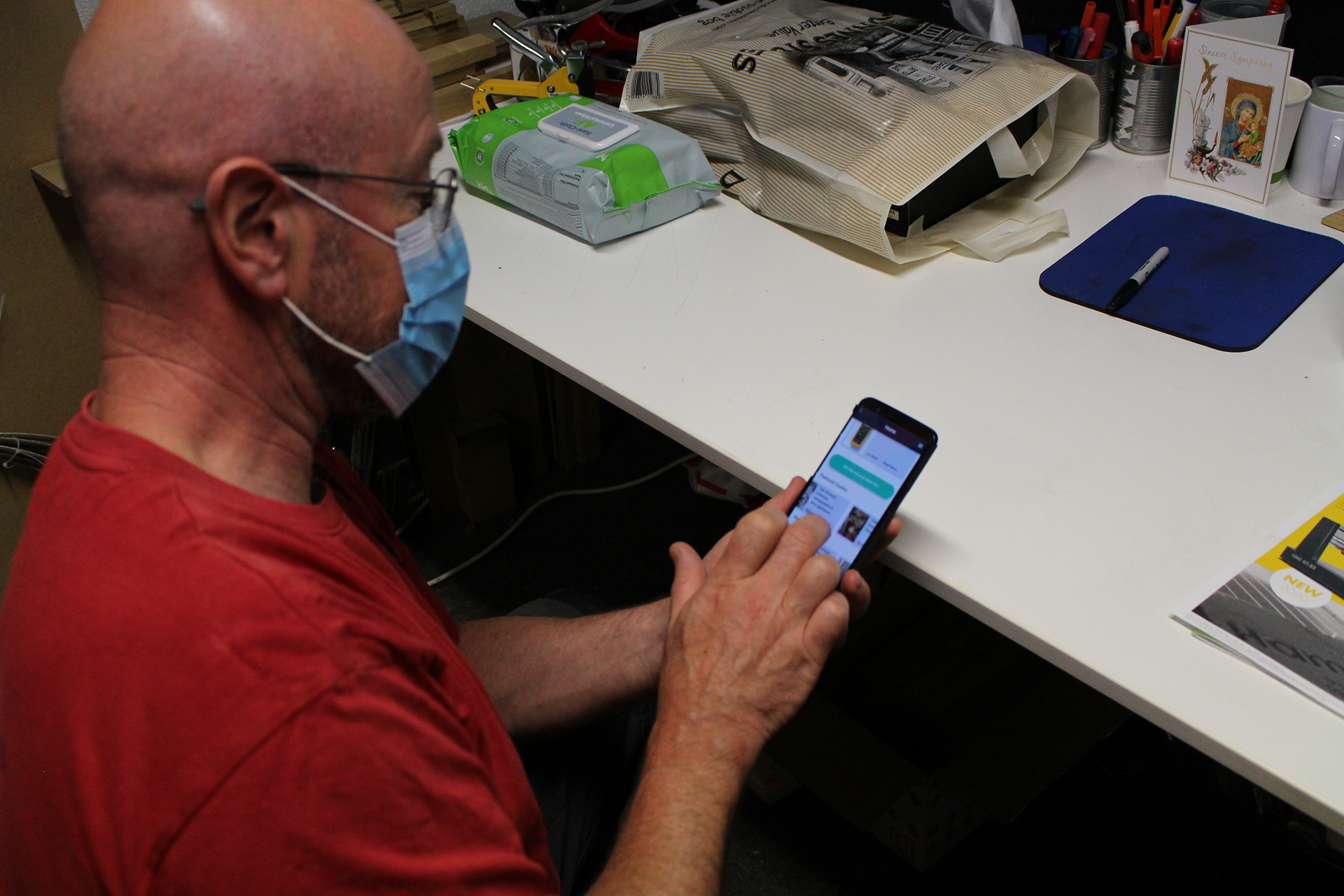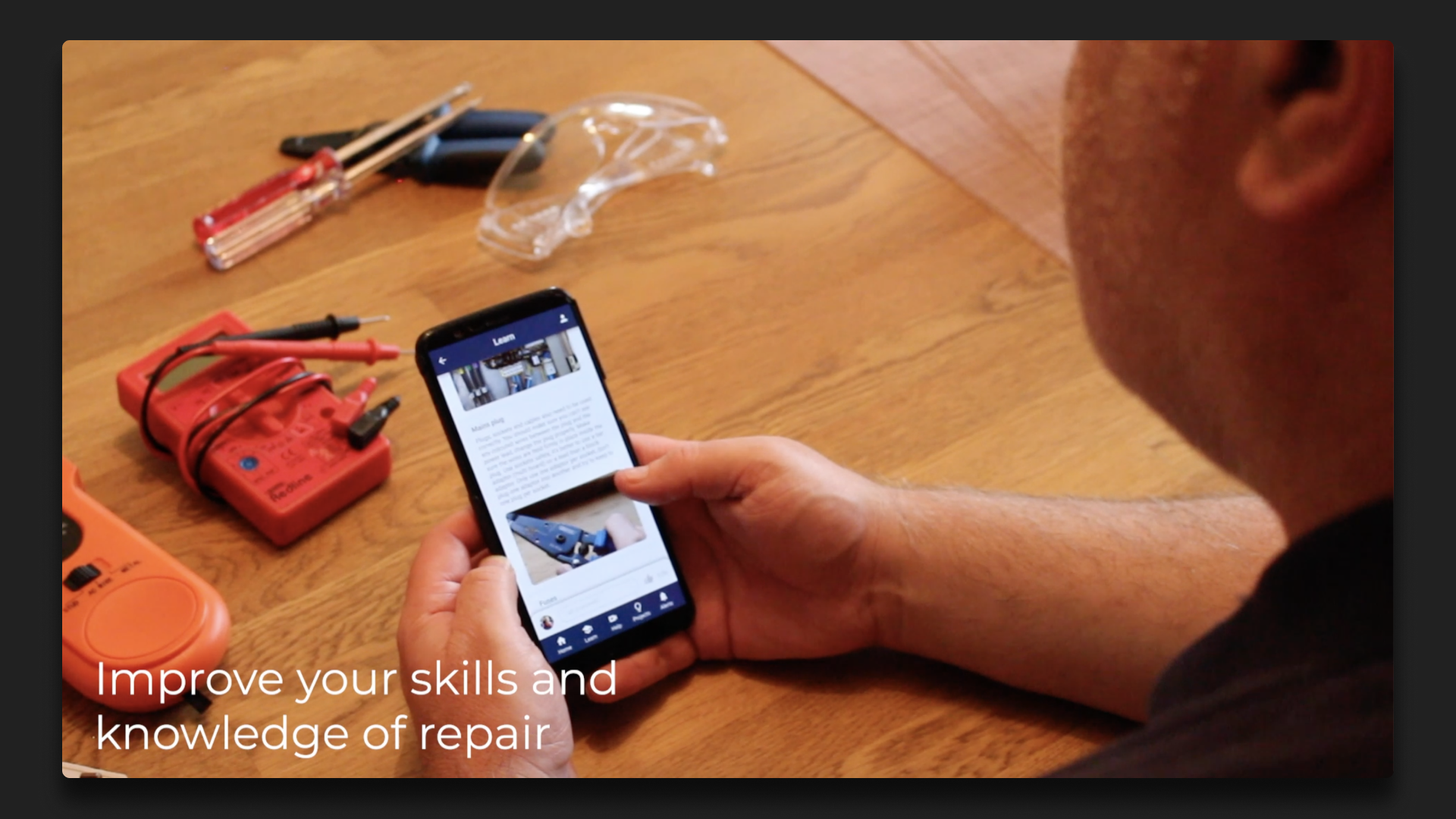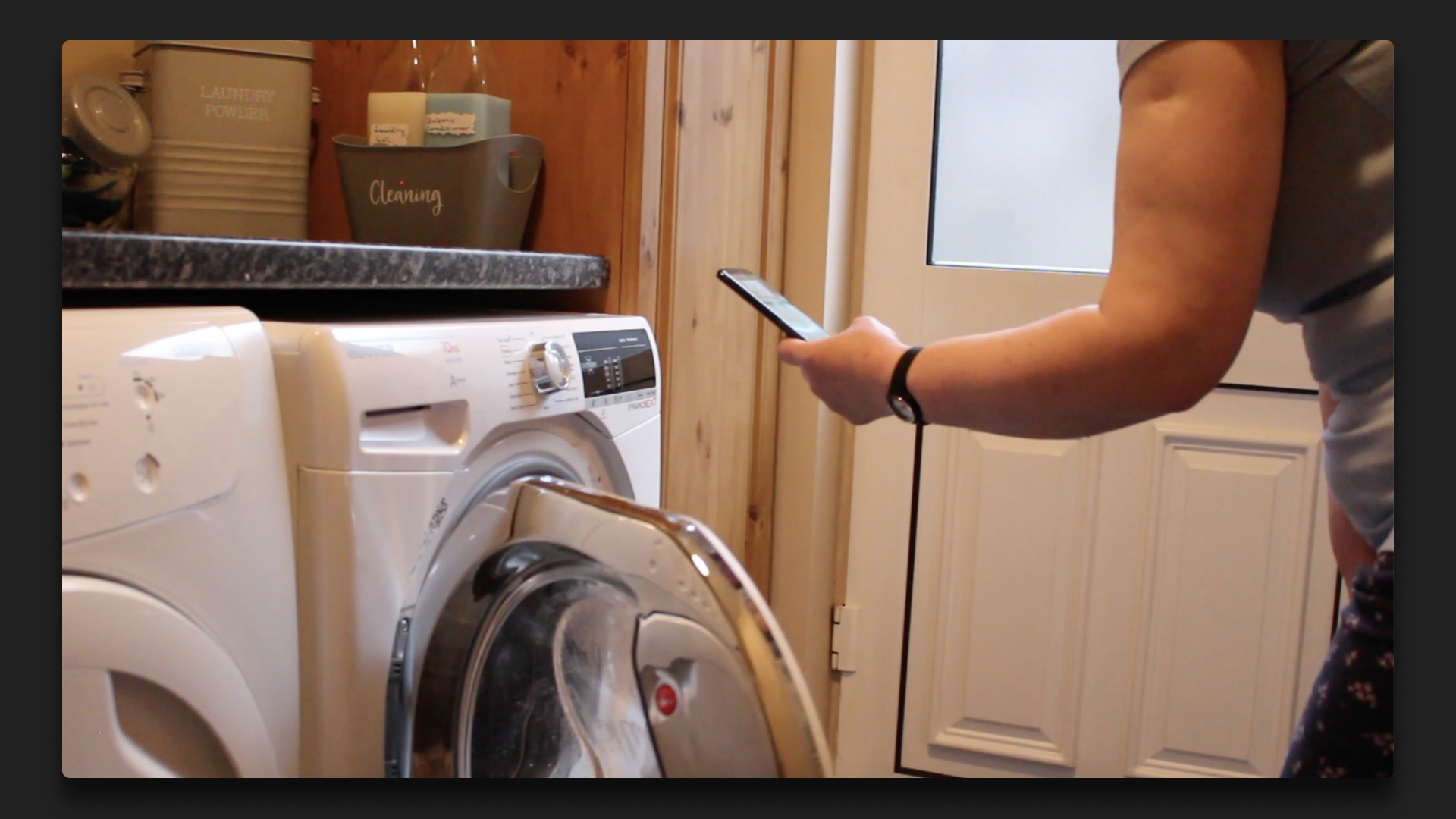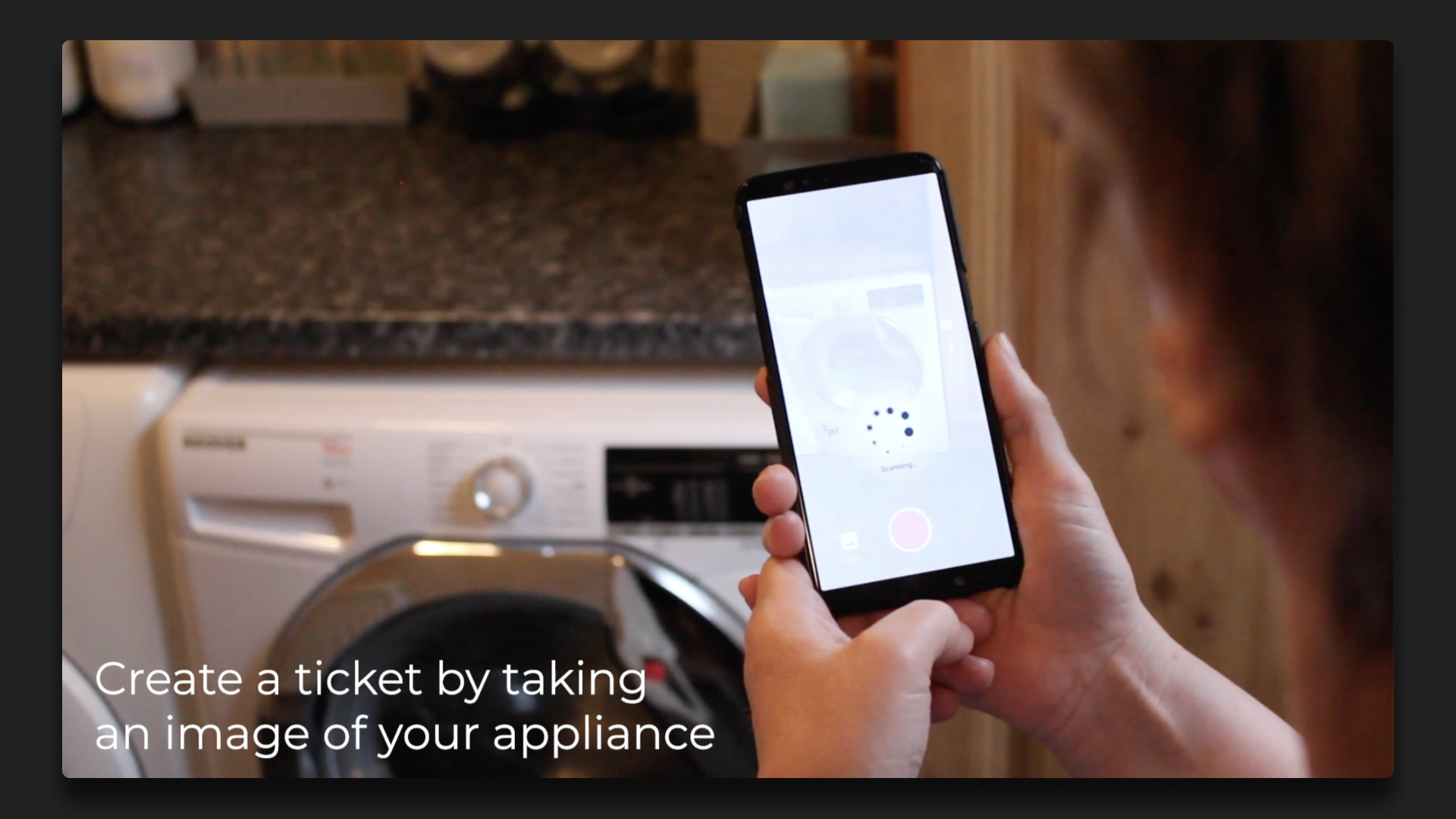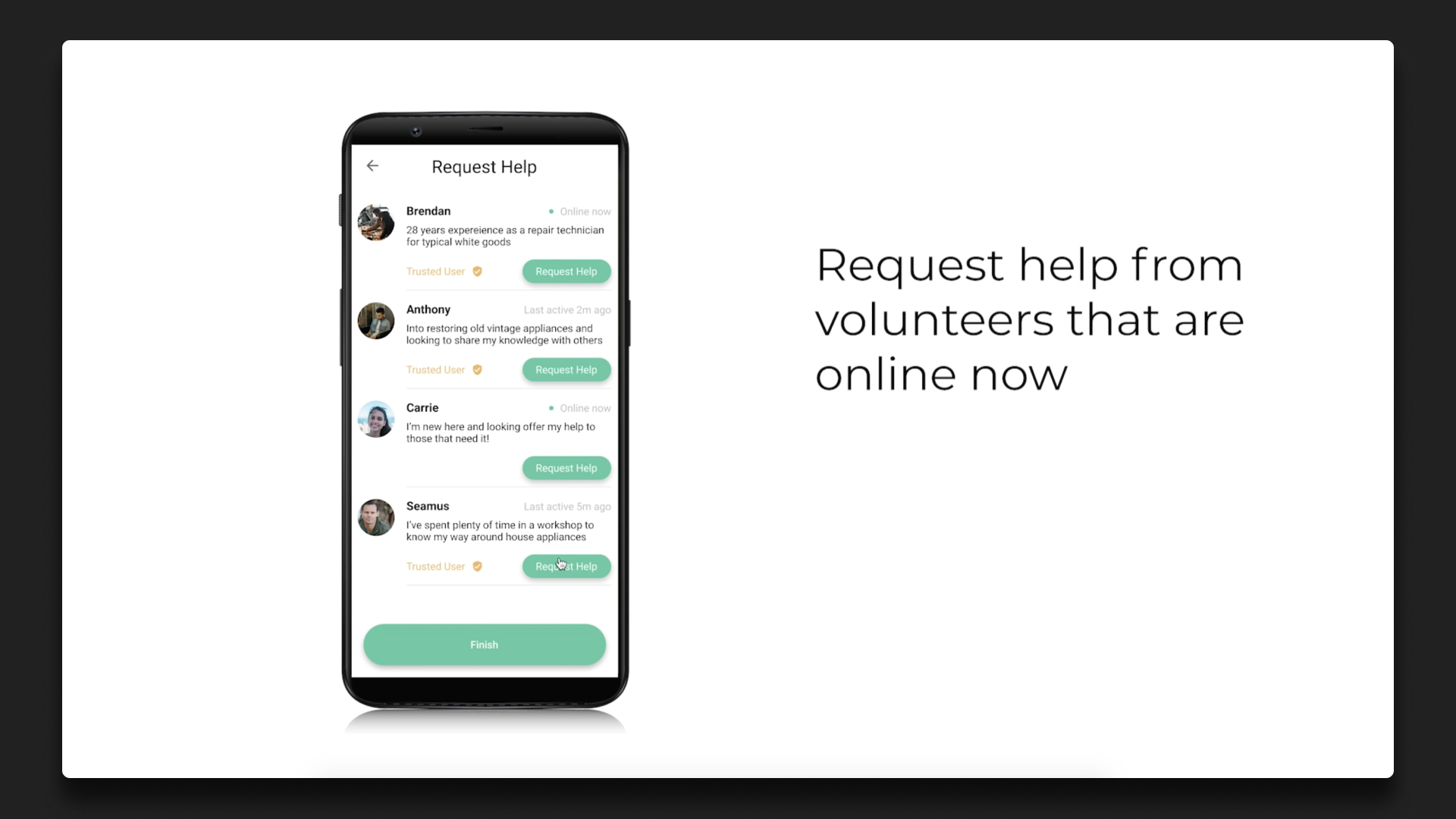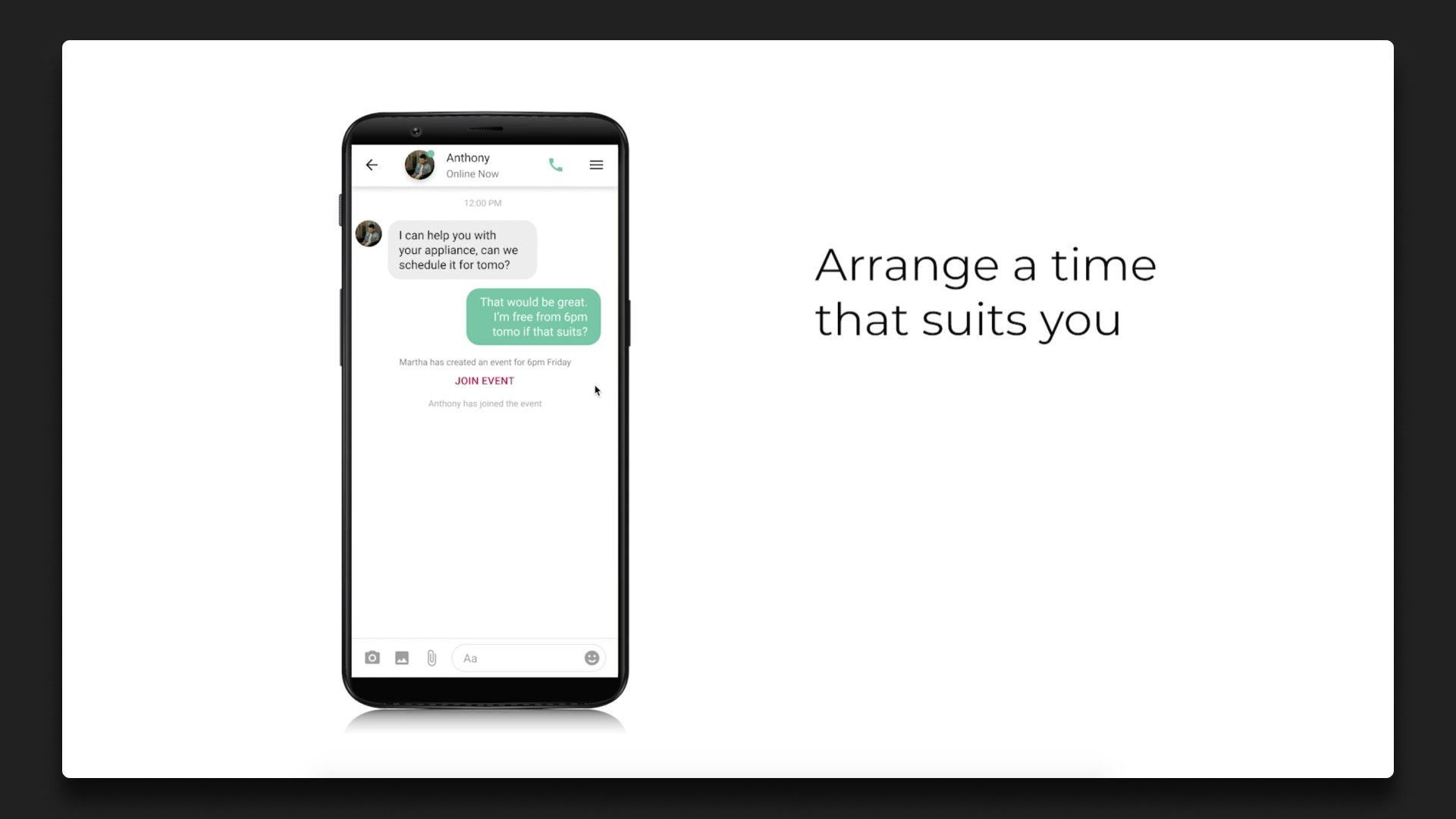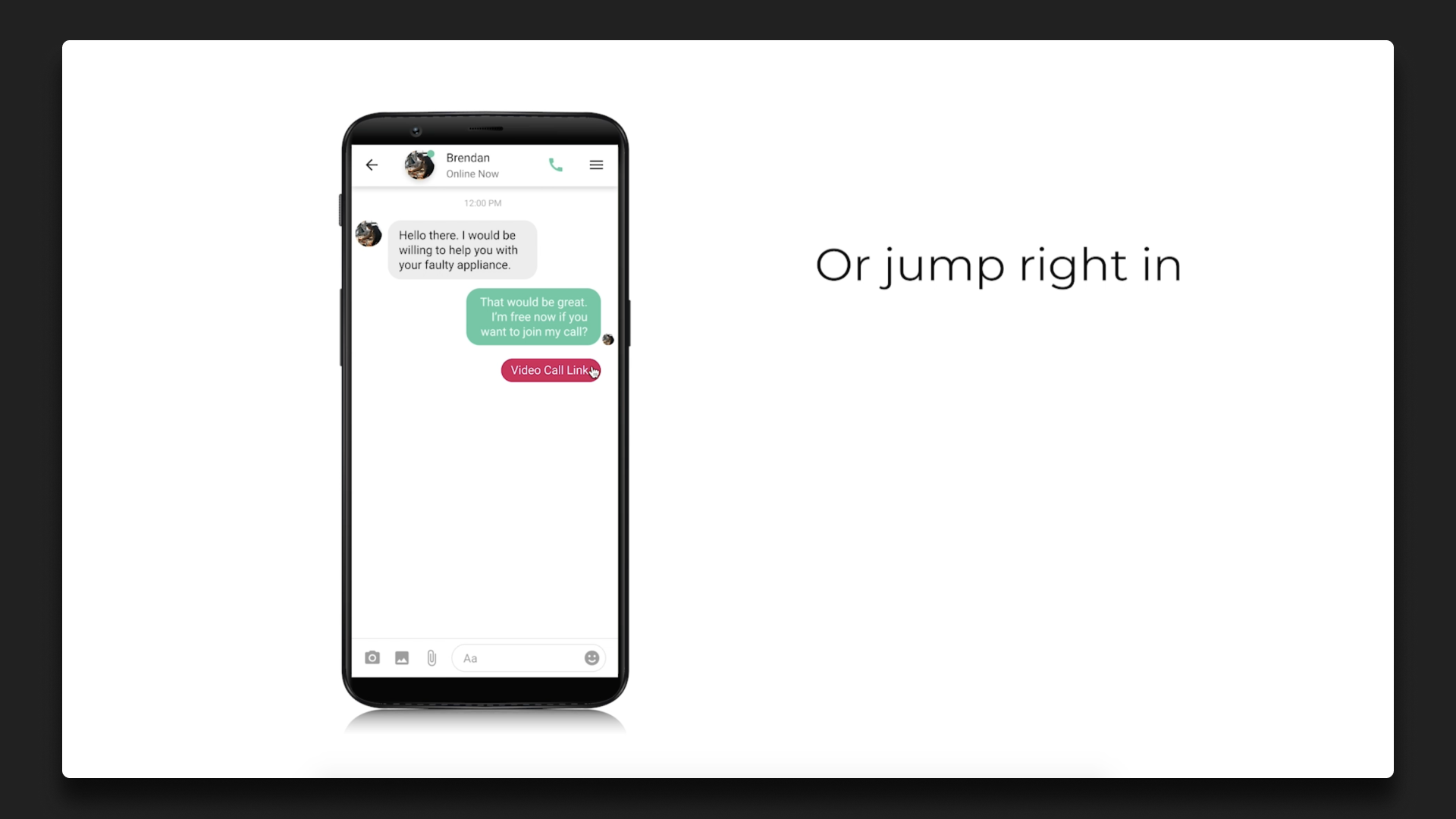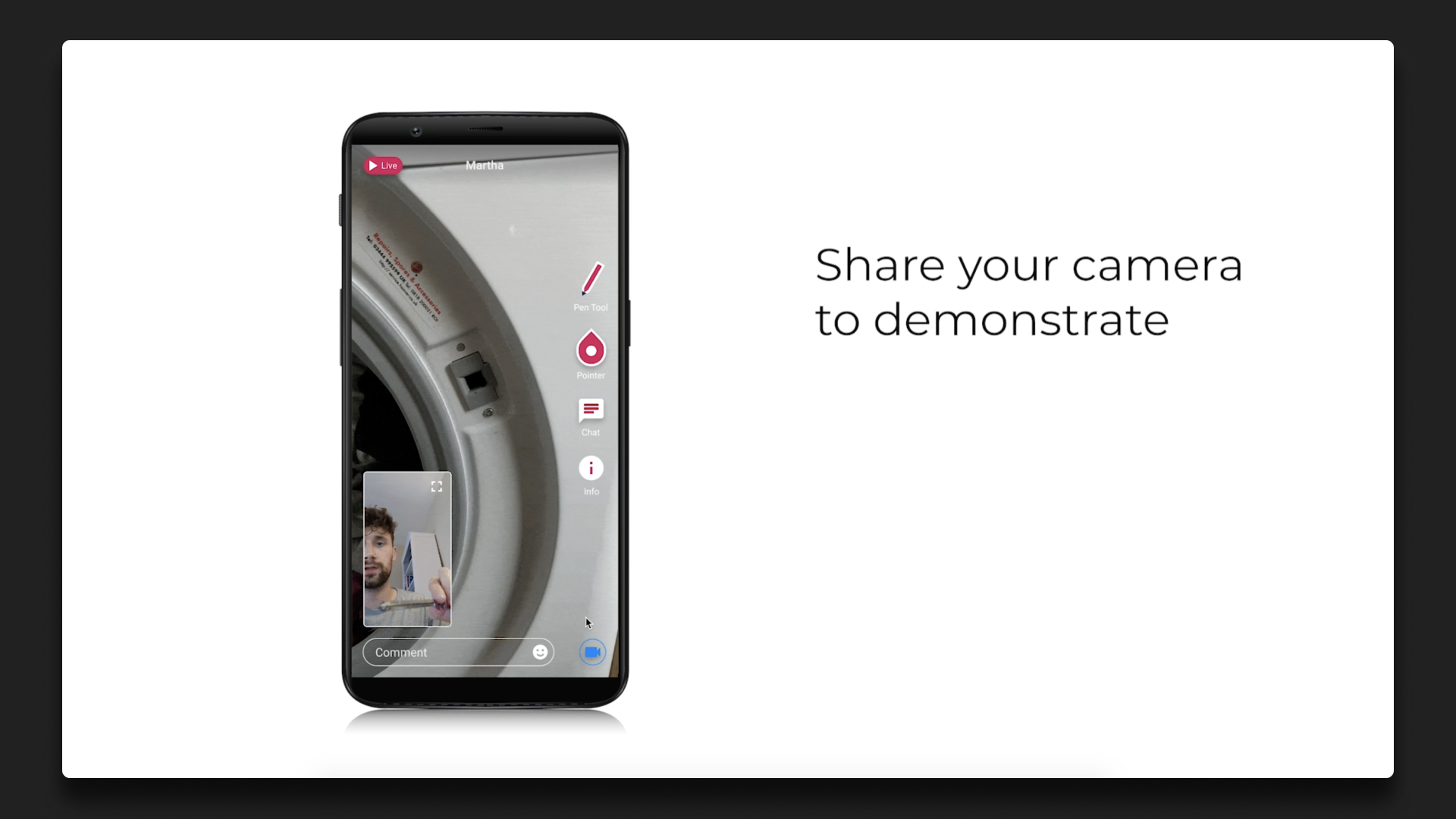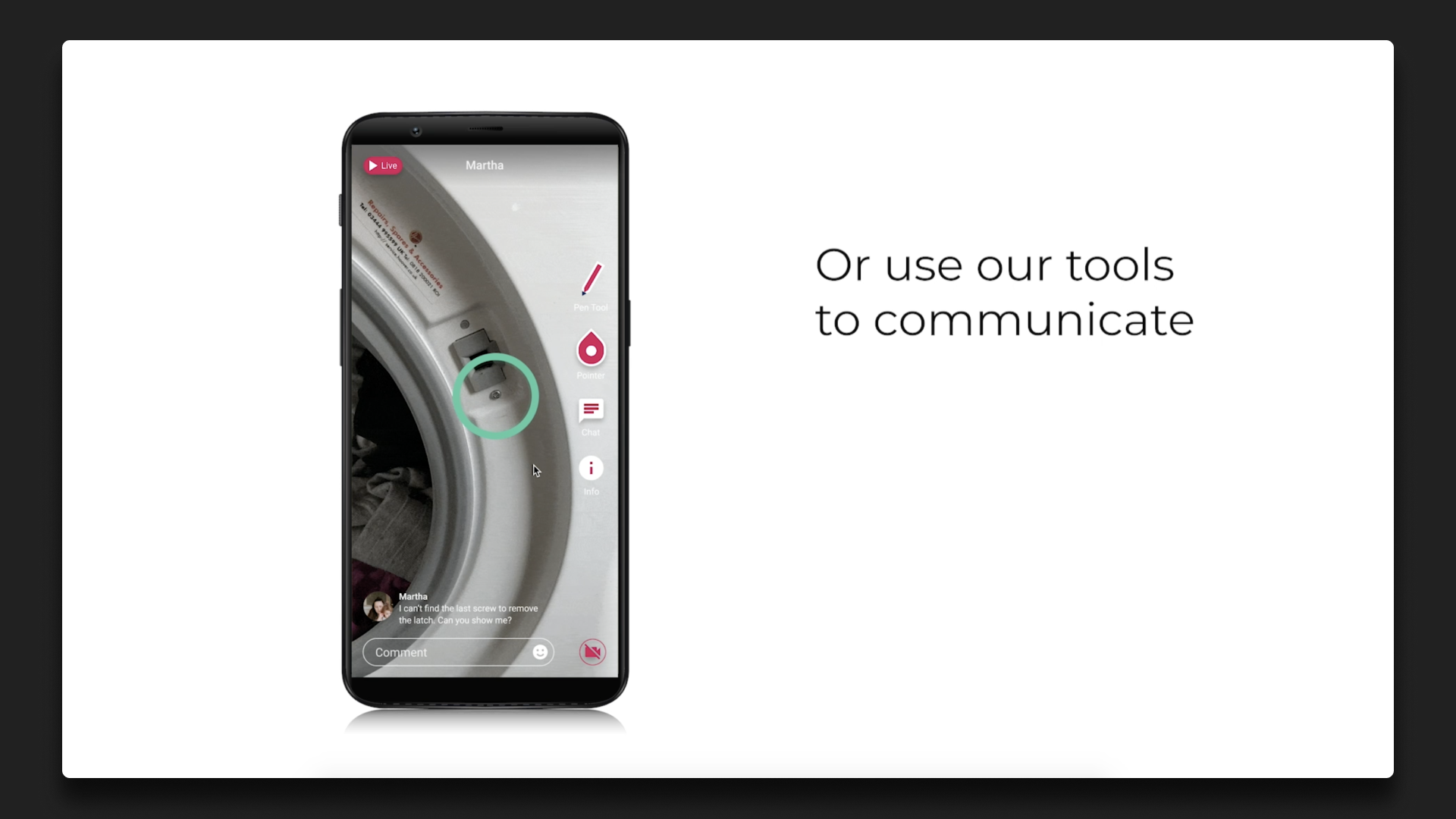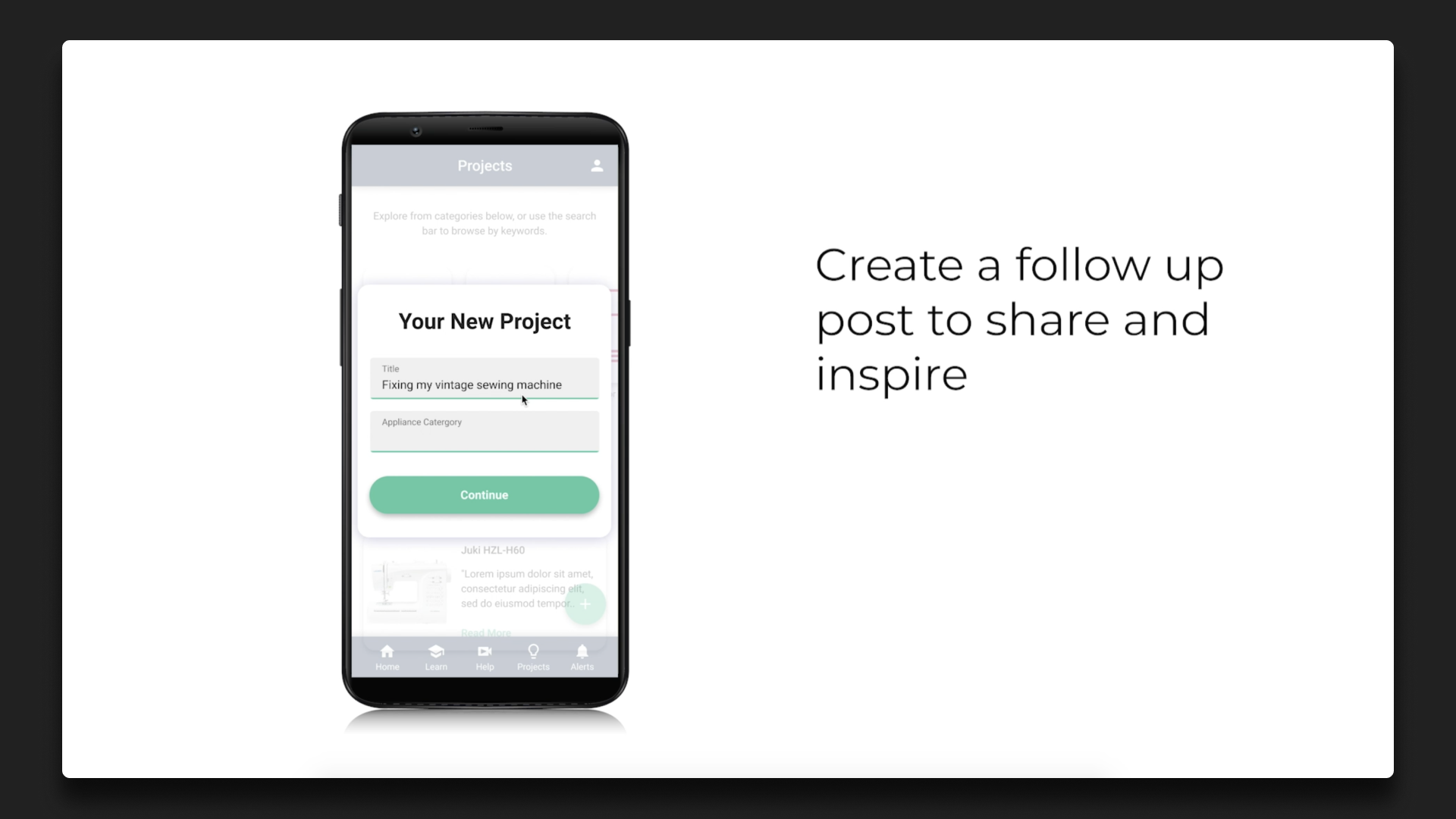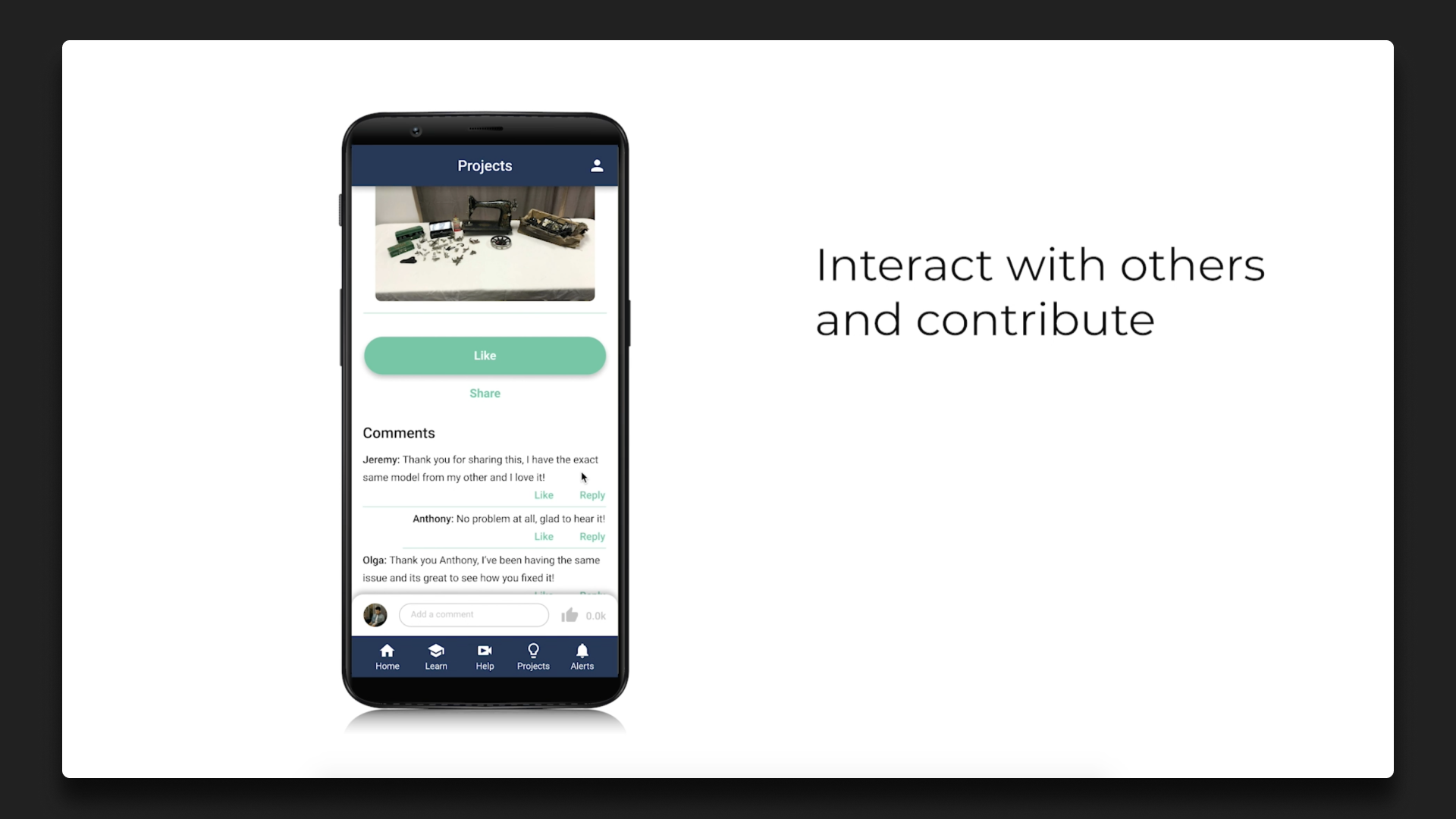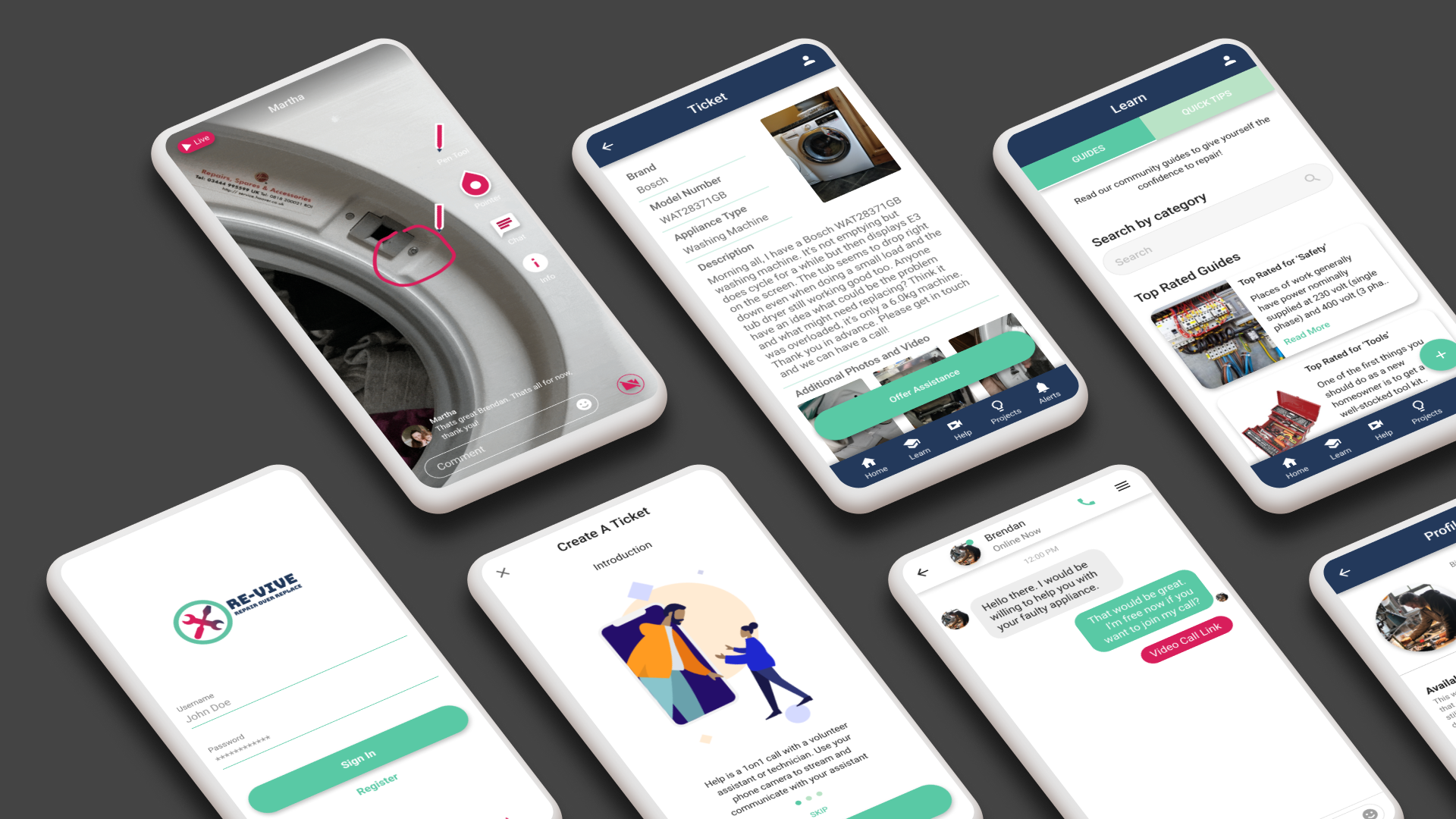 It was clear from the beginning of this project that there is scope to design this across multiple platforms, such as tablets and desktop computers. A web portal could be used to join video calls to offer assistance on a larger screen, and offer more functionality.
There is also a problem from a lot of the survey responses about the difficulty of identifying part numbers and sourcing new parts. There is scope to design a part ordering system into the user flows. Using image detection during the 'Create a Ticket' stage, it could be possible to follow up with a list of parts that are relevant to that specific brand and model. This could be tested further to help make the purchasing decision easier.
Reflections
The insights gathered from the research, interviews and co-creation sessions has resulted in a product that I believe to be in line with the users' needs. As I set out to encourage users to repair, I believe the app does this in various ways by catering to users with varying levels of skill. Without the expert input, it would have been very difficult to capture the essence of what it means to repair and take responsibility for our goods.
While this app does not tackle the real issue around planned obsolescence, it does empower homeowners to make a difference in their lifestyle and purchasing decisions. The online community around DIY is going strong with volunteers across multiple platforms such as iFixit, Restart Project, Instructables and more.
As people are becoming more aware of the environment around us, I find it to be a fitting time to offer this product. Rethinking traditional online forums by creating a new way to interact with other like-minded people to offer advice and to inspire.